VLOXO
Regular price
$49.99 USD
Sale price
$38.99 USD
Unit price
per
Sale
Sold out
VLOXO CD-2800 ultrasonic jewelry cleaner generates 42,000 Hz of sound waves that result in tiny bubbles gently shaking and cleaning away dust and dirt. Suitable for jewelry , glasses, watch bands, dentures, razor blades, utensils and other tiny mental parts.
Why Choose VLOXO CD-2800 Ultrasonic Jewelry Cleaner?
1. Ultrasonic jewelry cleaner. Vloxo ultrasonic jewelry cleaner generates 42,000 Hz of ultrasonic sound waves for a powerful yet gentle clean, which won't damage your valuables while keeping them looking like new. The vibrating of washing liquid caused by ultrasonic wave cleans off dust, smeary bits and dirt on the surface.

2. Easy operation. Simply on/off with light indication. Pouring water or add a tiny amount of washing-up liquid to clean stubborn stains. With its transparent cover, you can watch clearly how  this ultrasonic jewelry cleaner work.
3. Best cleaning machine for home. Vloxo ultrasonic jewelry cleaner has 600ml capacity. With a large stainless steel cleaning tank, both small and large jewelry alike can be fully submerged. The cleaning basket is to ensure items are contained, for cleaning small items to reduce the friction with the tank. The watch holder allows them to be laid fully, and clean thoroughly. This jewelry cleaner works perfect for cleaning jewelry, denture, glasses, watch bands, makeup brushes and more.
4. Multiple use. Clean a Wide Variety of Valuables for Less, jewelry like rings, necklaces, eyeglasses; daily item like: denture teeth, coins, Razors, folks. Other tool parts like screws, Circuit board, etc. It's great for business, commercial or home use.


VlOXO Ultrasonic Jewelry Cleaner Specifications
Size: 20*12.5*14cm
Net Weight: 780g (1.7lb)
Tank Size: 600ml  Maximum:500ml
Tank Material: Stainless steel SUS304
Frequency: 42,000Hz
Power Supply: 26 W AC 100 V, 50/60 Hz
                      35 W AC 100 -120 V, 50/60 Hz
                      50 W AC 220 -240 V, 50/60 Hz
Digital Timer Settings: 3 min (automatic timer)
Warranty: The item has passed CE, PSE, TUV, GS Certification. VLOXO guarantee 2 year warranty for CD-2800 Ultrasonic cleaner.
How To Use The Jewelry Cleaner?
User Manual of VLOXO CD-2800 Ultrasonic Cleaner  

Packing List
1 x Ultrasonic Jewelry Cleaner
1 x Basket
1 x Watch Stand
1 x User Manual
 1 x Power Cord
 Note: VLOXO  will send the power cord with corresponding standard according to the country your provided in shipping address, if you have special requirement, pls leave message or contact us in time.
UK Plug
US Plug
EU Plug
AU Plug
Share
View full details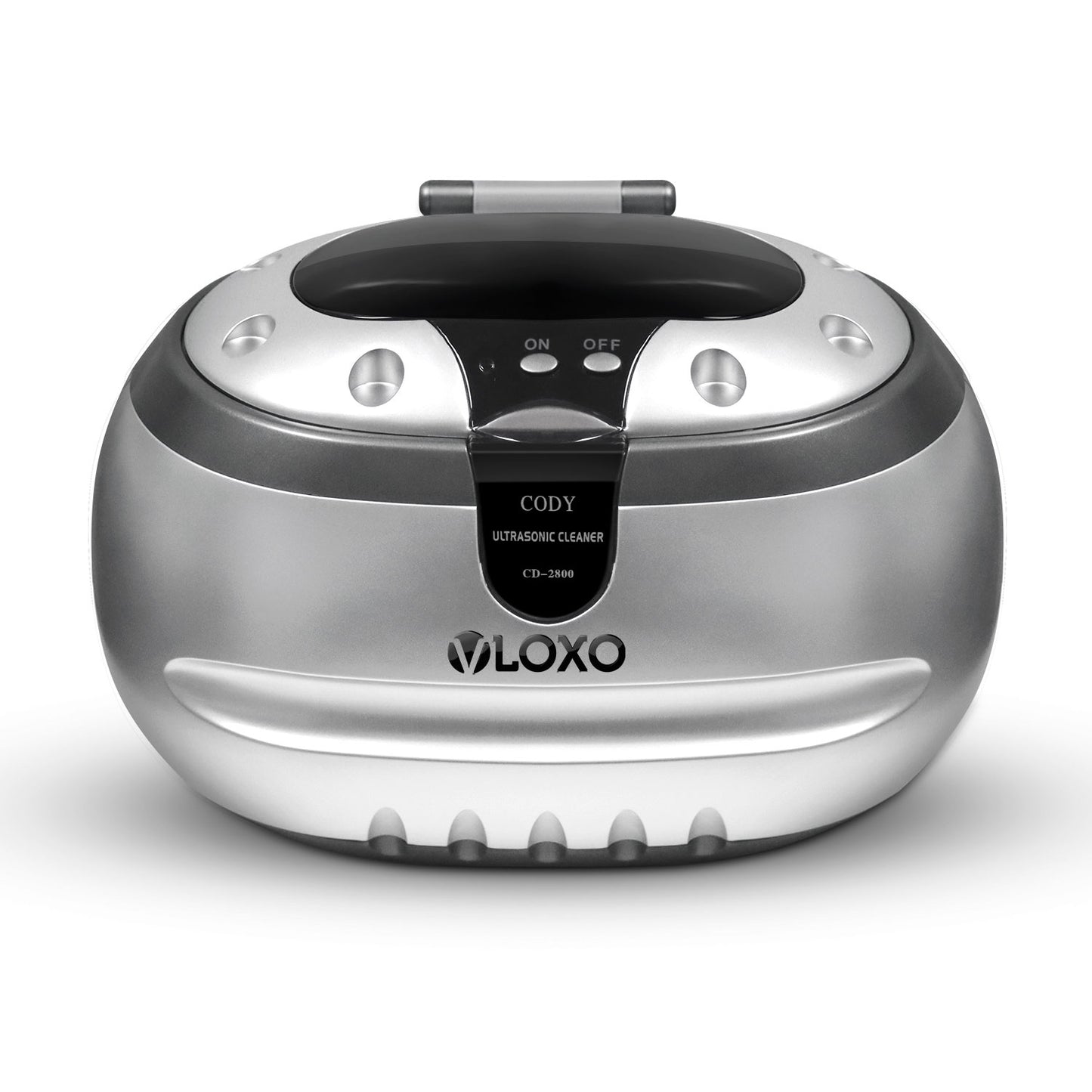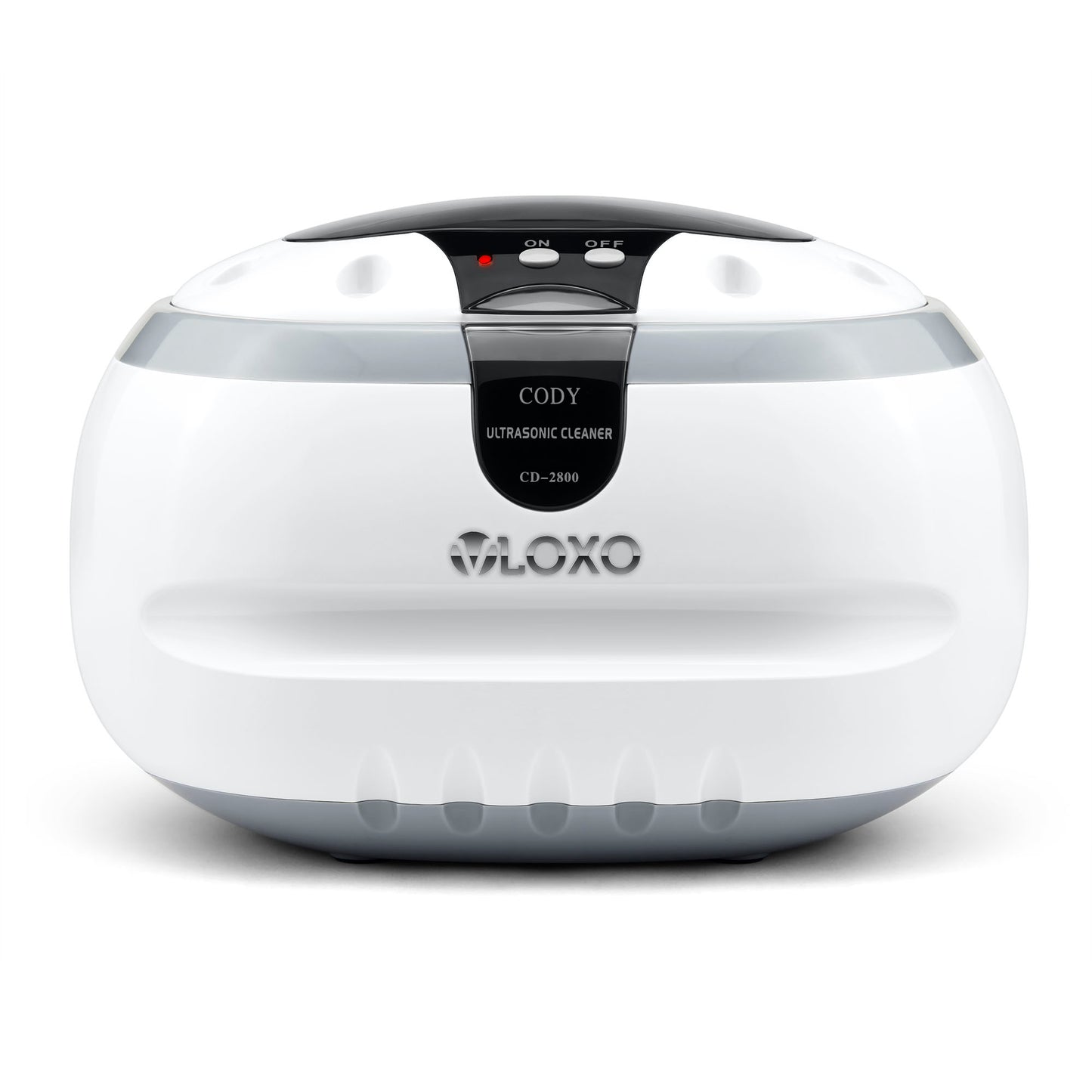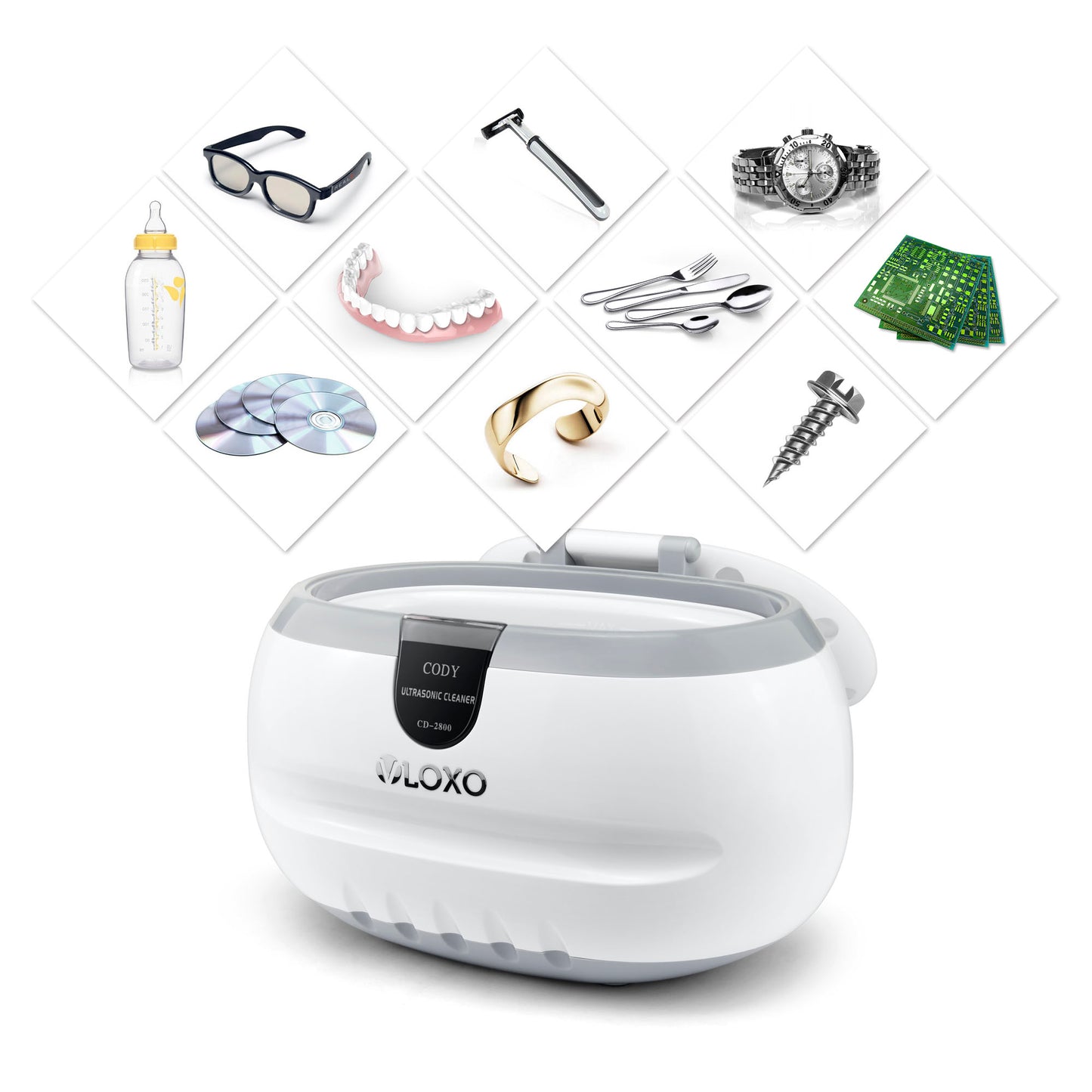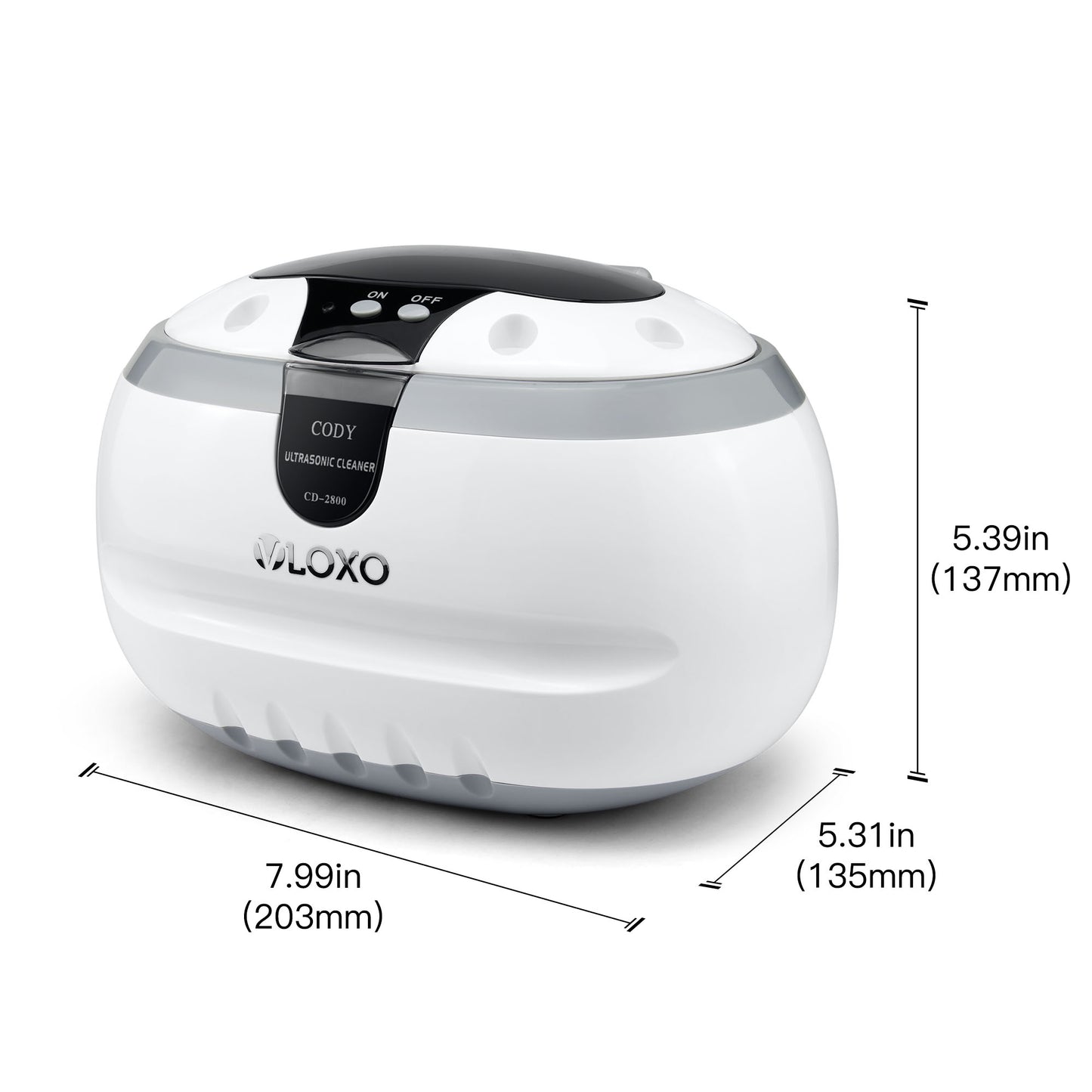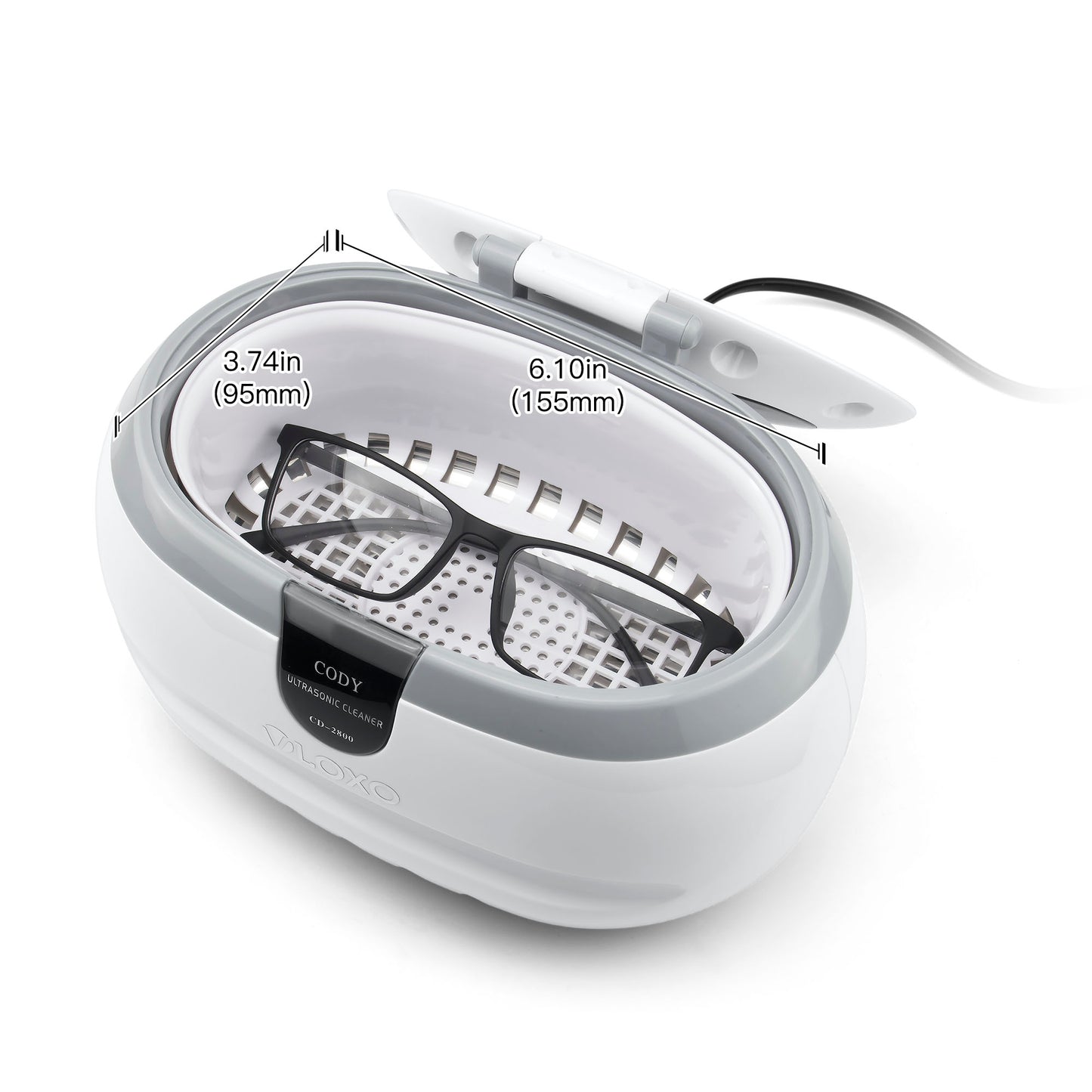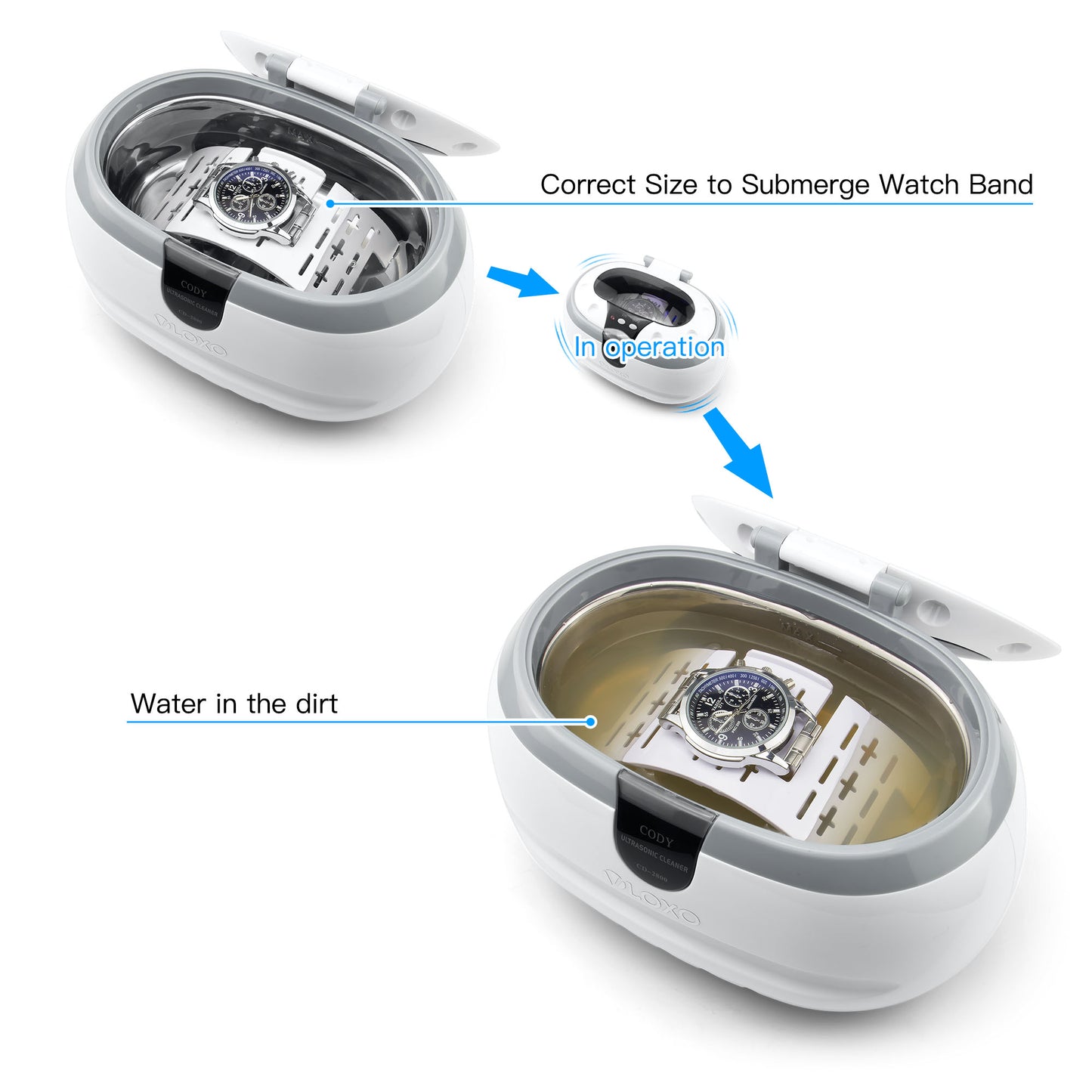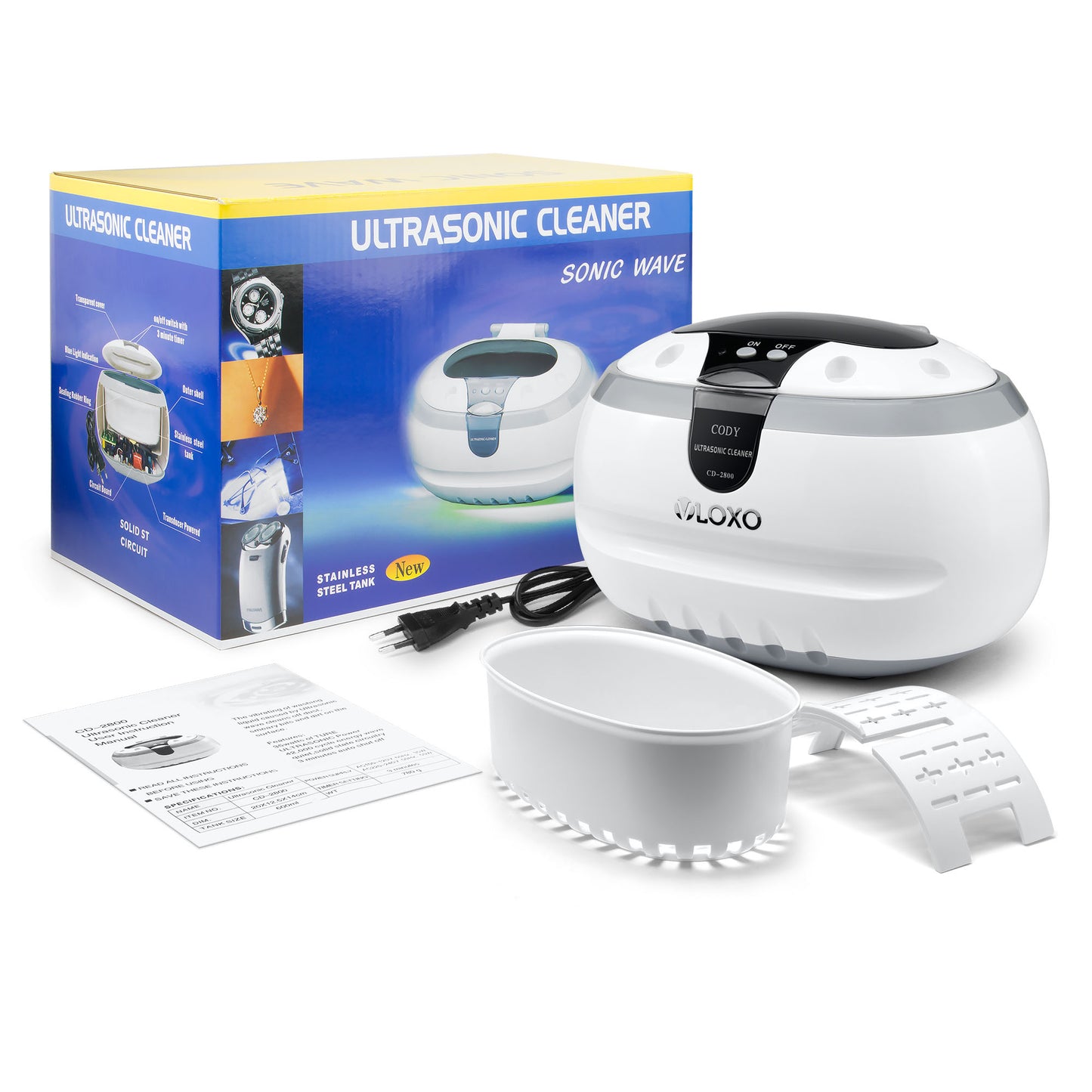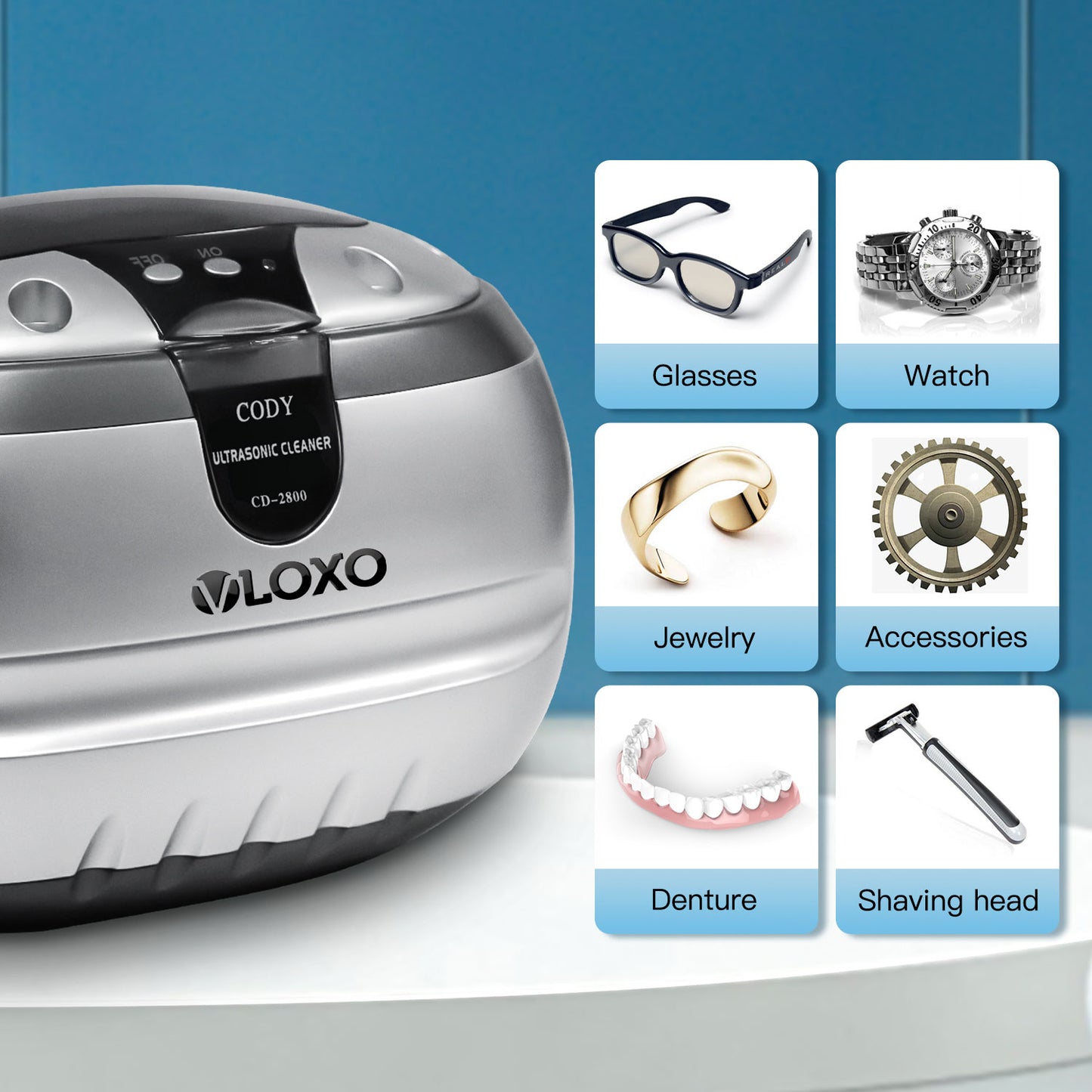 Ultra Sonic Cleaner
Does exactly what it says in the description. Arrived on time, came with a UK plug fitted. Filled it with water and tried some jewellery that needed a good clean along with some old glasses. The unit operates for 3 minutes at a time, after the first 3 minutes they were cleaner, we gave them a second go as the stuff was old and needed a good going over, after the second go the difference was remarkable! The diamonds were sparkling and all the detail in the gold was really clean. You could actually see the water getting cloudy and bits coming off the things being cleaned. We tried some other jewellery, most items only needed 1 go in the machine. We found that lukewarm water was better than cold water.
Great for cleaning 3D printed minatures
I've been after a untra sonic cleaner for a while to clean my 3d printed resin prints.
This does the job well.
The container is a little small but as it can operate with the lid over that's ok for me.
The 3 minute timer works well as I can put it in for a clean and If it's a bigger print I can spin it round and clean the other side.
I used a plastic bag.for safety as putting IPA in it is a bad idea. So I put water in the vat and my print in a bag of IPA. The sonic cleaner can penetrate the bag and cause the IPA to swish over it cleaning it.
Not more switching in pots of IPA for me.
It's really simple to use and comes with a UK plug.
Great for Sterling Silver.
I bought this for giving my Sterling Silver chain a clean.
I use warm water and if it's an item that is dirty I add a small amount of washing up liquid. You can see the water change colour after the cleaning process has finished on some items.
The model I bought only has one timer setting but if your item requires more cleaning just do it again.
There is a watch holder and I've used it to clean a watch bracelet.
All items have come out looking as good as new with sparkle.
If you want your bling back get one if these.
I hope this helps.
Sehr gut
Reinigt gründlich und schnell. Benutze es für meine Brille, Uhren und Schmuck.
impressed by the durability
The Ultrasonic Cleaner has revolutionized my cleaning routine, and I couldn't be happier with the results. This compact yet powerful device has proven to be an indispensable tool in my household. Here's why I highly recommend the Ultrasonic Cleaner:
Firstly, its ultrasonic technology delivers exceptional cleaning performance. Whether it's jewelry, eyeglasses, watches, or even small electronic components, the Ultrasonic Cleaner effortlessly removes dirt, grime, and stubborn stains. The gentle yet thorough cleaning action ensures that even hard-to-reach areas are effectively cleaned, leaving my items looking brand new.
The simplicity of operation is another standout feature. With easy-to-use controls and preset cleaning cycles, the Ultrasonic Cleaner takes the guesswork out of the process. Simply add water and your items, select the desired cleaning time, and let the machine work its magic. It's incredibly convenient and time-saving.
I'm also impressed by the durability and build quality of the Ultrasonic Cleaner. It feels solid and well-constructed, ensuring long-lasting performance. The spacious stainless steel tank accommodates various items, and the transparent lid allows me to monitor the cleaning progress.
Lastly, the Ultrasonic Cleaner's compact size makes it ideal for both home and travel use. It doesn't take up much space and is easy to store when not in use