VLOXO
Regular price
$33.99 USD
Sale price
$30.99 USD
Unit price
per
Sale
Sold out
Vloxo ultrasonic jewelry cleaner  use sound waves technology to transmit through the tank and cleaning solution create millions of tiny air bubbles that collapse or implode on the surface of the product, releasing massive amounts of energy to clean the surface. It can brings a non-destructive deep cleaning to your jewelry to give your jewelry a new look.
Why Choose Vloxo Ultrasonic Jewelry Cleaner?
[Ultrasonic sound wave to clean]    More powerful and effective ultrasonic sound wave(42000 Hz) , ensures more efficient cleaning result, clean and erase any subtle dirty on surface of objects with low noise, safely make your valuables sparkle again.
[Clean quickly & Handsfree]    One Touch Button Design, 3 mins auto-OFF after clean and without additional care. You only need to pour water in the tank, and put the items in it. In order to get a better cleaning results, you can add bit of liquid hand/dish soap for enhanced cleaning.
[Diamond design]    The elegant appearance is very attractive, perfect for home. Its size is appropriate and won't require much storage space. It is a amazing gift for your family. This ultrasonic jewerly cleaner can also clean glasses, watches, coins, dentures and laboratory instruments. It is also the ideal professional cleaning machine for jewelers, opticians, watch shops, etc.
[Large capacity]     The power cord is detachable, making it easier to replace the water. The ultrasonic cleaner has a stainless steel tank that holds 450ML of water, designed with max water level line inside the tank for guidance. All accessories you need included: basket, watch support and CD holder.
NOTE:
1. Be sure to add clear water before turning on the power to avoid burning the machine.
After 10 minutes of continuous work, need to rest for 10 minutes to cool down to prevent burning of the machine.
2. Different items use different cleaning agents, the effect will be better.
3. The effect of warm water is better than cold water. If the cleaning effect is not good, it can be cleaned multiple times.
4. When cleaning the glasses, it is best to face up to avoid friction between the lens and the bottom. Please note: Spectacle frames or lenses that are worn or cracked cannot be used for ultrasonic cleaning.
5. The basket will reduce the working effect of ultrasound, but it will also protect the jewelry. It is recommended to use the attached basket when cleaning jewelry.
6. If you are not sure whether ultrasonic cleaner can clean a specific type of jewelry, please consult the jeweler.

Vloxo Ultrasonic Jewelry Cleaner Specification:
Case Material: ABS
Tank Material: 304 SUS
Frequency: 42,000Hz
Tank Capcity: 450ml
Timer Setting: 180s
Size: 7.7*4*3.5 inch (inner tank size: 6.1*3.1*1.5inch)
LED digital display
Detachable cable
No noise & Auto shut off
Packing List 
1 x Ultrasonic Cleaner

1 x Plastic Basket

1 x Watch Holder

1 x Instruction Manual

1 x Power Cord
 Notice: we will send the power cord with corresponding standard according to the country your provided in shipping address, if you have special requirement for the power cord, kindly leave a note or contact us in time.
UK Plug
US Plug
EU Plug
AU Plug
Share
View full details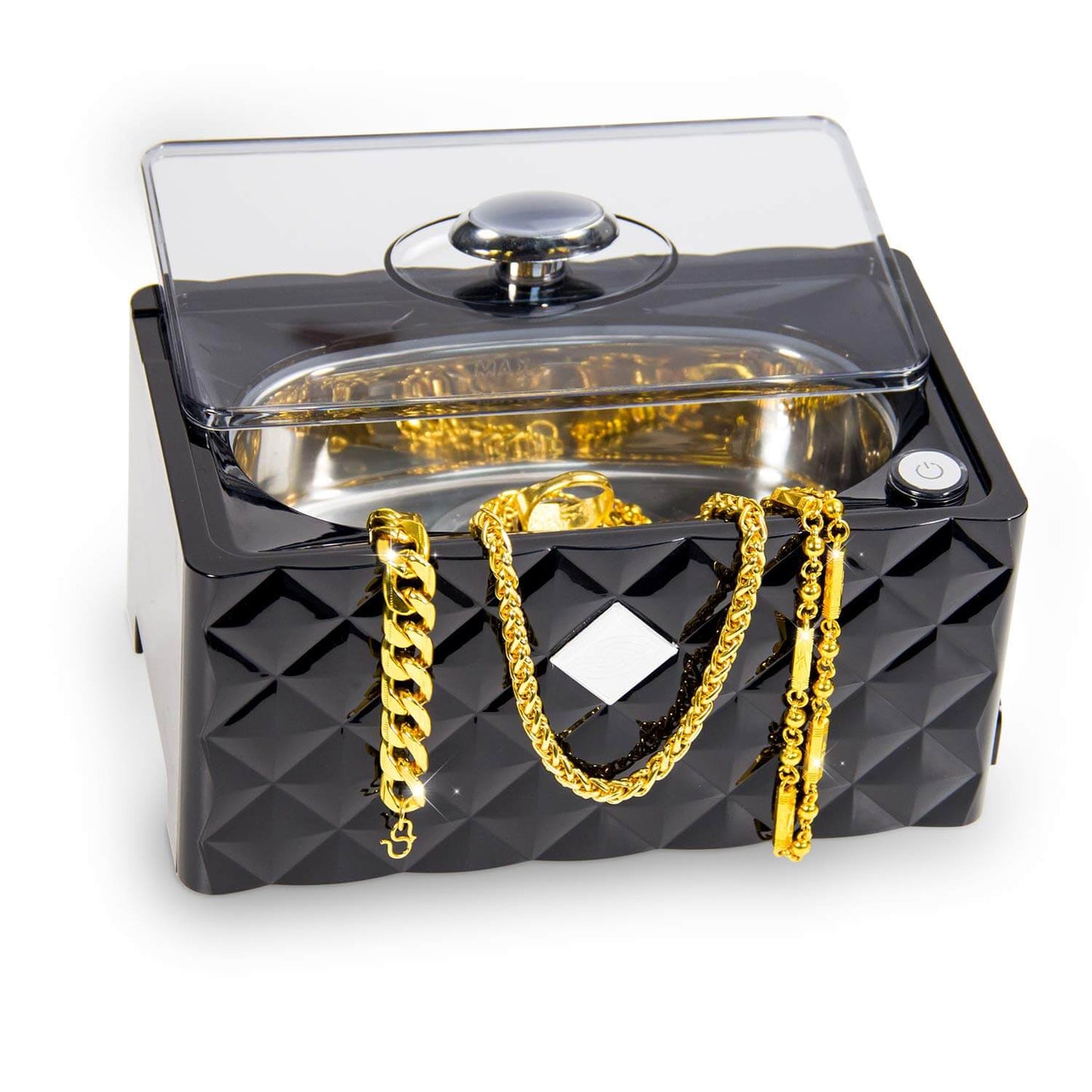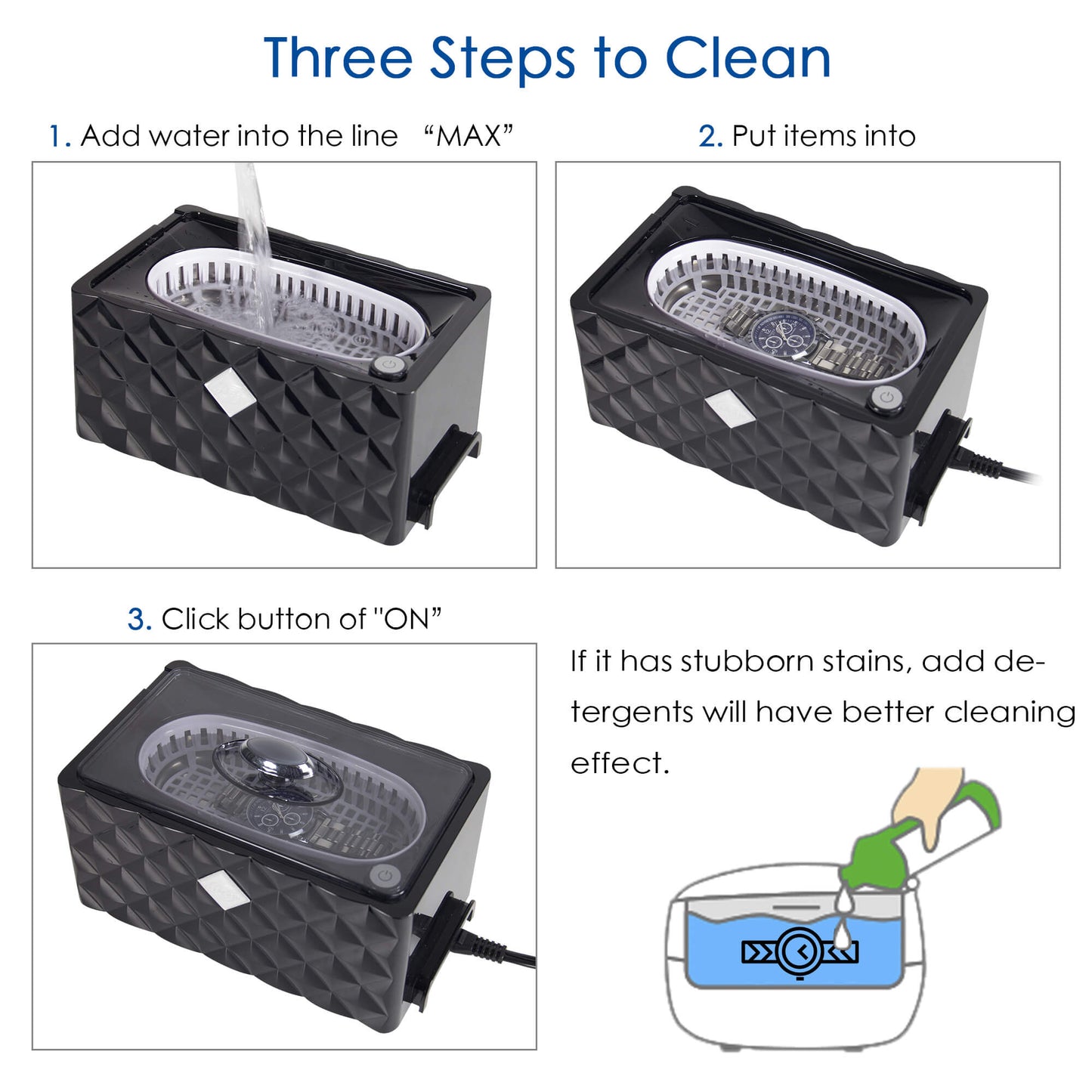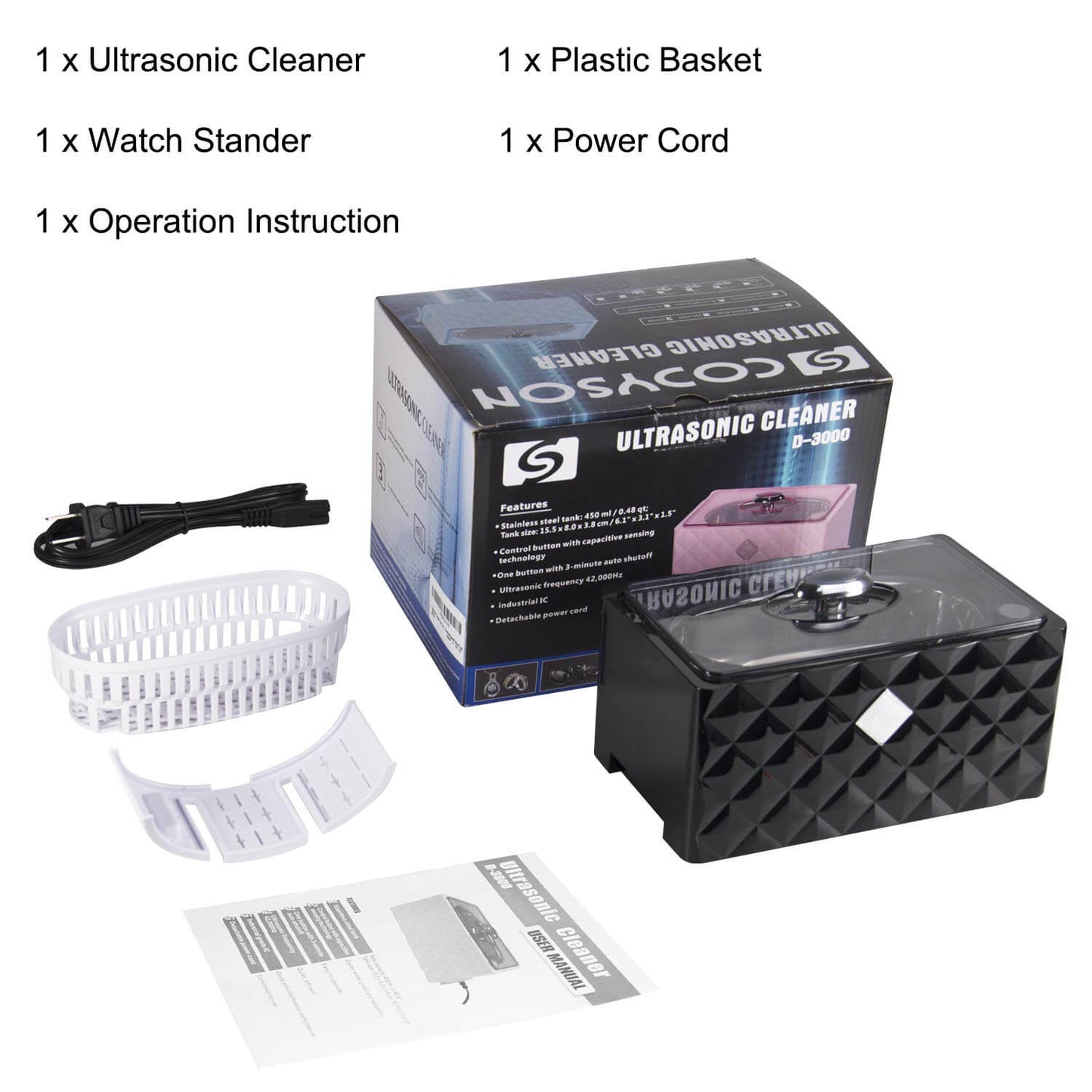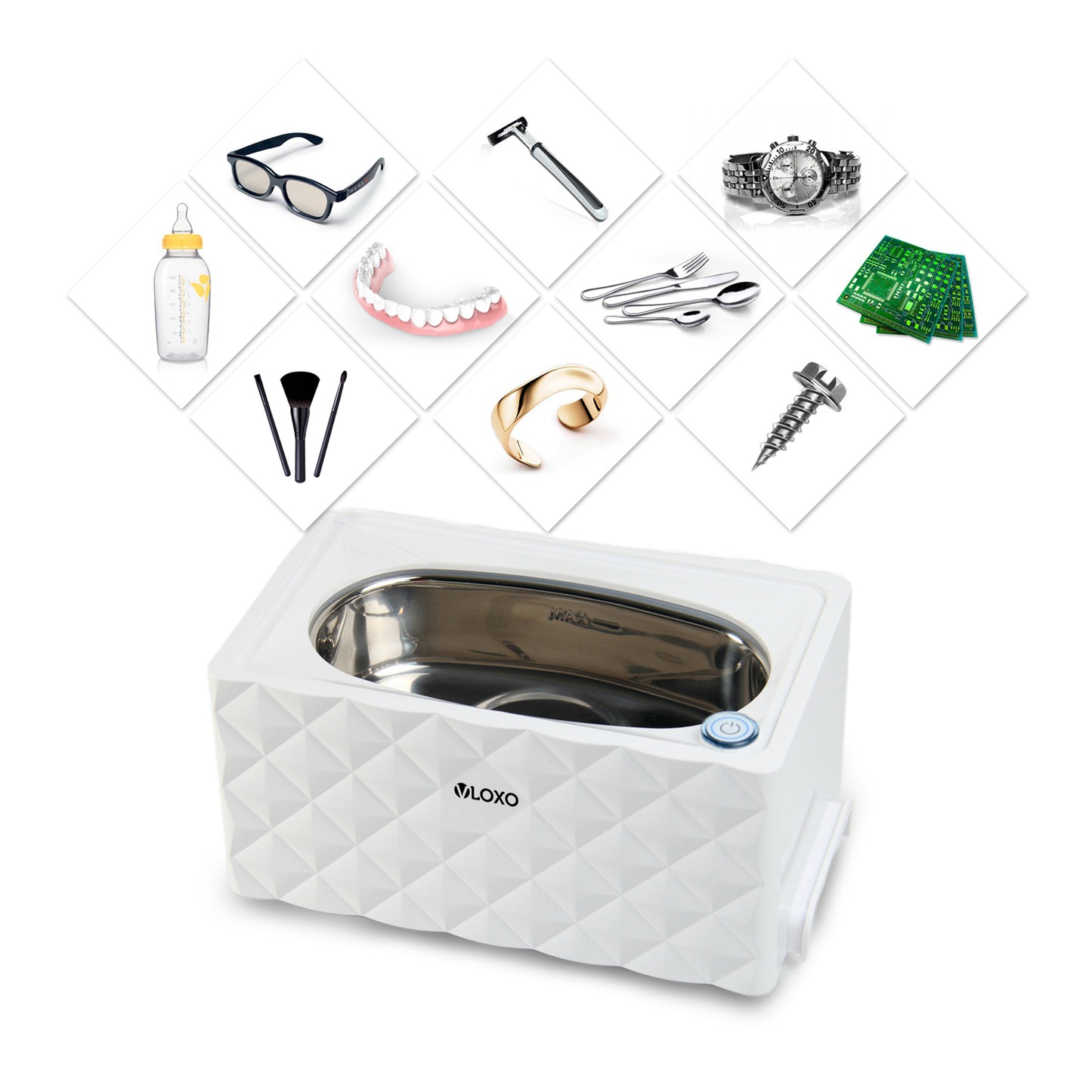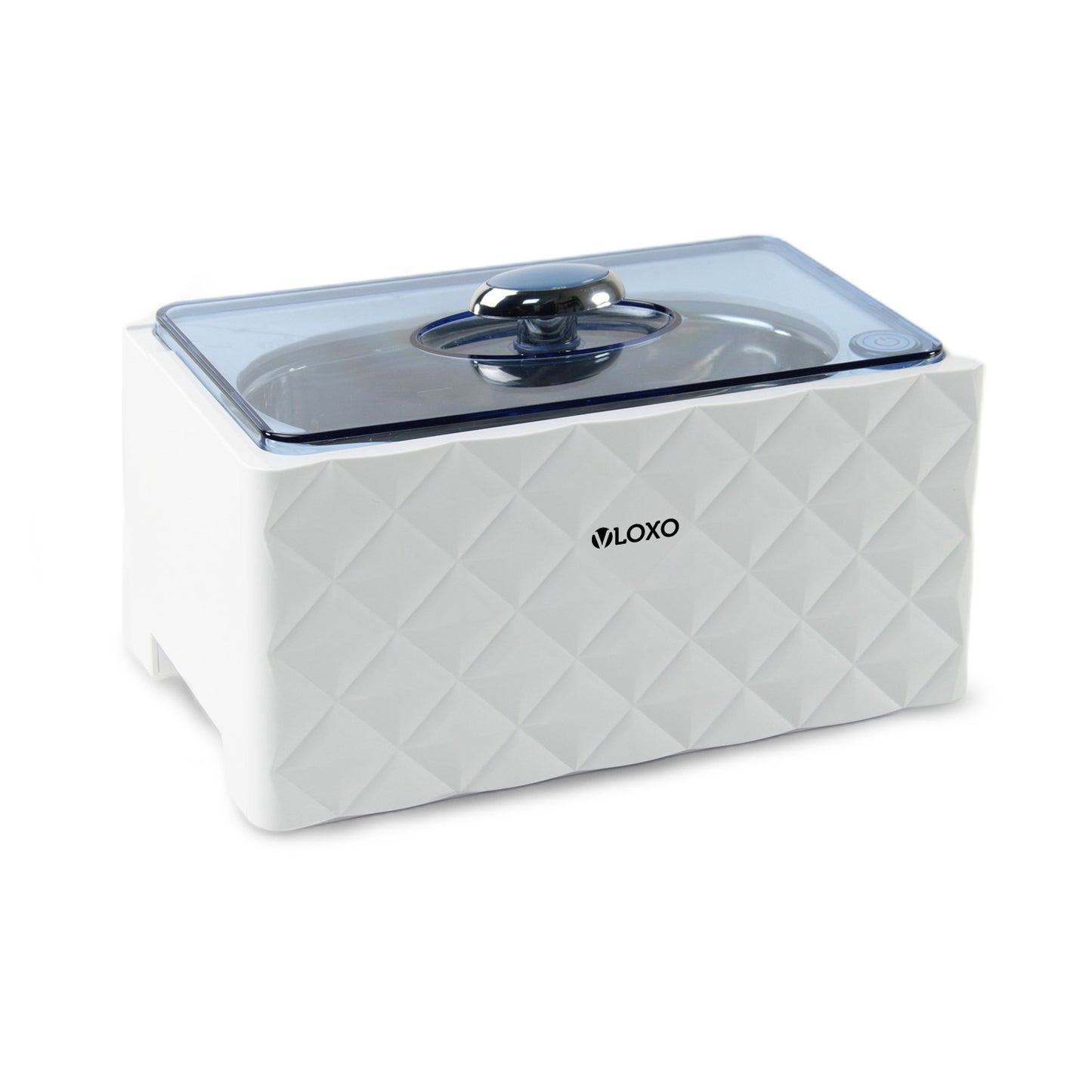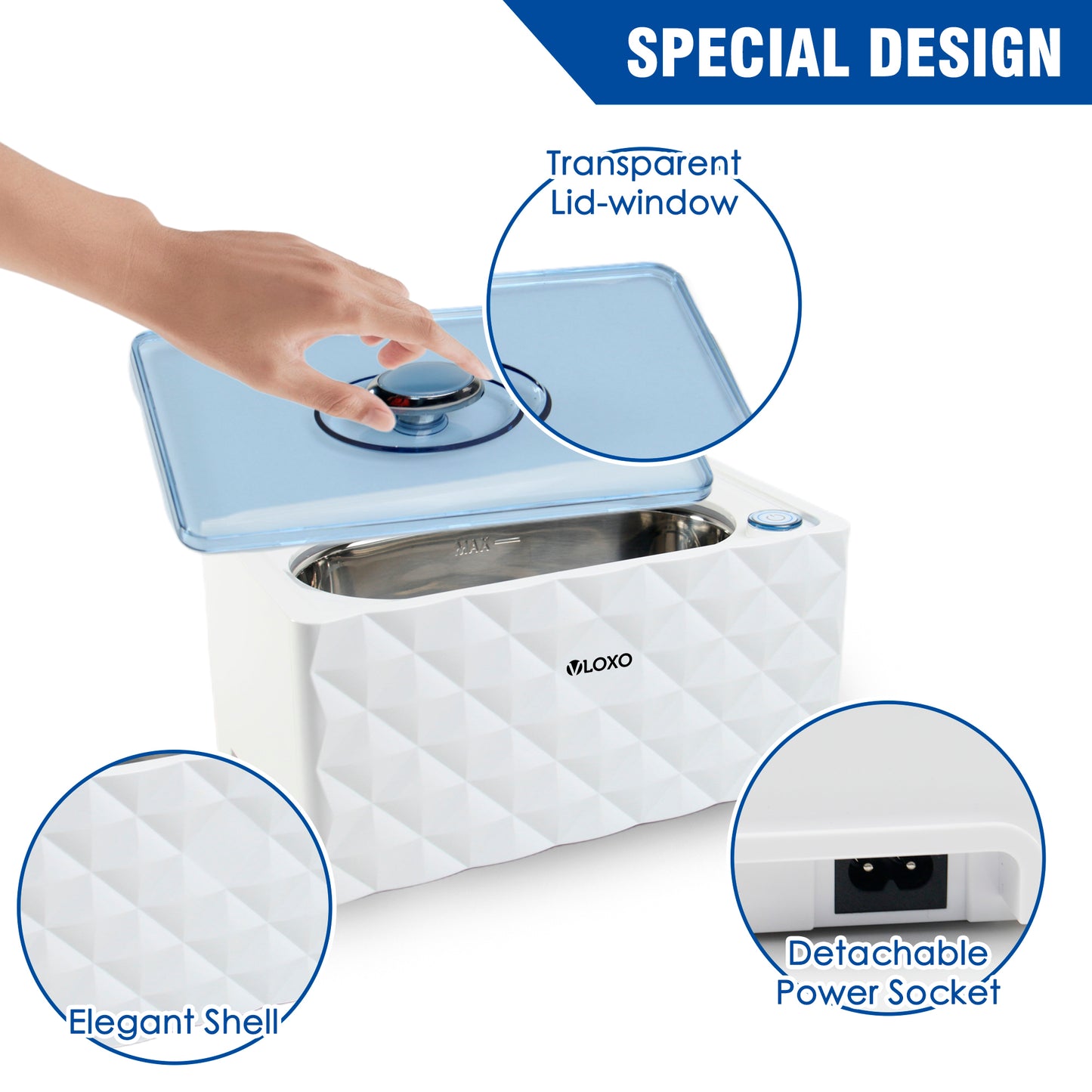 Petit mais efficace.
Petit nettoyeur à ultrason bien pratique. Je n'avais pas de choses bien sales pour voir son efficacité donc j'ai pris des vis sur un carburateur de voiture. Et bien le résultat m'a surpris, il a fallu que je fasse plusieurs cycles vu que cela ne dure qu'entre 4 à 5 min. Mais le résultat est là, il fonctionne à merveille (cf photos).
Vous pouvez nettoyer qu'avec de l'eau mais il vaut mieux mettre un dégraissant.
En plus il est plutôt classe, ma femme l'adore. N'hésitez pas à le prendre pour nettoyer vos lunettes ou tout autre petit objet. Au top!!!
Amazing
Makes me jewelry look like new again. I do a lot of projects with my hands. I used to remove my ring when working. Now I just toss them in this and run the cycle, after I've finished my projects.
Smaller than expected
It works fast with the right products. Very small.
Looks great on the counter and cleans welli
I had been wanting a cleaner for a while and this one caught my attention because of how cute it was. I knew I could leave this out on my counter top and it would still look nice. It isn't too loud and it easy to use, or does a good job of cleaning the things I put in there.