VLOXO
Regular price
Sale price
$37.99 USD
Unit price
per
Sale
Sold out
Vloxo electric scissors are a hand-held tool that can cut through different types of materials easily and do not have to move the blades manually, which effectively release your hands, especially for those who are working on crafting, cutting fabric, wrapping paper, leather and carpeting for a long time.
Why Choose Vloxo Electric Scissors?
[Ergonomic hold & Multifunctional]    Vloxo electric scissors is 8.5 x 4.8 x 2.44 inches, very comfy to hold and easy to cut cardboard, fabric, thin metal, leather, plastic mats, carpets, felts, which is very suitable for crafts and handicrafts. It is very friendly to those who are working on cutting for a long time. Relieve the pain of hands and wrist.
[One button to operate]     Vloxo electric scissors is very easy to use even for a beginner. Just press the button by your index finger when using, and your index finger touch the button naturally when you hold this cutter. With one-button operation design, allows you to finish cutting easily and effectively.
[Large capacity]    Vloxo electric scissors can be used for up to 3-4 hours of continuous cutting time when fully charged. And the speed of this muti-cutting tools is up to 10000 RPM. It can reduce the pressure on your hands and is an great working tool for handicrafts and manual work. Easy to carry and bring you excellent mobility and operability.
[Safe lock]      It contains 2 blades, easy to install. Just press the blades on the scissors hardly until you hear the "ka-ta", it install successfully and do not loose.
Benefits of Using Electric Fabric Scissors Include:
Eliminate tired hands and wrists due to extensive cutting
Reducing aches and pains from using scissors
No more jagged cuts
Increased productivity by being able to cut more in a shorter period of time
No need for a cutting mat
 Cutting Capacity
1. Felt: 6mm
2. Corrugated cardboard: 5mm
3. Mat: 3.5mm
4. Leather: 3.5mm
5.Plastic plate: 3.5mm
6. Potted plant: 2mm
VLOXO Electric Scissors Specification
Size:  8.5 x 4.8 x 2.44 inches
Voltage: 3.6V DC
Powerful: rechargeable
No-load speed: 10000RPM
Package included:
1 * Electric scissor unit
2 * Cutting head
1 * Charger
1 * User Manual 
VLOXO Electric Scissors with Two Blades User Manual  
VLOXO  will send the power cord with corresponding standard according to the country your provided in shipping address.
UK Plug
US Plug
EU Plug
AU Plug
Share
View full details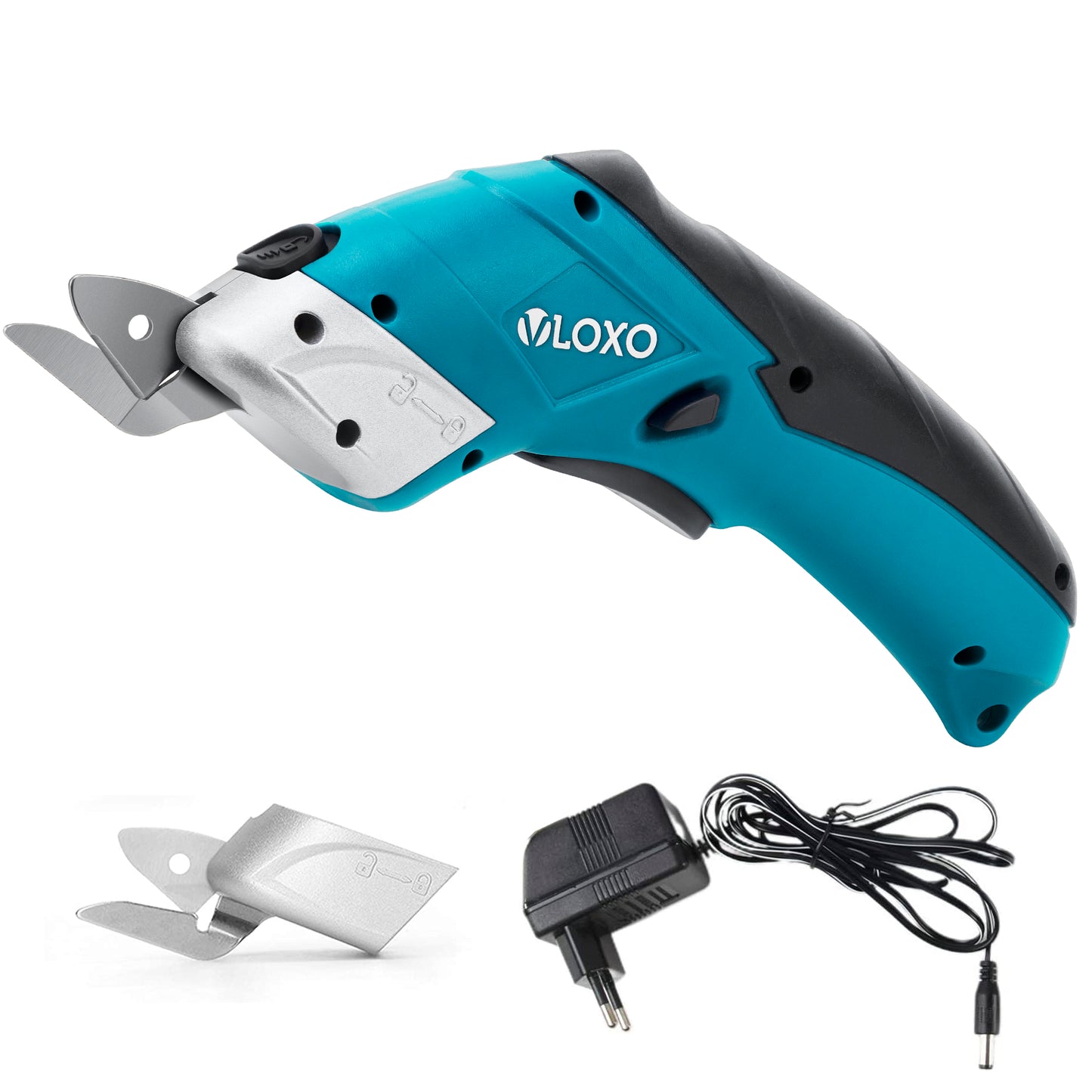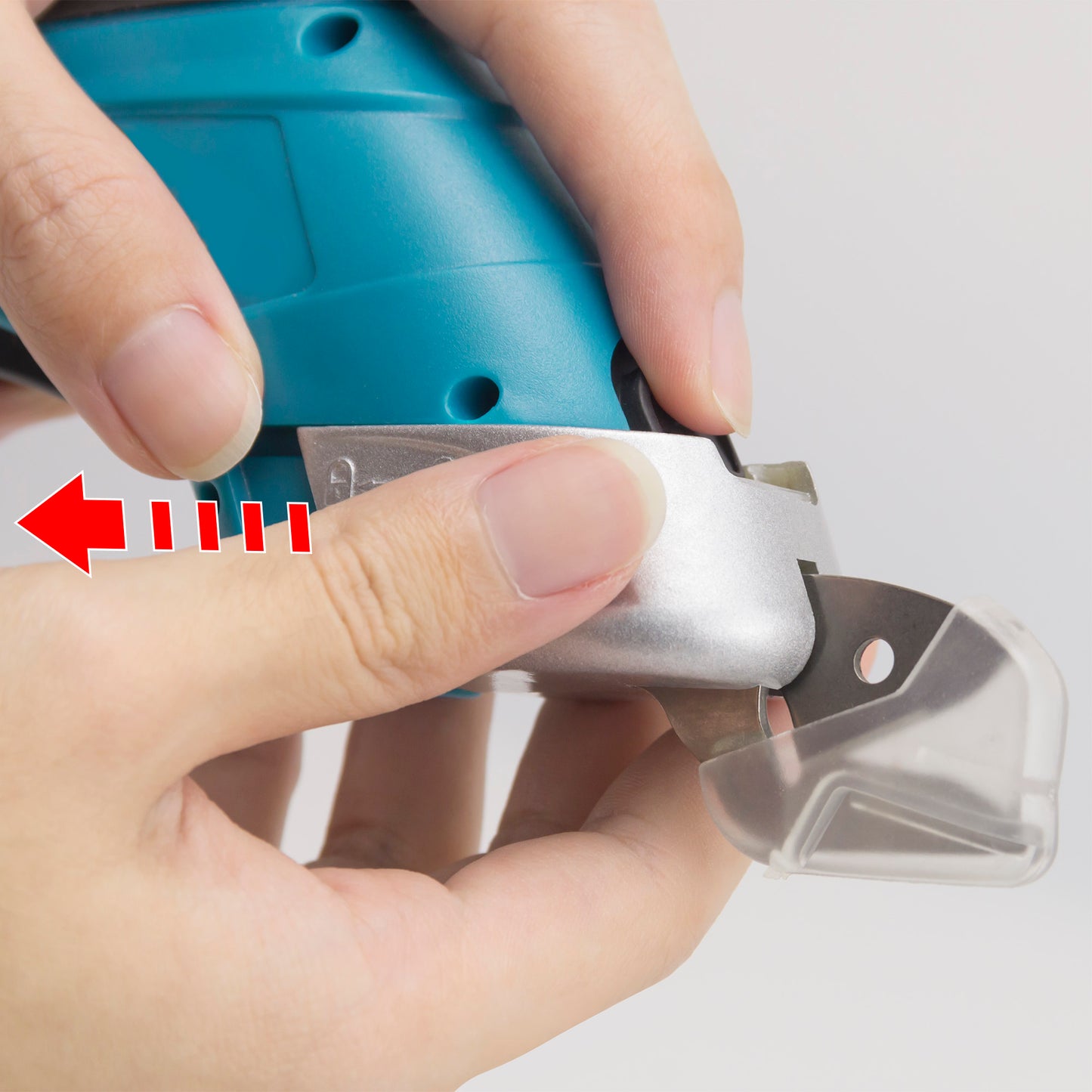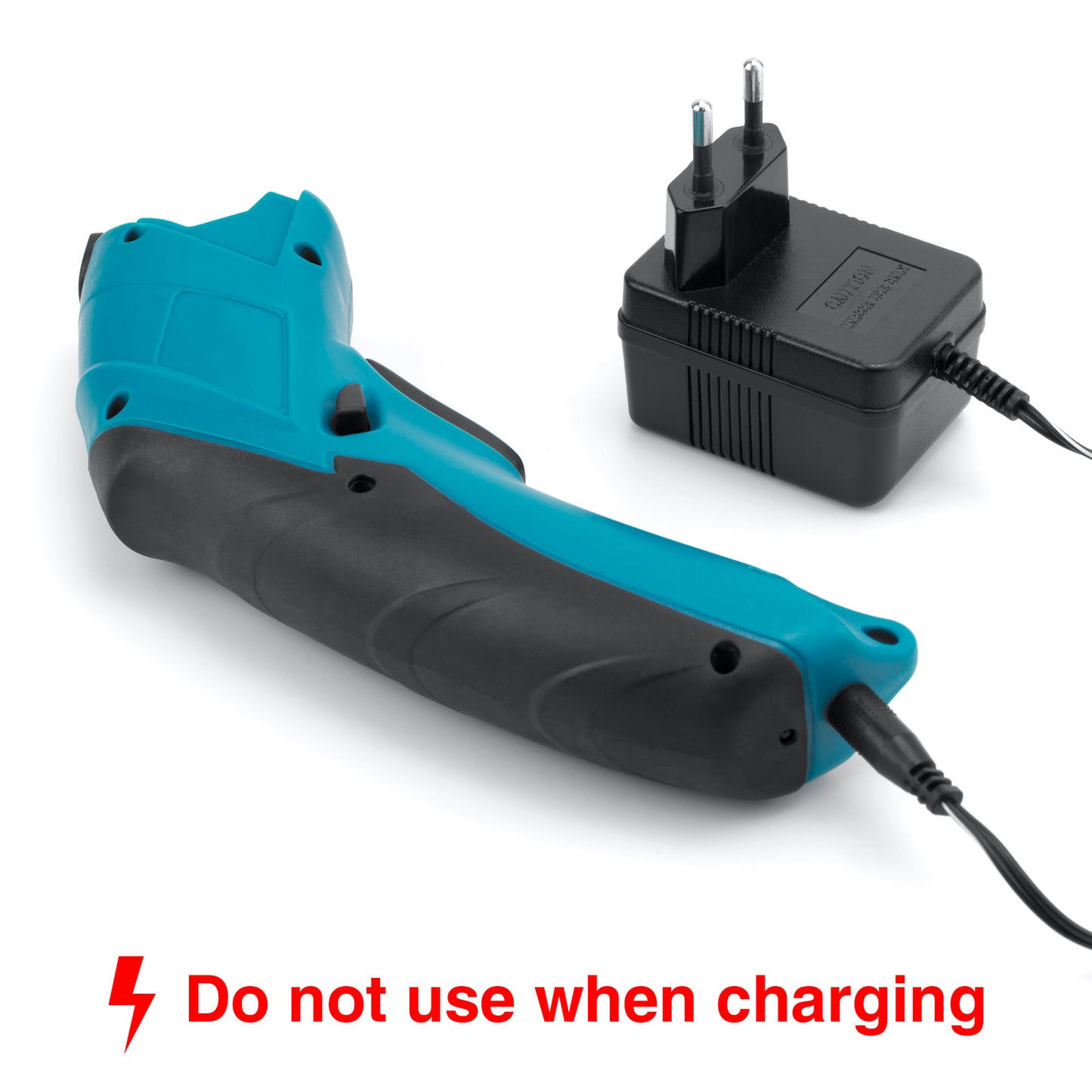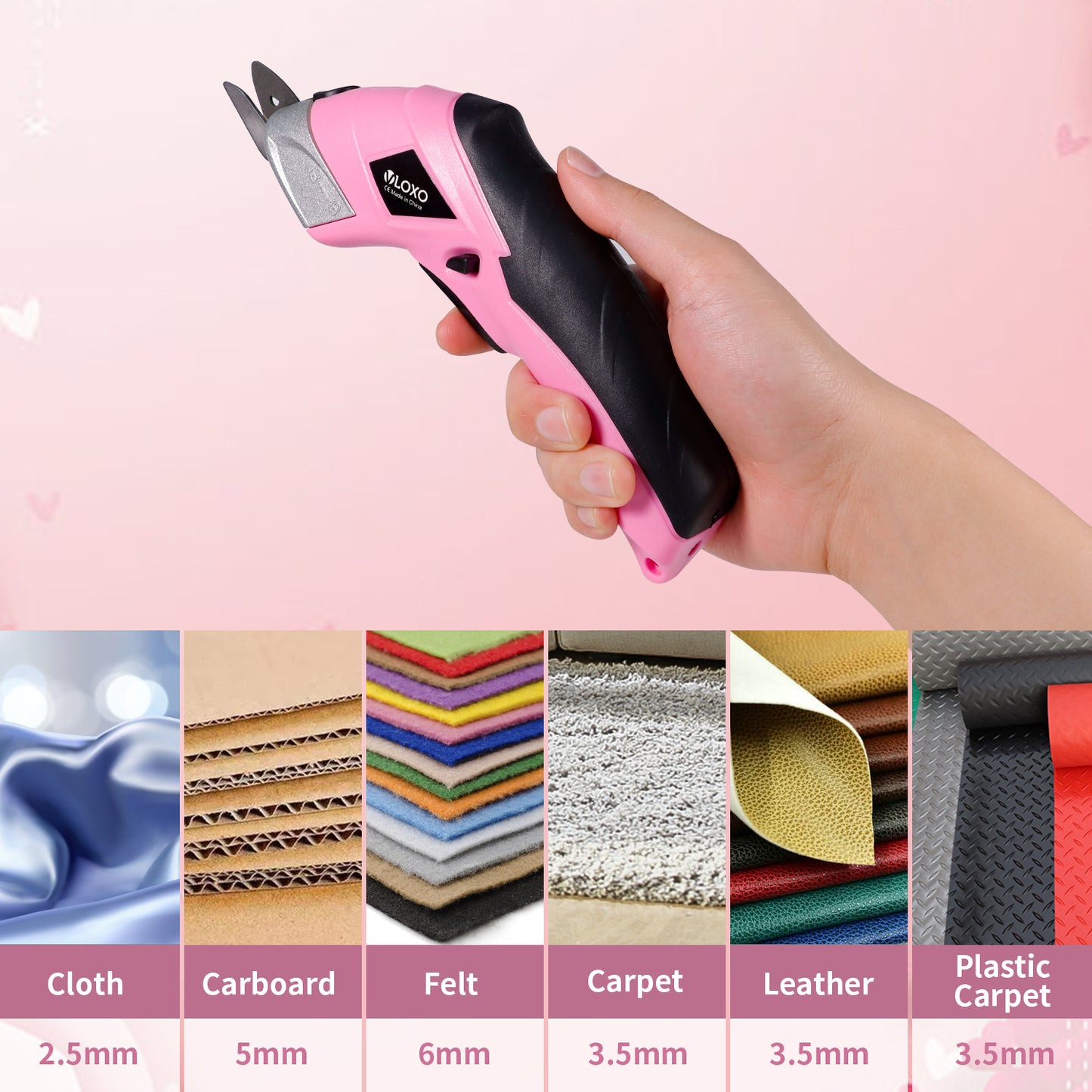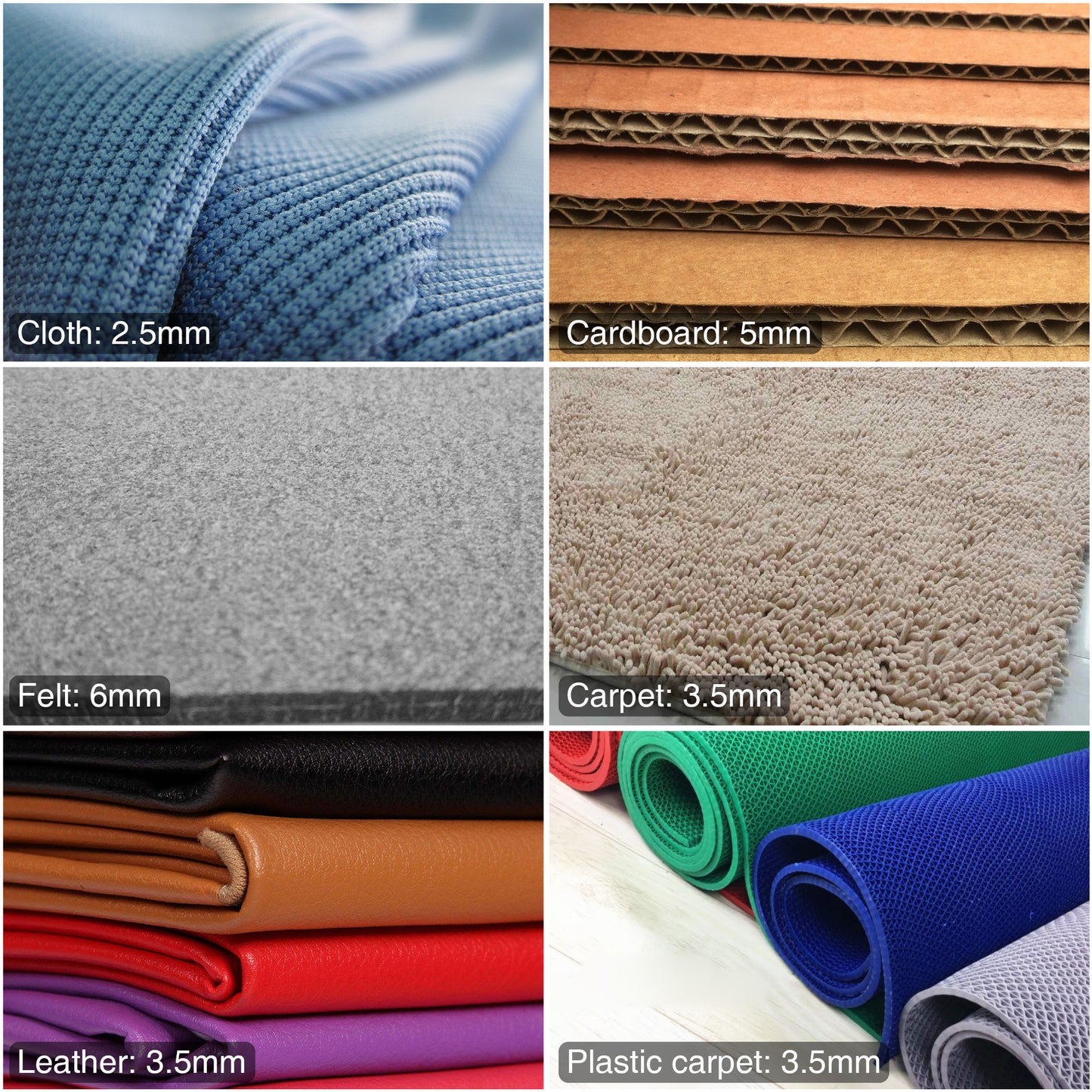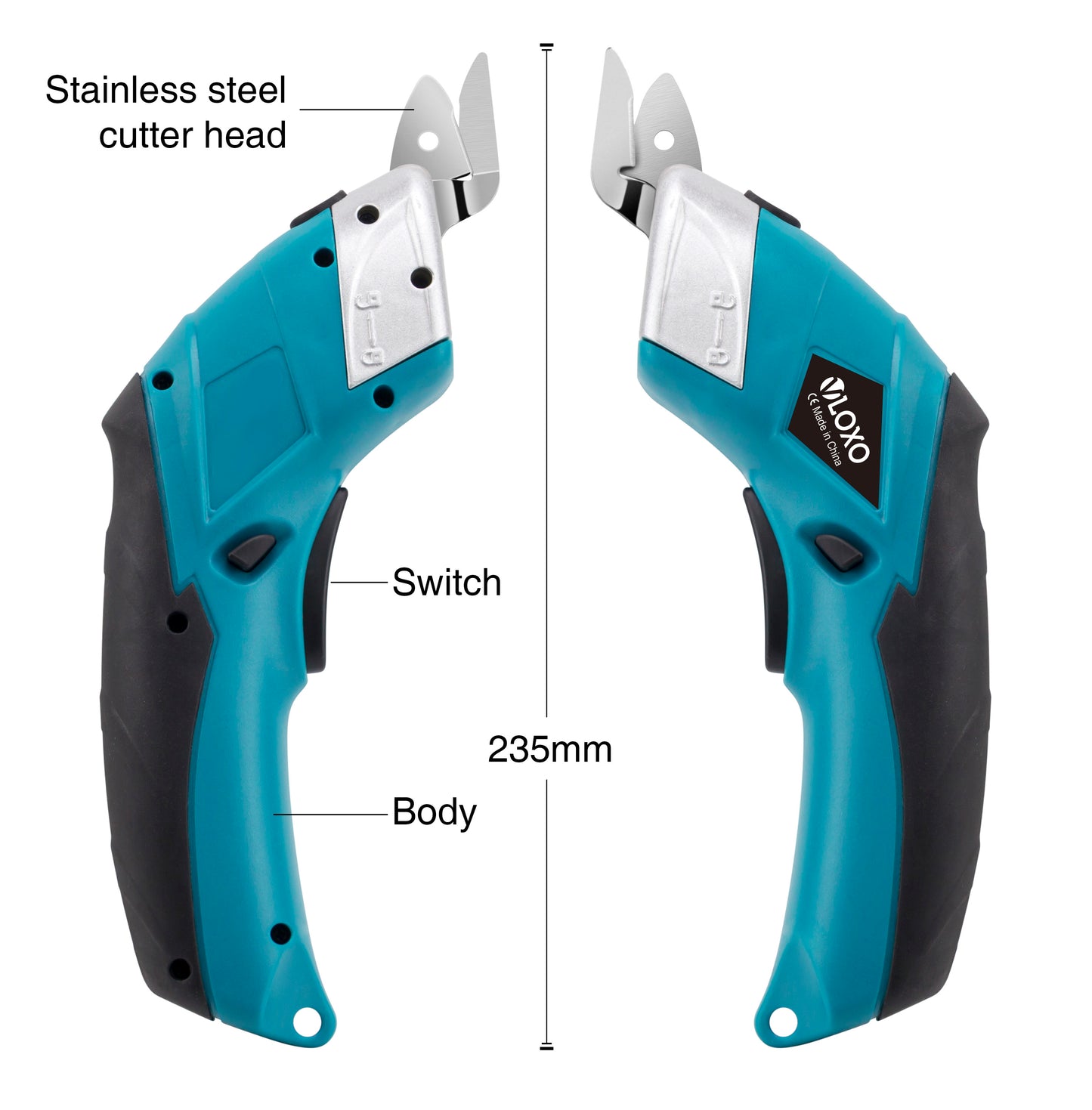 Appareil reçu aujourd'hui
Je suis couturière depuis plus de 50 ans lorsque j'avais ma fabrique j'utilisais la grande coupeuse industrielle électrique depuis que je travaille chez moi je me suis abîmé les doigts avec les ciseaux à couper les tissus épais pour l'ameublement. Je viens de tester l'appareil que j'ai acheté aujourd'hui c'est magnifique il fonctionne très bien ça va beaucoup m'aider je le recommande bonne qualité après modéré
Super pratique
Très pratique pour couper tout type de tissus
Getestet, ist super kann nur empfehlen
Sieht so leicht aus, ABER in enorm effizient.
2 x 25m² in 30x50cm Stücke geschnitten.
War ein Kinderspiel, so macht arbeiten direkt spassss. Wir haben aus Vorsicht 2 Scherren bestellt wäre nicht nötig gewesen, aber brauchen kann man sie immer
Habe sogar ein dickes Frotteebadtuch zerschnitten OHNE Hilfe einer weiteren Person war super einfach.
✂️ Kann vielseitig eingesetzt werden ✂️
War eigentlich nur für ein Hobby von mir gedacht, nun ist sie ständig im Einsatz.
Geliefert wird es in einer praktischen Tasche, fast so groß wie ein Federmäppchen. Anleitung, Netzkabel zur Aufladung und Ersatz Scherenaufsatz sind mit bei.
Die Schere Schneider mühelos Karton, Kabeltrommel, Aluminiumblech, Kabel und vieles mehr
Schere ist recht scharf und. Robust. Schneidet präzise und sauber. Handführung ist einfach und liegt ebenso gut in der Hand. Besonders hat mich das leichte Gewicht sowie die lange Akku Laufzeit überzeugen können.
Bin froh sie zu haben und bin mit dem Preis Leistungsverhältnis mehr als zufrieden.
Ich hoffe ich konnte Ihnen bei Ihrer Kaufentscheidung weiterhelfen. Danke fürs Lesen
Für den Heimwerker gut geeignet.
Wir mussten in einer kompletten Wohnung Teppich und PVC-Boden verlegen. Ich hatte keine Lust da mit dem Cutter- oder Teppichmesser herumzuexperimentieren, deshalb wurde diese Akkuschere bestellt ...
Die Schere liegt recht gut in der Hand und geht auf Knopfdruck ganz schön los. Da sollte man für die ersten ein/zwei Schnitte vielleicht erstmal einen Probeschnitt zum üben machen.
PVC schneidet die Schere problemlos. Auch der von uns verwendete nicht allzu dicke Schlingenteppich war keine große Aufgabe. Bei sehr dicken/festen Teppichen denke ich, ist dann aber Schluss? Müsste ich mal ausprobieren, wenn sich die Möglichkeit ergibt.
Insgesamt für den Heimgebrauch sicher eine sinnvolle Anschaffung. Erleichtert die Arbeit ungemein und geht schnell ...