VLOXO
Regular price
Sale price
$39.99 USD
Unit price
per
Sale
Sold out
Vloxo cordless electric scissor equips with safety lock switch, can be used to cut fabric, cloth,leather and carpeting, plastic, felts etc. Perfect assistant for those who are spending much time working on crafting, sewing and arts. This electric scissors is equipped with an automatic sharpening system, which keeps the edges of the octagonal blades sharp at all times.
Why Choose VLOXO Electric Scissors?
1. Multifunctional
Vloxo electric rotary cutter are equipped with a safety lock switch, both the trigger and the lock-out switch need to be pressed to make it operate, which can effectively avoid accidental start of electric scissors. After the scissors are started, the hand holding the safety switch can be released. Safer to use, cutting your time and energy. Easier and quicker to cut fabric, wrapping paper, leather and carpeting.
2.Power supply 
Vloxo cordless electric scissors has 240RPM cutting speed and 1/4 cutting capacity. Compared with manual scissors, cordless electric scissors are more powerful and strong. The electric cutters allow you to cut harder materials with less pulling force, it's very friendly to those who are spending much time working on crafting, sewing and arts projects. You can cut cardboard, leather, plastic mats, carpets, felts, etc. It is a great working tool for handicrafts and manual work effortlessly.
3.Compact size & ergonomic comfort 
The handle of Vloxo mini electric scissors is ergonomically designed to allow both left-handed and right-handed users to complete the cutting work smoothly. It weighs less than 1 pound and measures less than 9" long, making it very easy to store and carry with the storage box.
4. Rotating blade design, blade stays sharp
Vloxo cordless scissors has advantages over other electric scissors that use an oscillating blade. As the blade rotates it rubs against an integrated sharpener, ensuring it never gets dull. Please always keep the area around the blade guard clean. Remove dust and chips by blowing them out with compressed air or with a brush.
VLOXO  Electric Scissors Specification:
Weight: 0.93 lb
Cutting Capacity: 1/4
Cutting Speed: 240rpm
Max Cutting Size: 6mm
Voltage: 4.2V
Battery capacity: 2.0 Ah
Charging Time: 3~5 hours
Packing List
1 x Electric Scissors
1 x USB Cable
1 x User Manul
VLOXO Cordless Electric Scissors User Manual
Share
View full details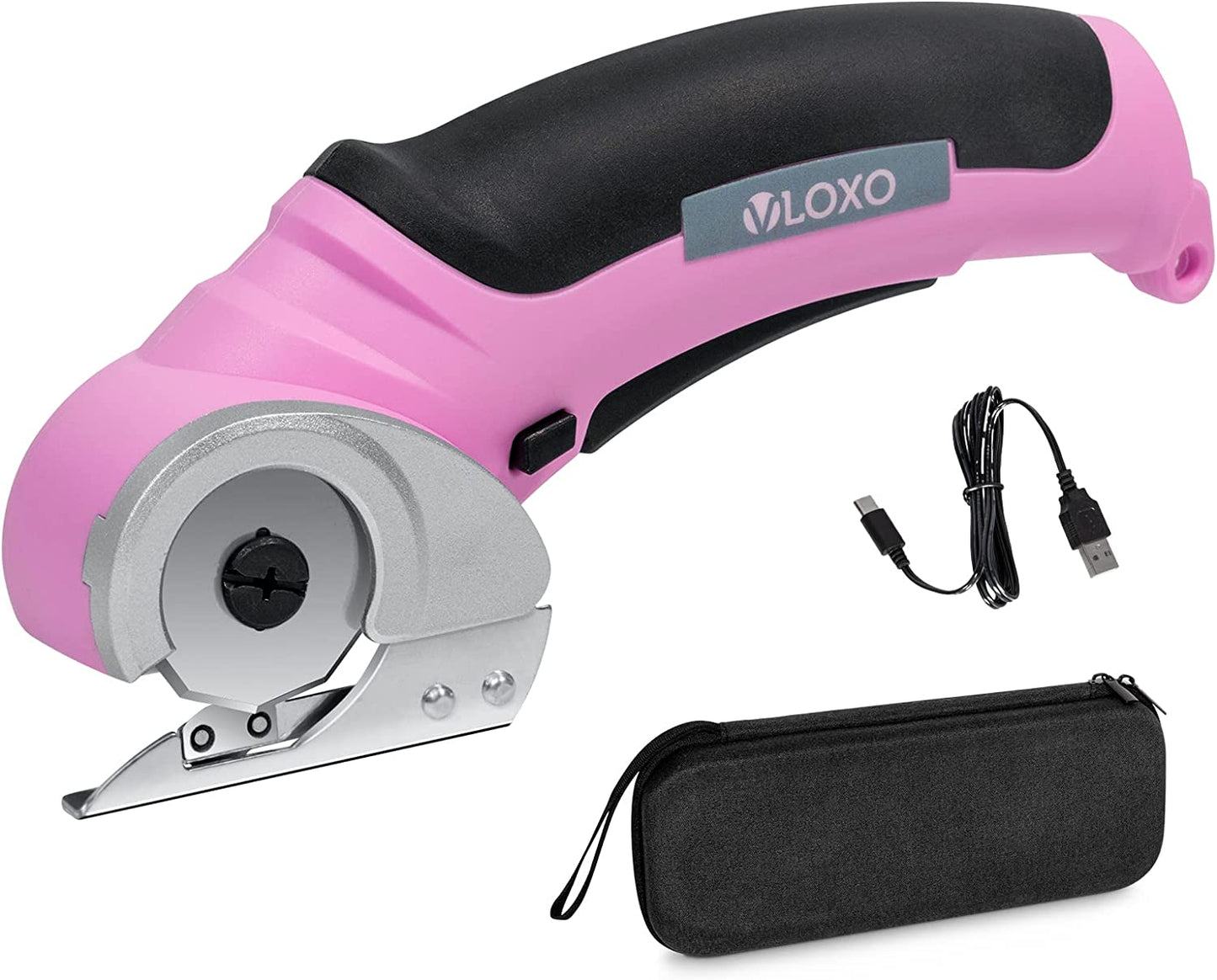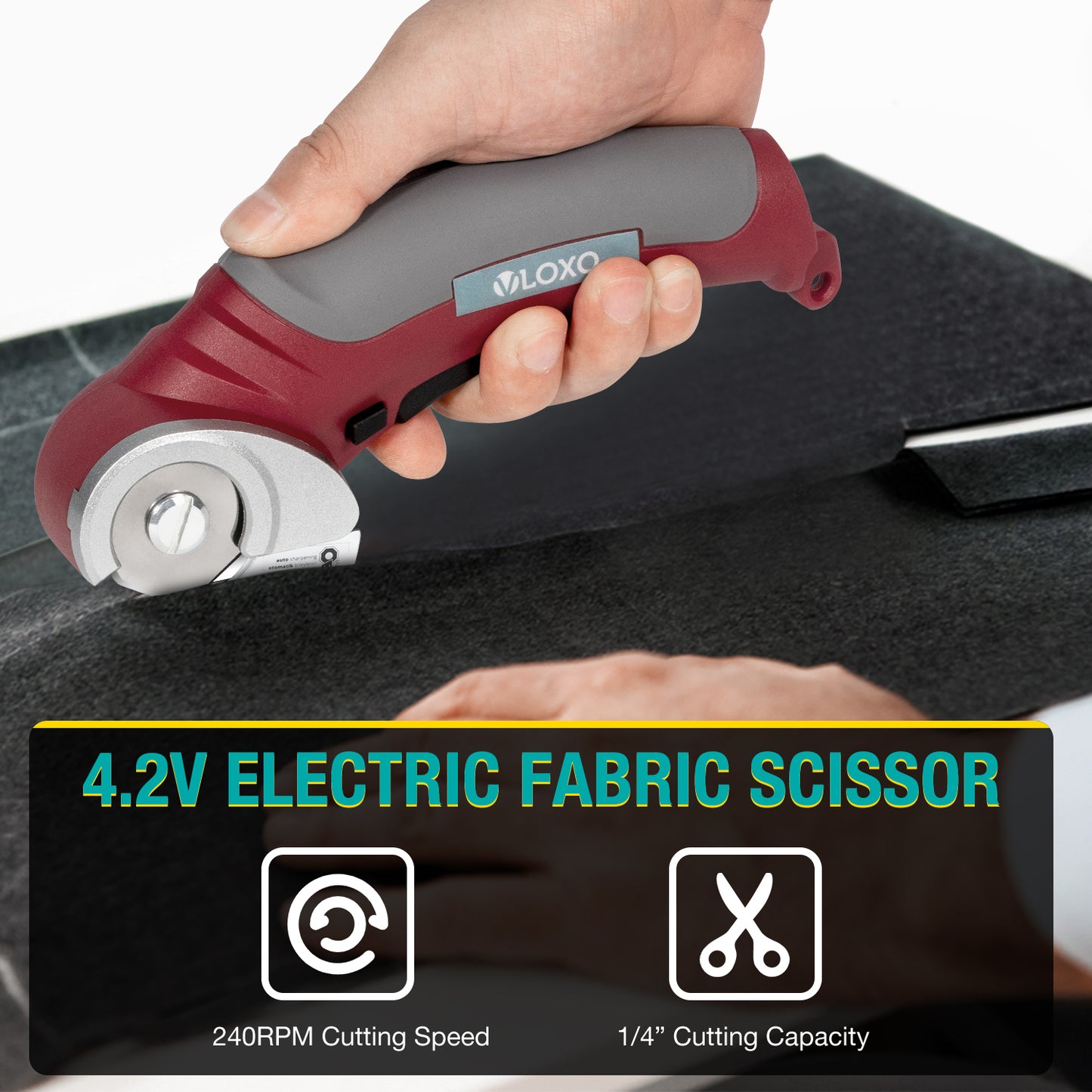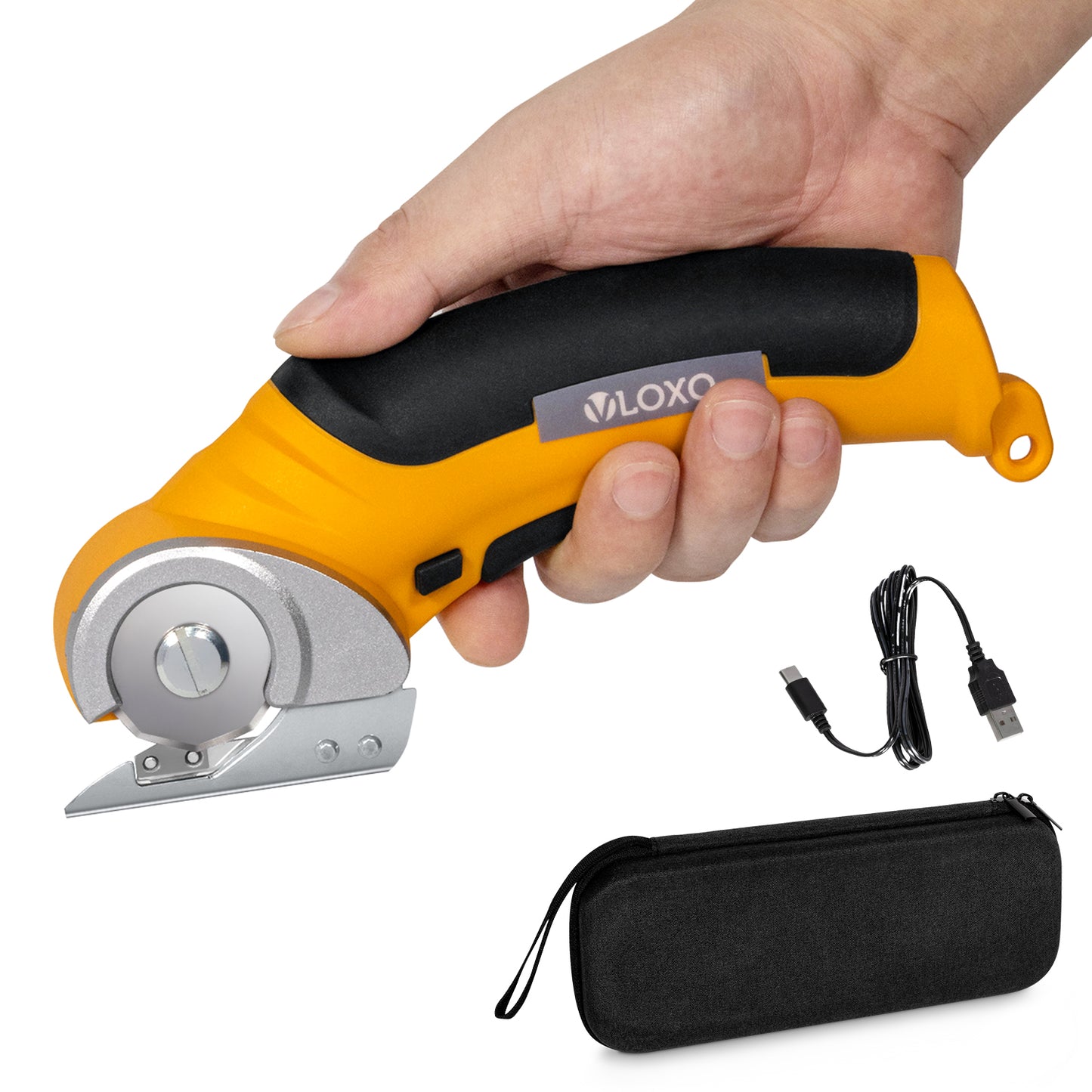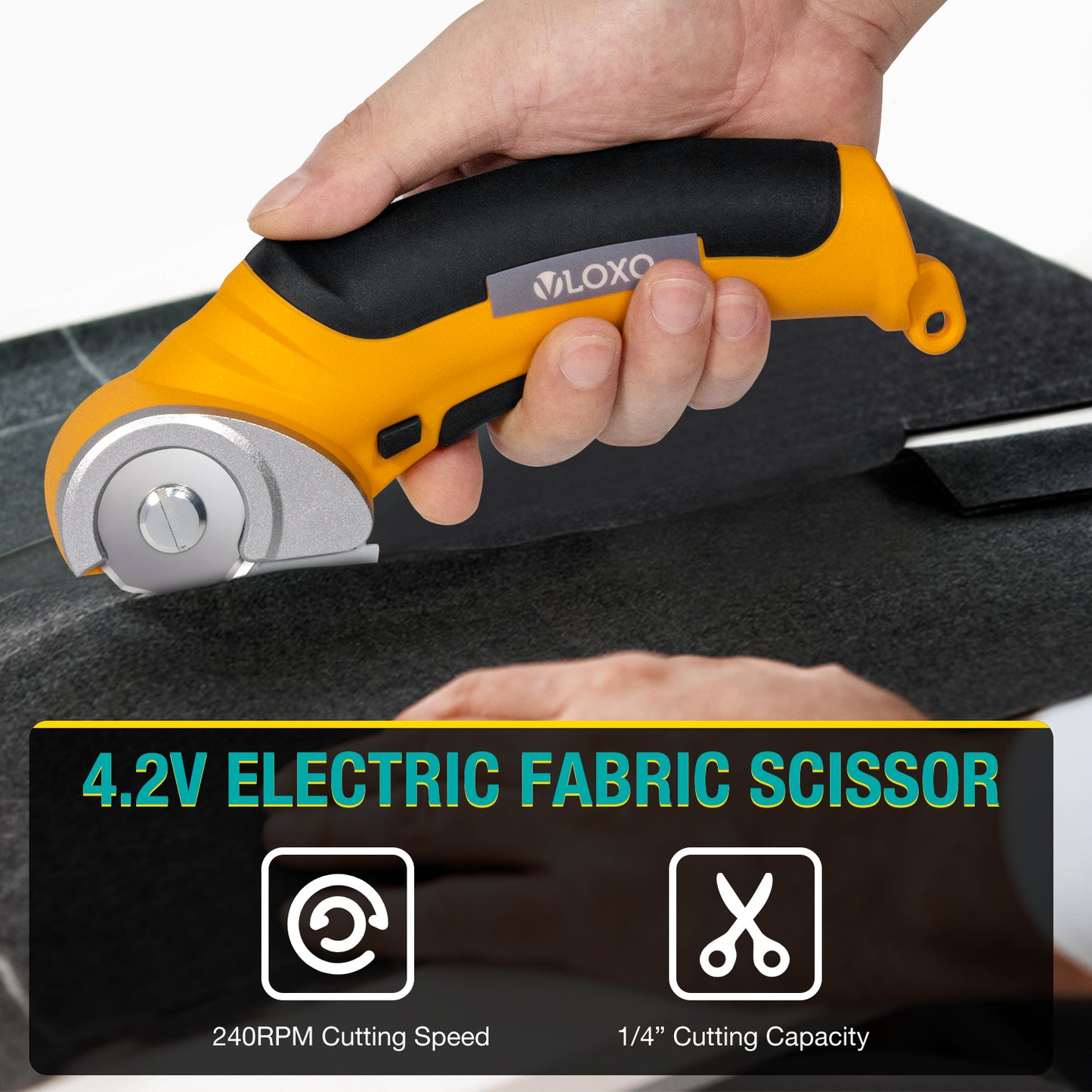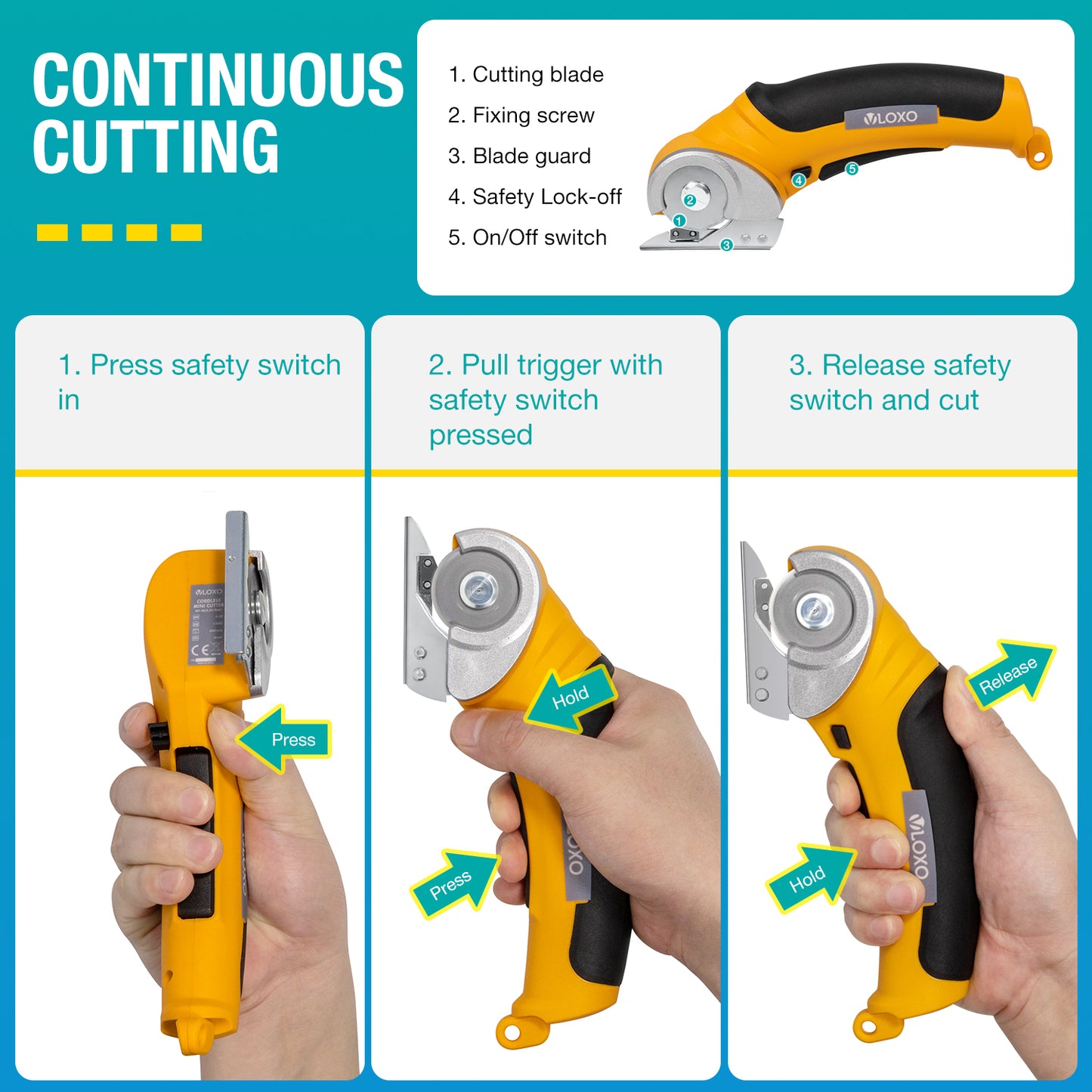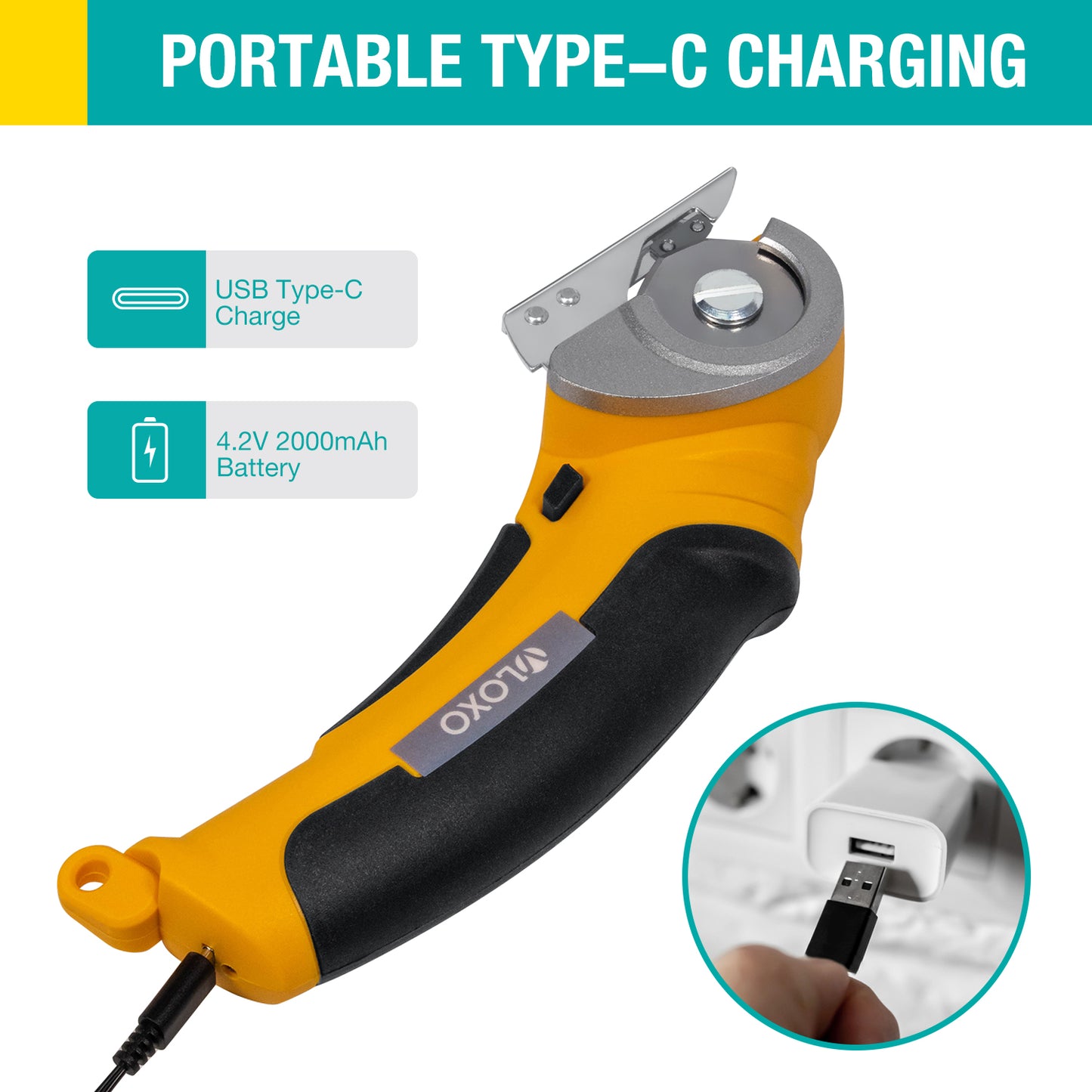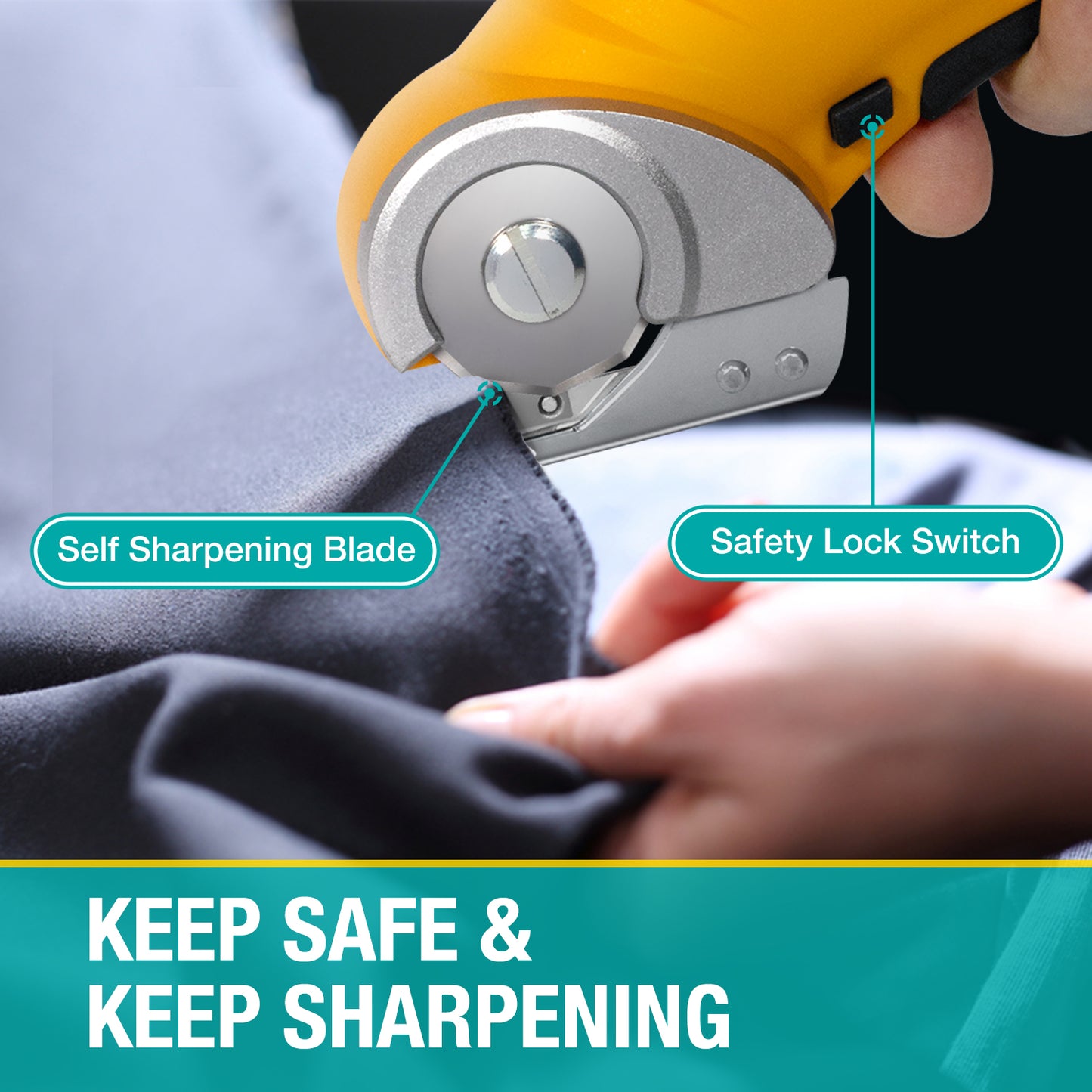 Fantastic!
Fantastic little tool. Made short work of all the cardboard boxes we had lying around.
Cuts up cardboard safely
We get almost everything delivered to the house and although it is very convenient, it creates a lot of boxes. We often have to break down and cut them up which can be a bit dangerous with a box cutter. These scissors cut through the cardboard really easy while also keeping it safe to do so. There is a guide and cover to the blade and also a childlock button you have to hold down. This button take full pressure not something a child could easily do. Overall satisfied- it does the job in record time and in a safe way so even I can do it if my husband cant. The charging cord is also a universal size which is great in case you ever misplace it!
makes my weekly recycle job easier and faster
We get tons of deliveries from Amazon on a regular basis between my family purchases as well as deliveries for our Vine products and it's my job to flatten all the boxes for Wednesday morning when our sanitation company comes to pick up all recyclable including papers and cardboards. Our town requires that all cardboard boxes to be flatten then cut into manageable size and taped together so it's easier for the sanitation crews to pick up and handle them when they come for weekly pickups.
I used to use a utility knife but now that I switched over to this cordless electric scissors, I can't go back to using the utility knife for cutting the cardboard boxes. It makes the cutting so much easier and faster, not to mention it's safer. I appreciate the safety switch so that the rotating cutter can't be accidentally triggered for accident and I love the built-in rechargeable battery that can be charged with USB port using any USB-C cable. The cordless design makes it easy to use without the restriction of getting tied to the cord and I appreciate the storage bag. It's good to know that the cutting blades can be purchased separately if the current blade ever becomes dull. Highly recommend it!
Works and moves fast.
Initial impression: works fast, not loud, cuts carpet. That's why I bought it. I have short shag and it cut it pretty fast. Waa-aay easier than using a blade would have been in my opinion.