VLOXO
Regular price
$52.99 USD
Sale price
$49.99 USD
Unit price
per
Sale
Sold out
CD-3800 ultrasonic jewelry cleaner generates 42KHz ultrasonic vibrations which thoroughly clean hidden dirt of items. 5 timer settings, you can select the appropriate time cycles, suitable for bangles, toothbrushes, dentures, braces, jewelry, waterproof watches, glasses, razor heads, combs, metal cutlery and more.
VLOXO CD-3800 Ultrasonic Cleaner Highlights
1. Powerful Cleaning Effect
This digital ultrasonic cleaner with a frequency of 42,000 Hz cleans objects thoroughly but is harmless to the object to be cleaned. Ultrasonic vibrations create small bubbles that penetrate with a gentle flow of water between the dirt and the surface but thoroughly clean the most hidden dirt on the object.
2. 5 Time Settings
Depending on the object to be cleaned, this ultrasonic cleaning device offers 5 cleaning times (90s, 180s, 280s, 380s, 480s) to choose from. Use it with warm water and a cleaning liquid to achieve better cleaning effect, finally wipe the item with a soft cloth.
3. Easy to Use
Simply on/off with light pressure, it will then make a light "ZIZI" voice. Select the appropriate time cycles and you can press the "ON" button. Put your items in the tank or use the plastic basket for more delicate items.
4. Wide Application
Suitable for removing stubborn dirt from bangles, toothbrushes, dentures, braces, jewelry, waterproof watches, glasses, razor heads, combs, metal cutlery and more. 
Note: glasses/sunglasses with scratched or cracked coatings should not be cleaned. 
5. Quality Assureance
CE, PSE, TUV, GS certification, provide 12 months warrnty.
VLOXO CD-3800 Ultrasonic Cleaner Specification
Tank Capacity: 60ml   Maximum: 500ml
Tank MaterialL Stainless steel SUS304
Shell Material: ABS
Power Supply: 26W AC100V 50/60Hz

                      35W AC100-120V 50/60Hz

                       50W AC220-240V 50/60Hz
Digital Timer Settings: 180s-280s-380s-480s-90s
Frequency and Power: 42,000Hz  50W
Size: 8.27 x 5.51 x 5.91 inch
Tank Size: 6.30 x 3.94 x 1.97 inch
Net Weight: 1.2kg
CD-3800 Ultrasonic Cleaner Cleaning Steps:
1. Add water to the tank
2. Put in your objects
3. Select timer setting
4. Press the "ON" button
Tips Need to Pay Attention to: 
Be sure to fill with water before switch on

Be sure the water does not exceed the "MAX" line

Make sure the device cools down every ten minutes

Make sure the objects you put in are not rusted
Packing Includes:
1 x ultrasonic cleaner
1 x plastic basket
1 x watch stand
1 x user manual 
Share
View full details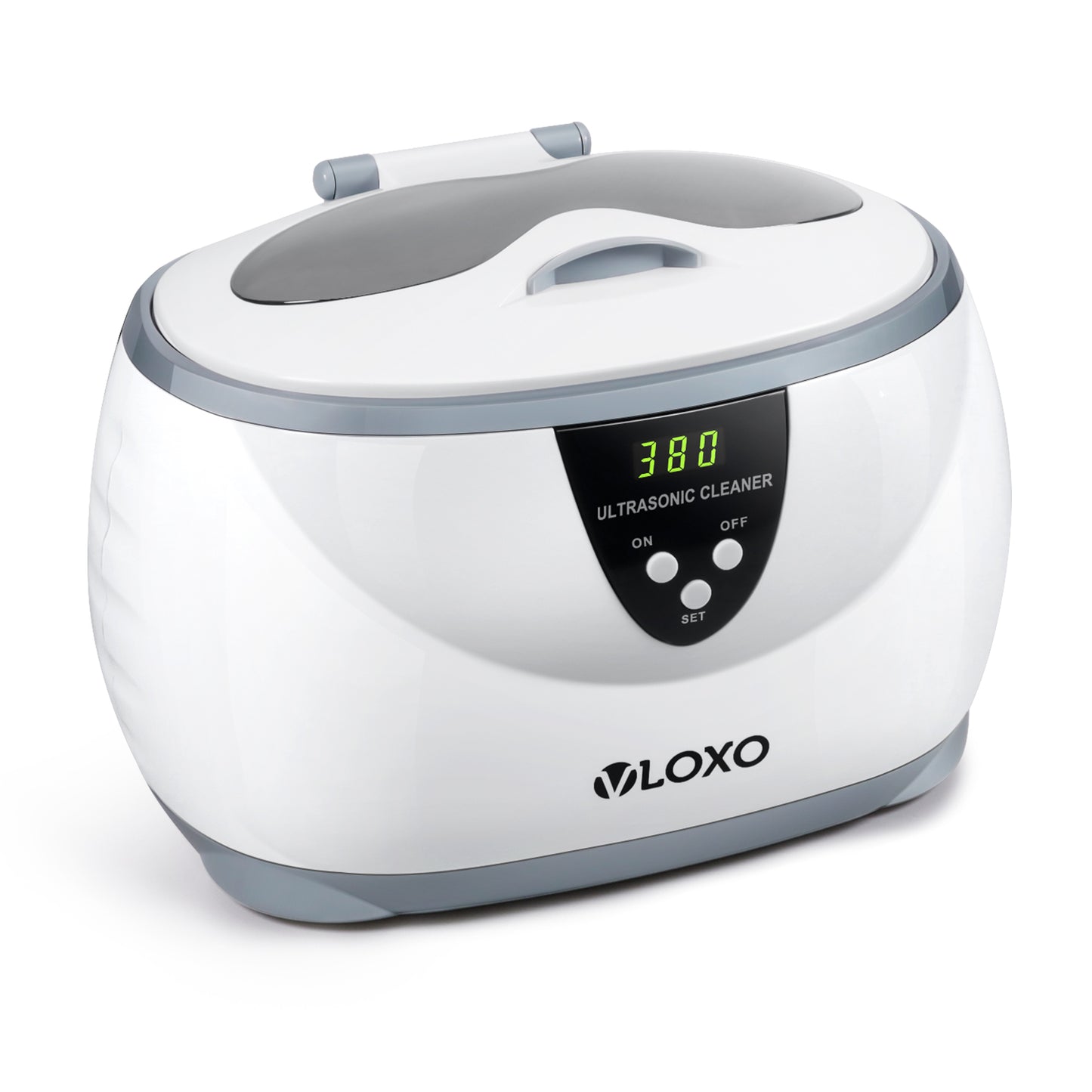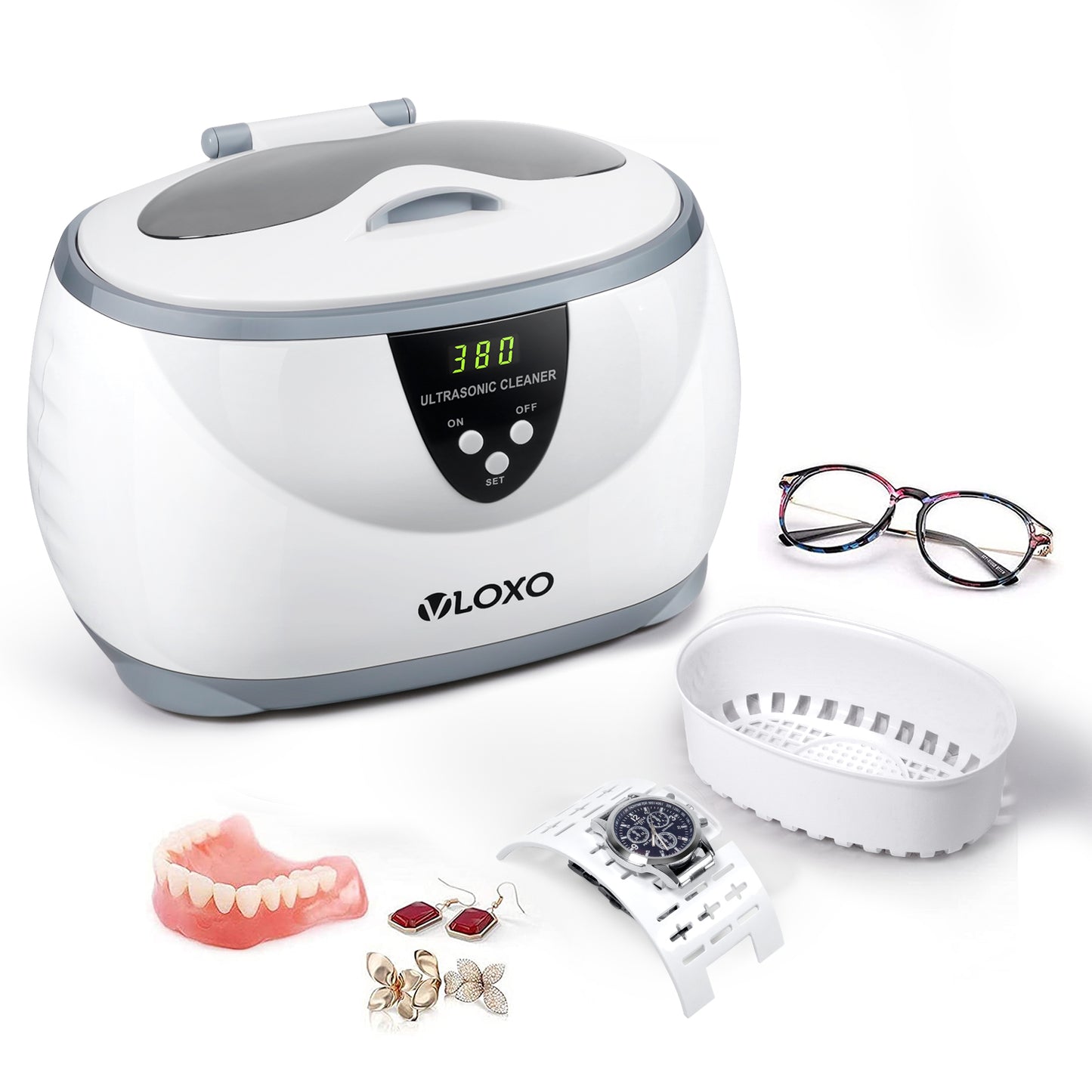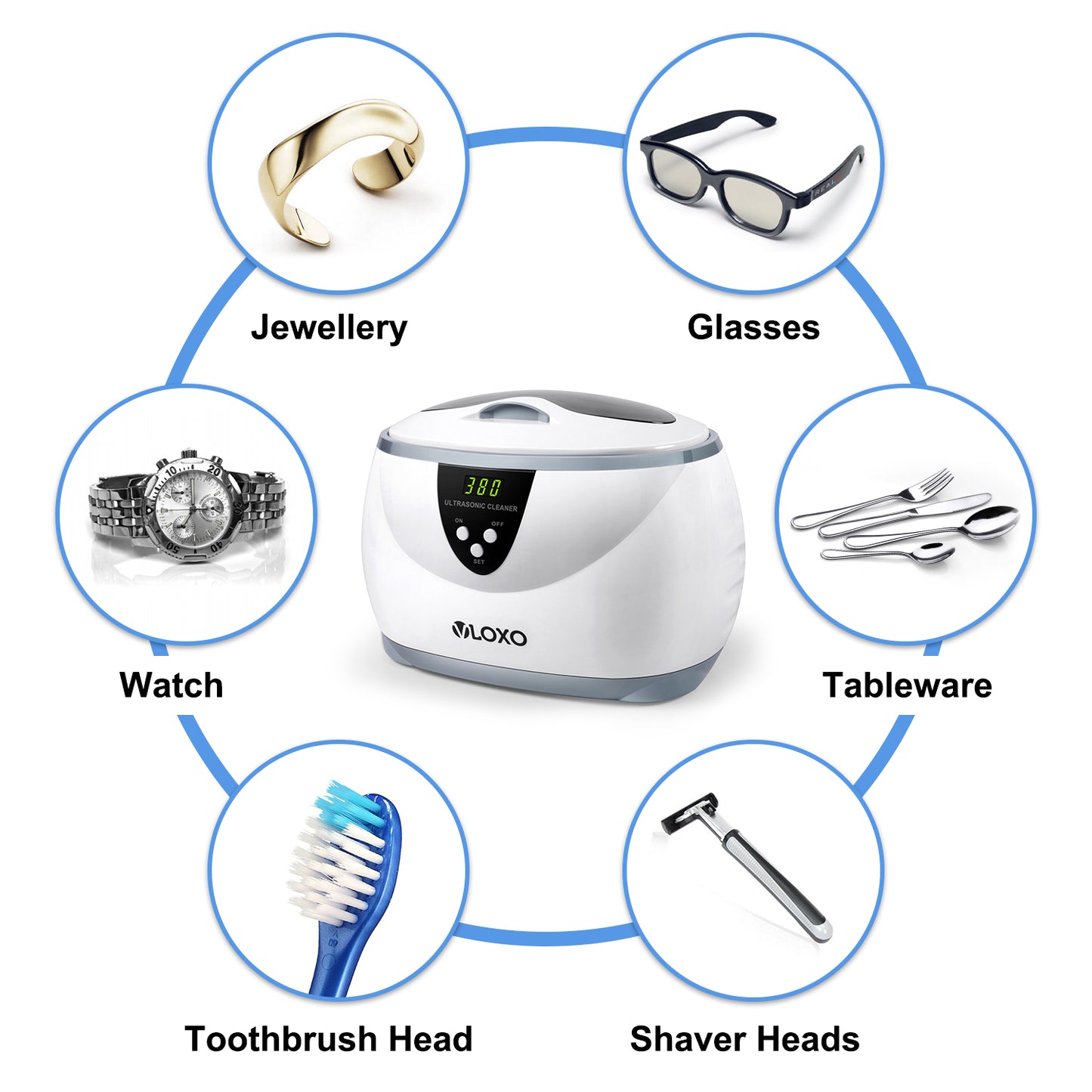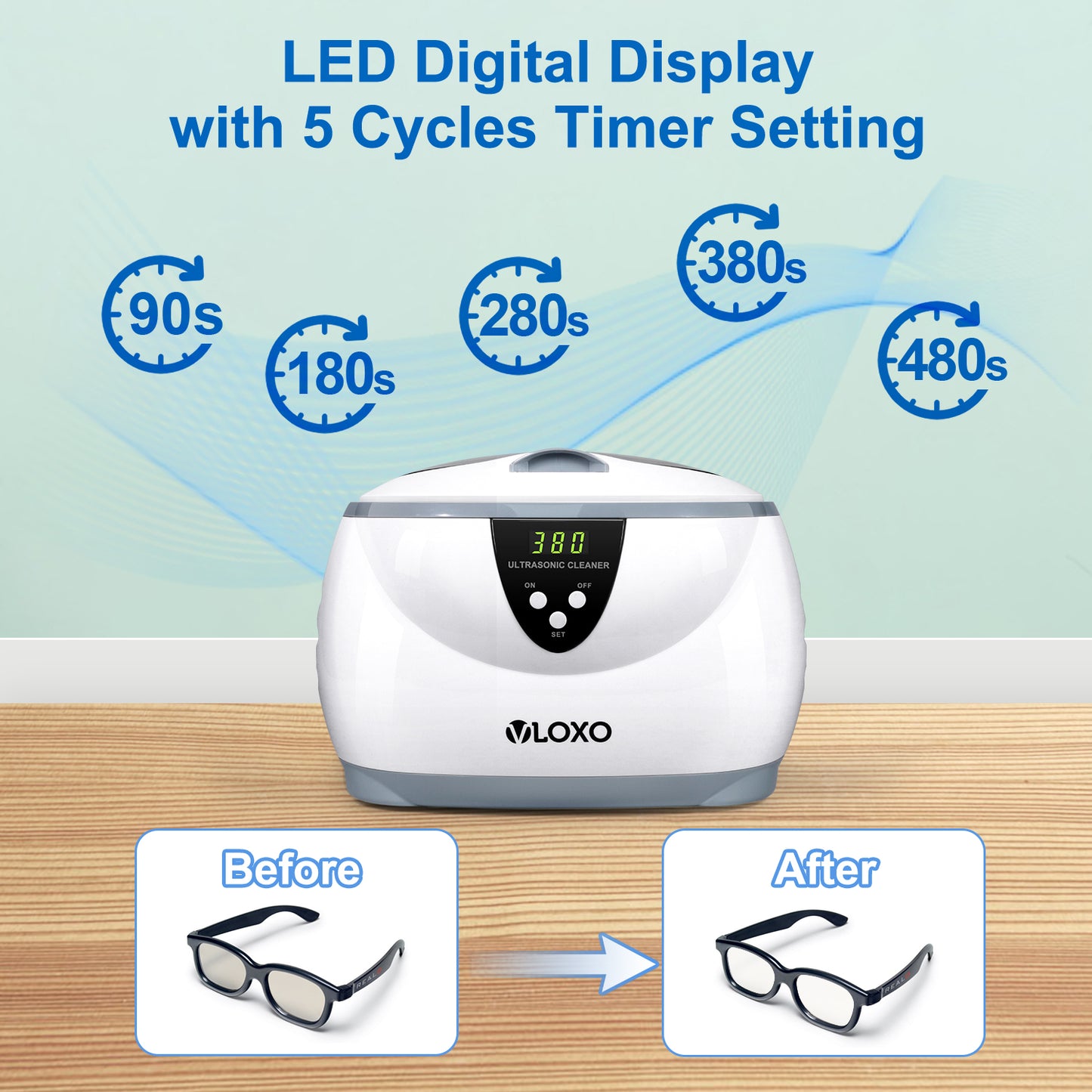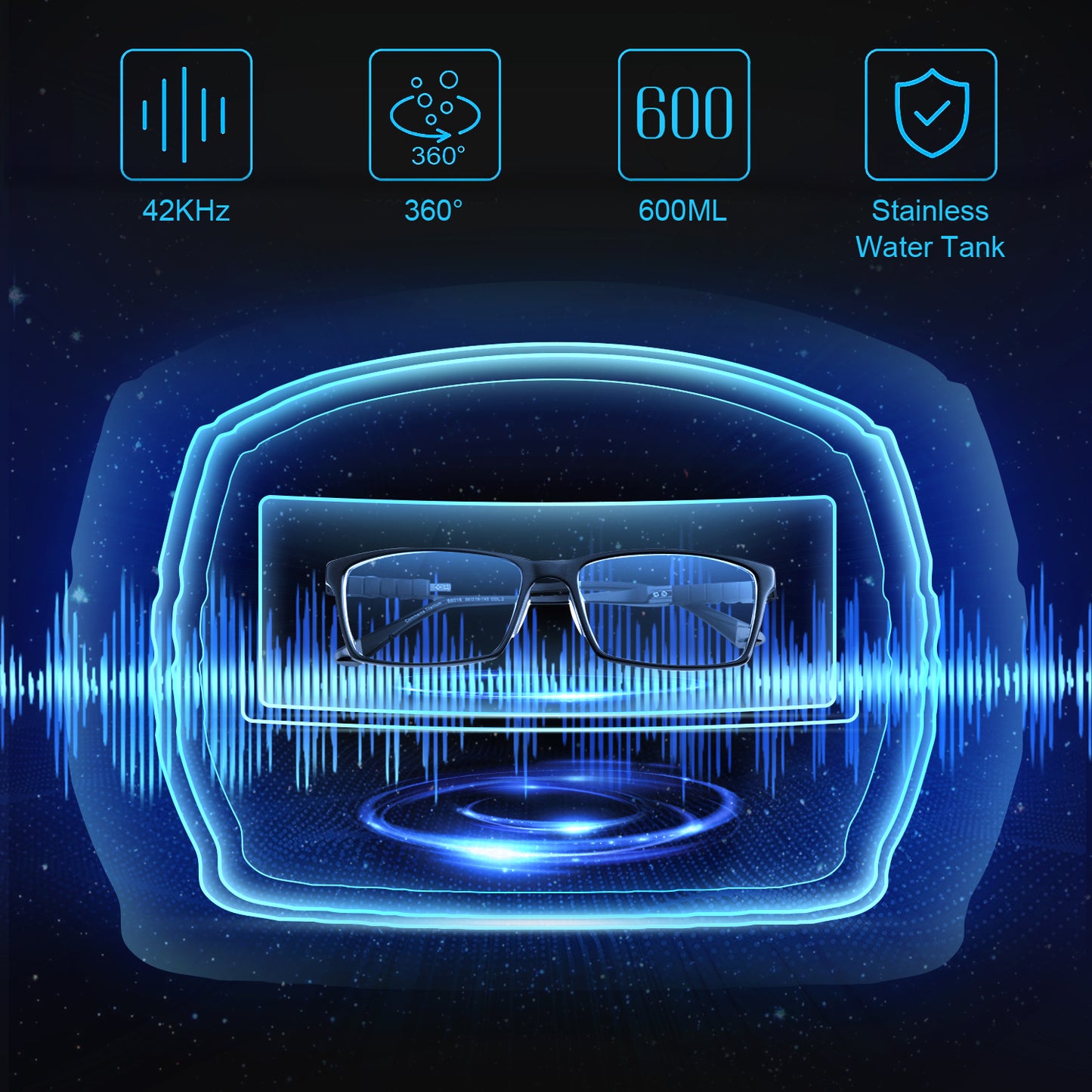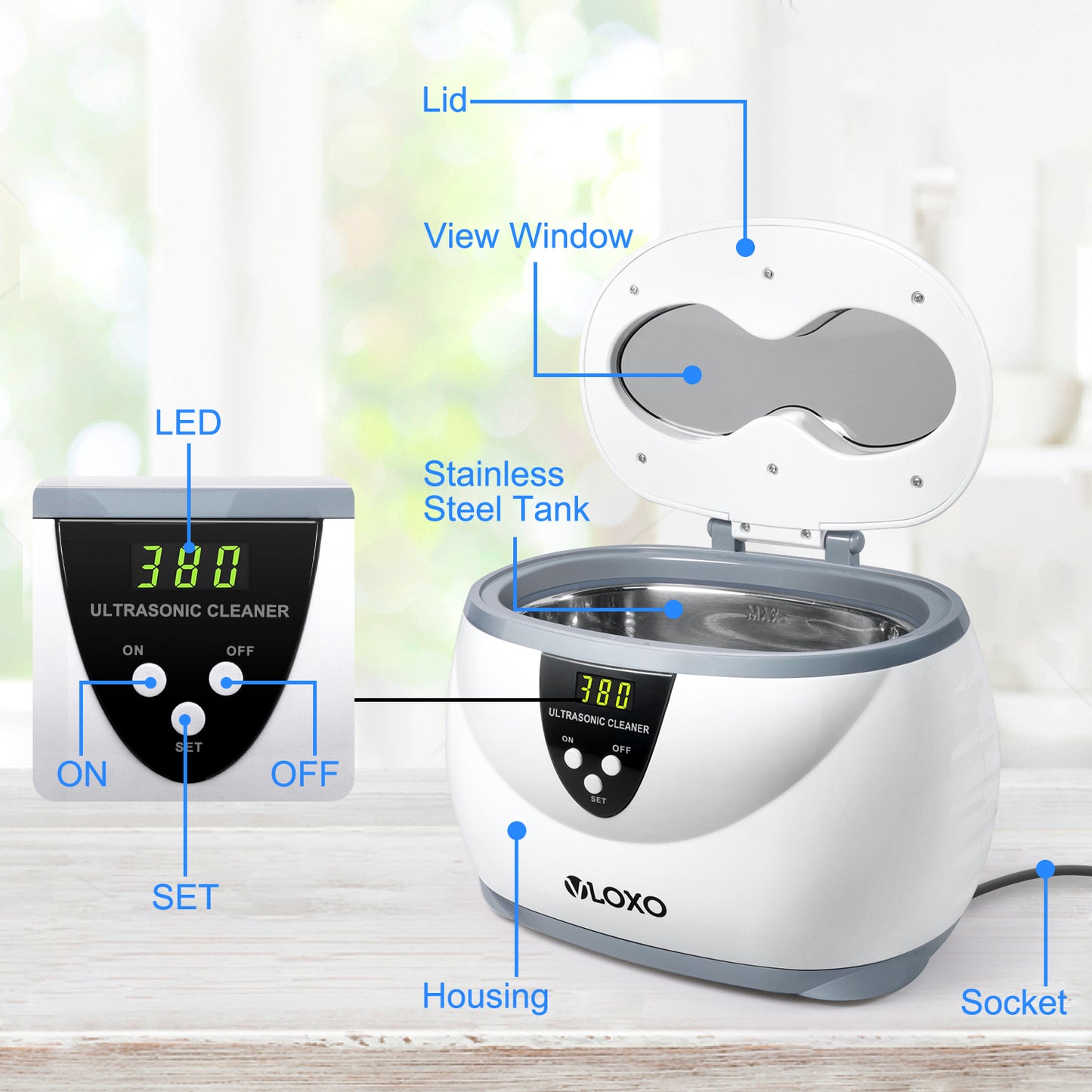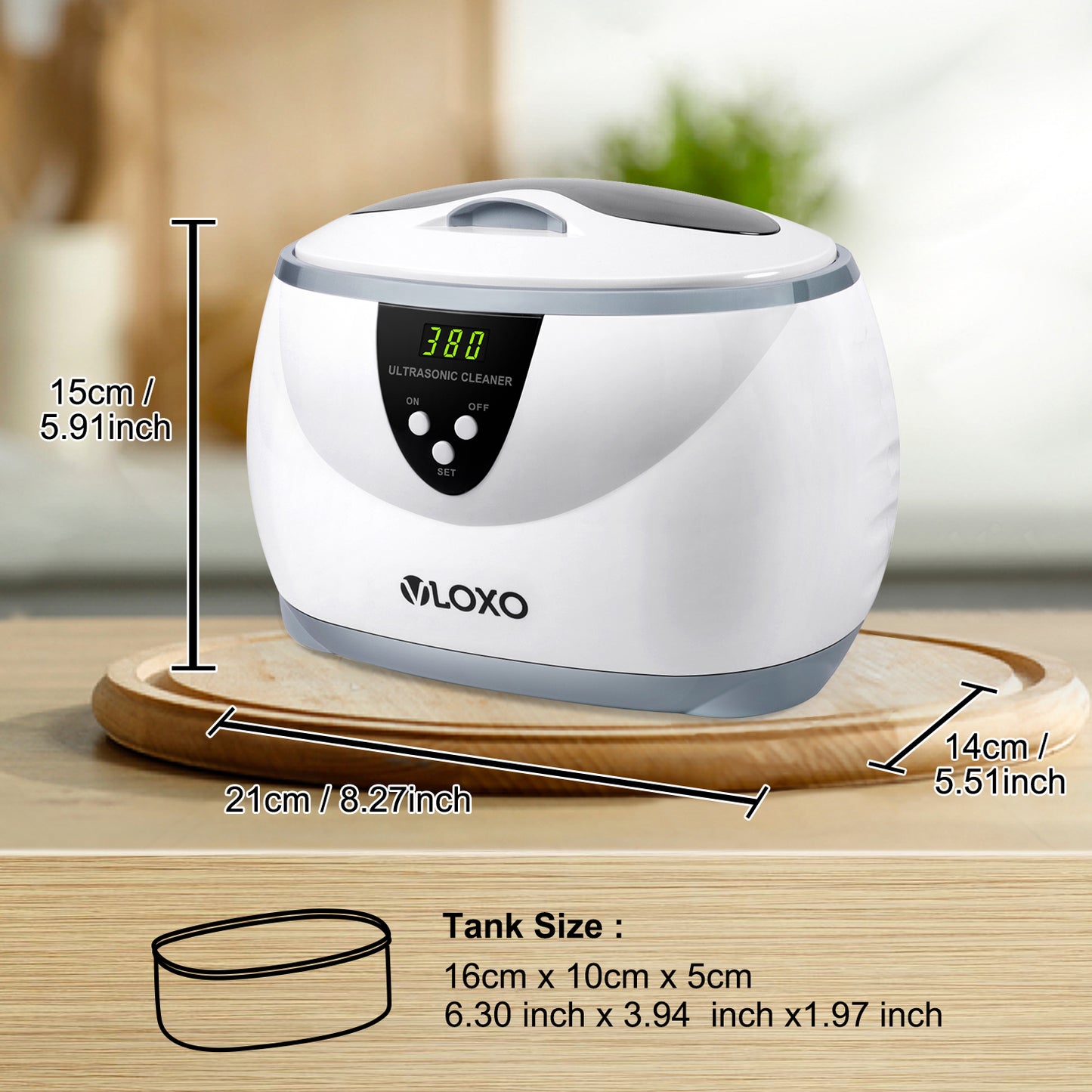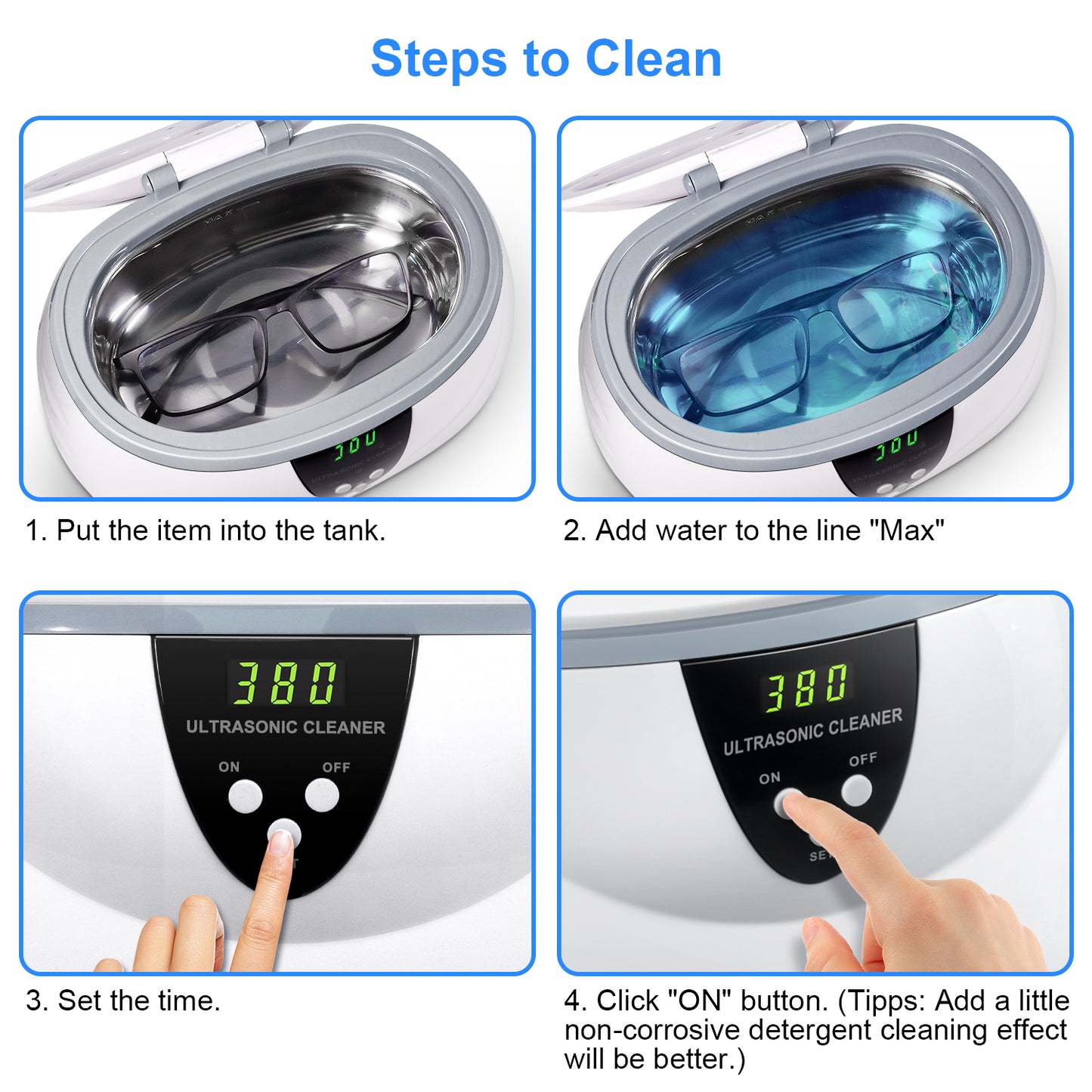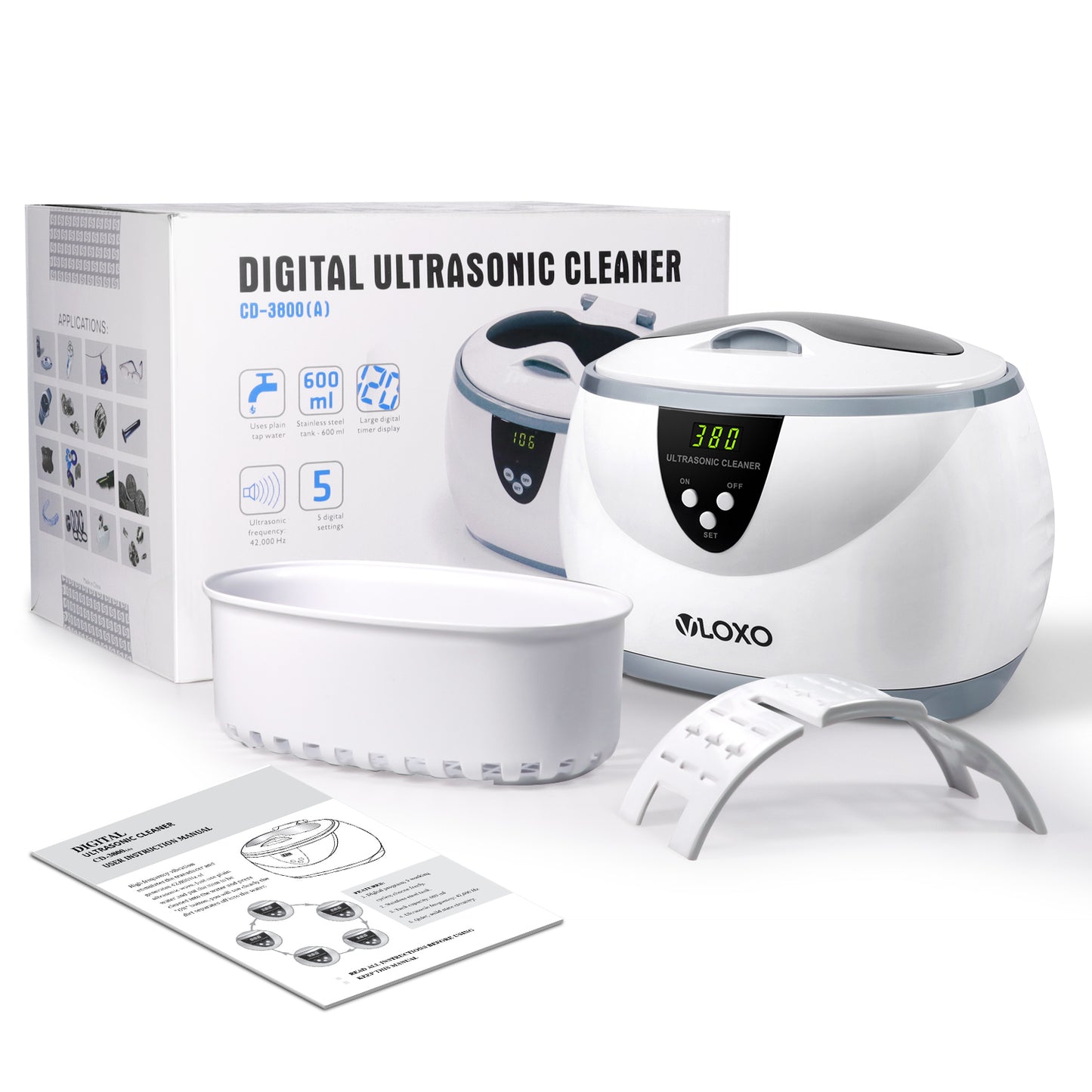 Jewellery ultra sonic cleaner
Great cleaner, jewellery looking like new
First machine developed a fault, messaged the retailer who responded in a very professional way. The machine was replaced promptly. Excellent customer service, great cleaner.
Dripped out jewels - bling bling
First time using a ultrasonic cleaner.
Usually just leave in jewellery dip over night and try cleaned up pretty well (so I thought)
Well then...... What a difference a proper cleaner makes!!!
All sterling silver currently inside, heavyweight chain & couple pendents
You can clearly see the amount of muck that's come off, this was the maximum length of 480 seconds and WOW!!! my jewellery is now shining as if new.
I stress that these looked pretty clean prior to ultrasonic cleaning.
Honestly if I'd of thought they were gonna look this good I'd of taken a before picture!
I am very pleased with this cleaner.
Was going to buy some cleaner until I saw ppl were using a few drops of washing liquid and you can see it works.
Love this technology
Needed to replace a small one that I had been using to clean old vehicle bits while repairing my car.
I'd managed to break it after using it heavily. It had proved itself very well but couldn't find the same on so I opted for this one .
And considering it was the same price as my old one I was very surprised by the quality of it , it definitely has a premium feel about it AND its soooo much quieter and I have options on this one too,my previous was on and off ..
Excellent results from this , really pleased.
Jewellery which had not been cleaned other than "dipped", came up REALLY clean and polished.