VLOXO
Regular price
$179.00 USD
Regular price
$289.00 USD
Sale price
$179.00 USD
Unit price
per
Sale
Sold out
VLOXO bluetooth tattoo stencil transfer machine 2023 upgraded version is compatible with IOS/Android/Windows system, can be connected to phone, pad and pc via bluetooth and USB. 203dpi resolution, 10-30mm/s printing speed, this tattoo stencil printer is able to  print the finest, smallest and most intricate outlines in seconds, works with A4 size stencil paper, no need ink, no replacement part, smarter and more economical than old style printer. 
Why Choose VLOXO Bluetooth Tattoo Stencil Printer 2023 Version ?
1. Impact, Portable & Rechargeable Design
VLOXO bluetooth tattoo stencil transfer machine 2023 version weighs 1.4kg, 267*95*51mm size, built-in lithium battery, Type-c charging port, can work 3~4 hours after fully charged, very convenient to bring on the road. 
2. Robust APP and Easy to Use
Download exclusive app "tattoo printer" from APP store and then connect the tattoo stencil printer via bluetooth. The app allows you to quickly output copies of pictures, self-painted pictures and more from intelligent devices, and then be easily transferred to the skin.
Android System Tattoo Printer APP download:
1. Search "TattooPrinter" on Google play download and install the APP.
2. Scan the QR code in user manual or below to download the app.
Bluetooth Tattoo Stencil Printer Windows Receipt driver installation steps:
1. Download the Windows Receipt driver
Download link: https://www.mhtclouding.com/mht/service_en.html#driver
2. Unzip the file and then install the driver
3. Choose Printer Type MP POS 8 inch and Ports USB 001
4. Rename the printer any name you like (you can use the original name as well)
5. Open the image to be printed by Paint and then print.
Operation video: https://youtu.be/vJmoAbNWkh8
Update: New update, tattooprinter app support picture editing and resizing!!! You can resize images to be printed on the APP now.
3. Economical & Environmental
Comparing to old style thermal tattoo printer, this new bluetooth tattoo printer is more economical because you can output the stencil directly via APP without printing the patterns on carbon paper first. No replacement parts, no heating elements, cylinders, or bulbs and no ink needed.
4. Compatible with IOS/Android/Windows System
This new bluetooth tattoo stencil printer compatible with both IOS and Android system, you can connect it to phones, pads and PCs. Bluetooth 4.0 , connection is fast and stable.
5. High Digital
At 203DPI (8 dots/mm), 1728 dots per line, new tattoo stencil printer is capable of outputting the finest, smallest and most intricate outlines of any thermal stencil printers currently on the market.  The specially designed print head was developed for intricate detail.
6. Easy-to-Use 
The instruction manual comes with detailed App, bluetooth connection tips and other set up instruction. 5 easy steps to get printing done.
7.Wide Application
This new bluetooth tattoo stencil printer can print patterns with sipmle lines, complex lines, simple shadow and simple color well.
8. Free Gift
VLOXO provide 10pcs free tattoo stencil paper for your first try, and 300+ patterns download link.
patterns download link:  https://bit.ly/3IHrSG4 
9. Warranty & Service
VLOXO provide 1 year warranty and free technical support. If you have any question, pls contact our customer service.
VLOXO 2023 Version Bluetooth Tattoo Stencil Copier Parameters
Printing Width: 210mm
Resolution:203dpi
Printing Speed: maximum printing speed 10~30mm/s
Printing Density: 8 dots/m(203dpi), 1728 dots/line
Compatible System: IOS/Android/ Windows
Interface: Type-C USB
Bluetooth Version: 4.0/(4.0 above)
Battery Capacity: 1500mAh
Input: 5V-2A
Weight: 1.35kg
Size: 267mm*95mm*51mm
Connecting Way: Bluetooth+USB
Paper Size: A4 stencil transfer paper 
How to Use The Tattoo Stencil Machine?
1. Download "Tattoo Printer" APP from APP store or Google Play
2. Turn on printer switch and connect to the APP via Bluetooth
3. Place transfer paper. Remove the protective white paper, place the yellow paper upwards and white adown.
4. Select images to be printed from devices.
5. Click Print
Packing List
Printer *1
Transfer Paper *10 pcs
Type-C USB Cable *1
User Manual *1
Carrying Box *1
Share
View full details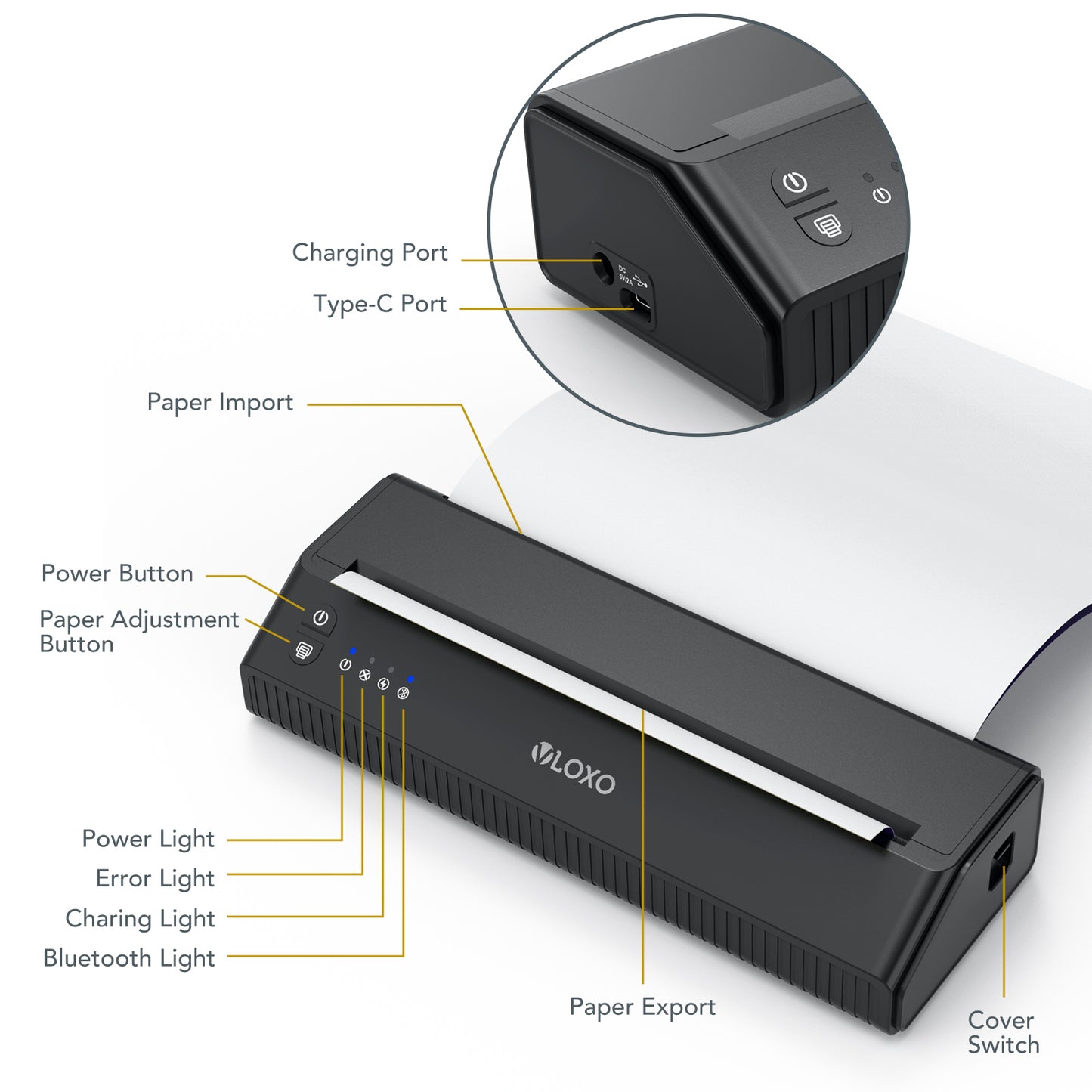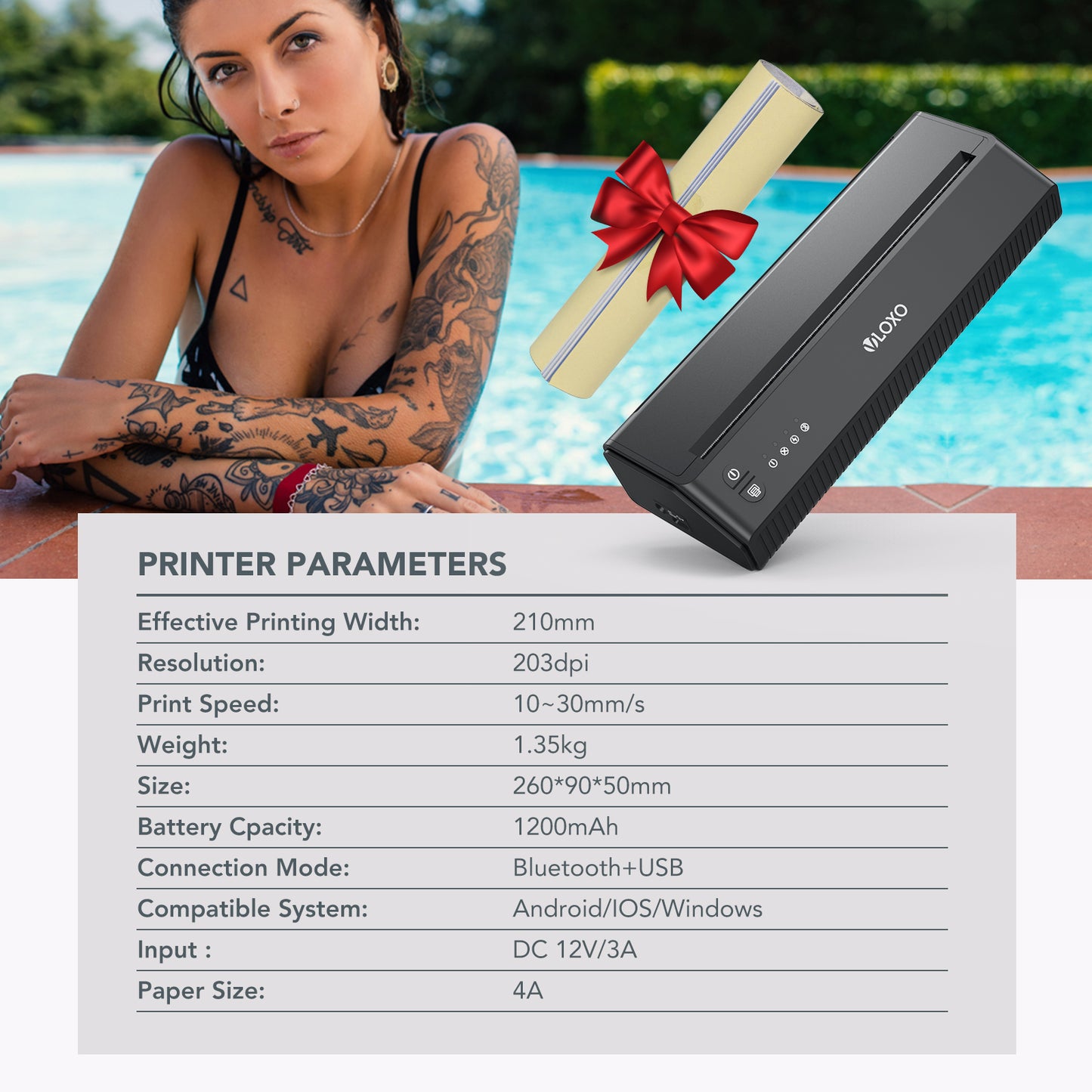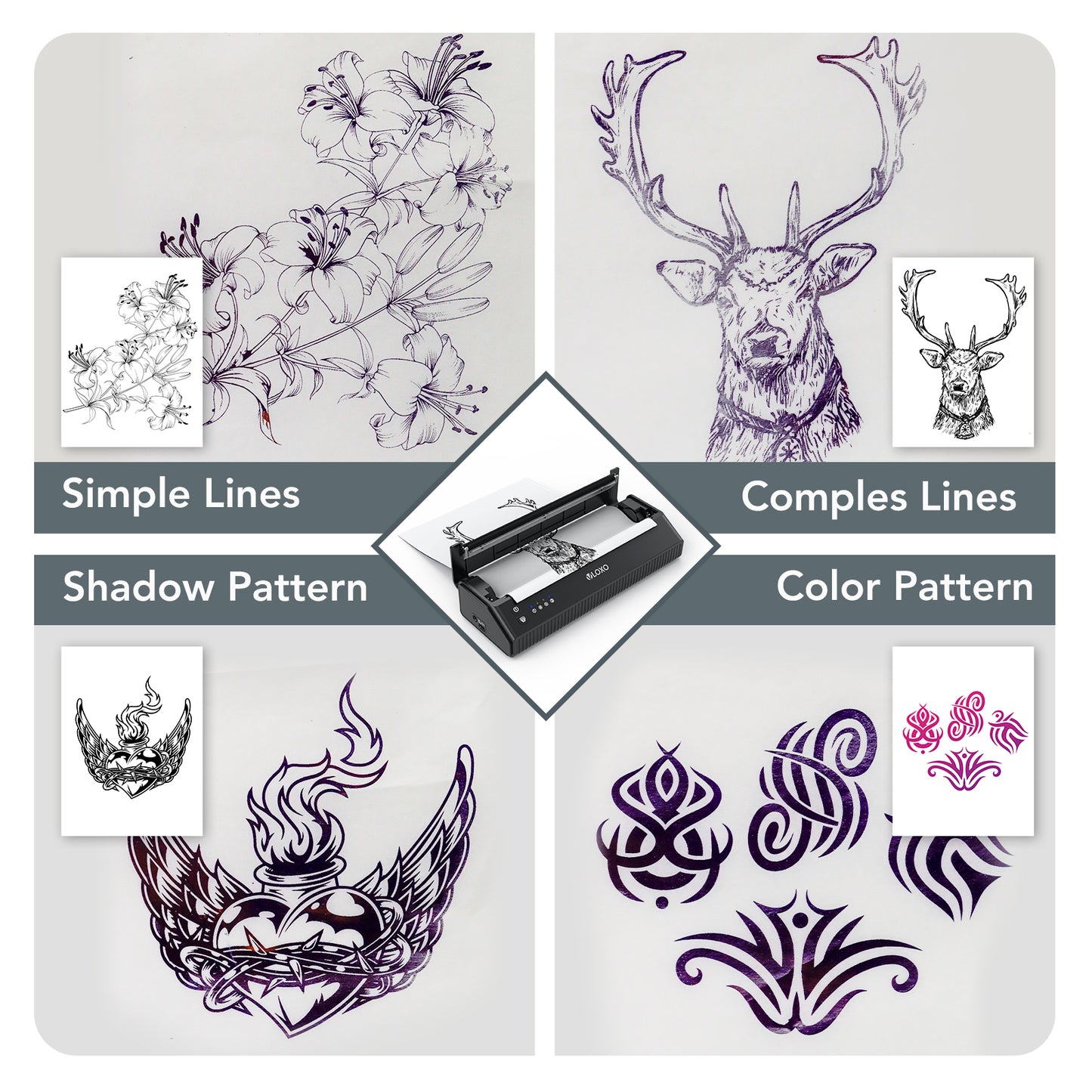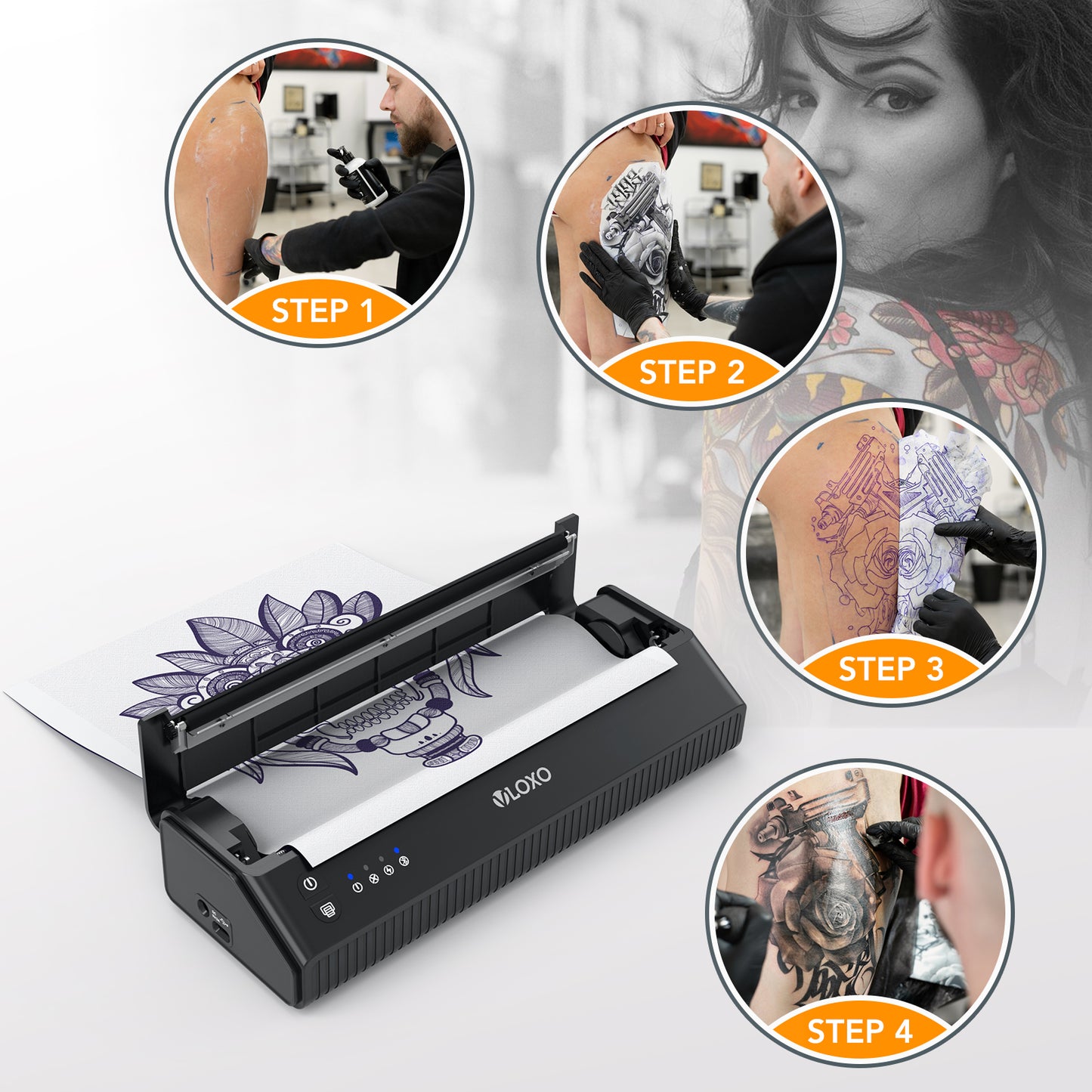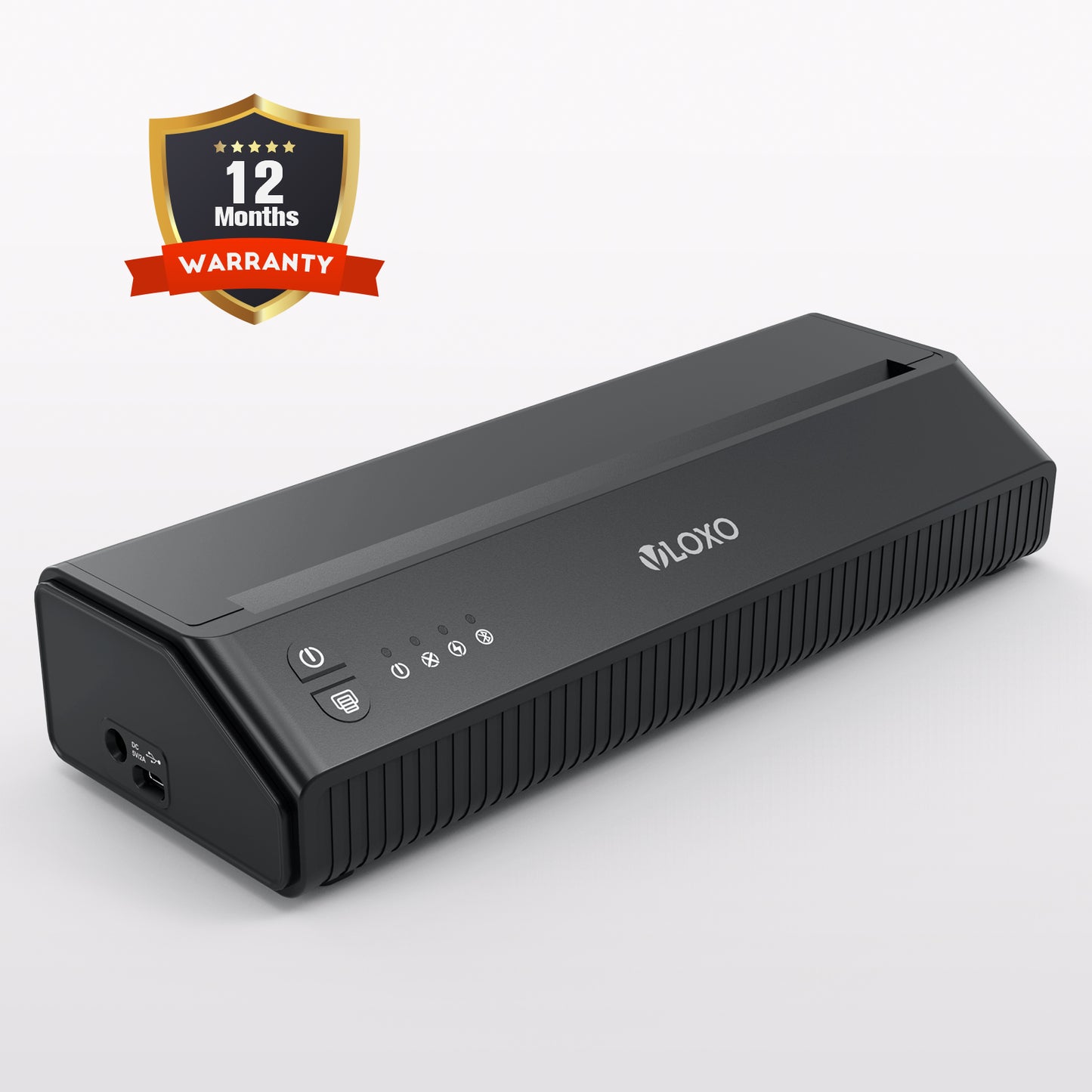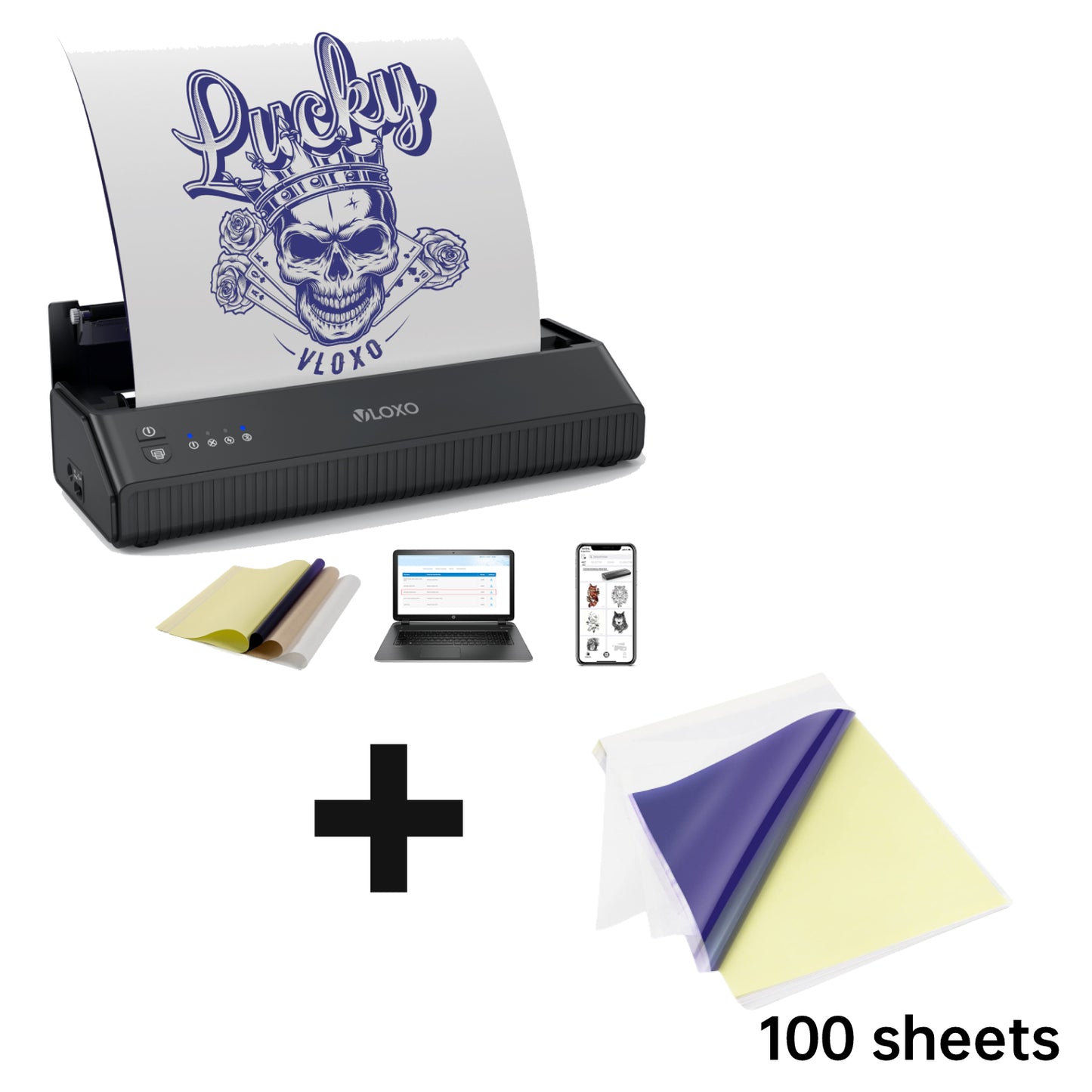 Works phenomenally!
I was a little skeptical of how well a 200$ tattoo printer would work but it works great! All my friends always asks me to tattoo them but I'm horrible at freestyle, now with this printer I can practically tattoo almost anything! I'm not the best person to figure out technology but this printer was super easy to use! 10/10 would recommend for any beginners trying to get into tattooing 😁
Highly recommended!
This stencil Printer has become my go-to device for tattoo stencils. Setting it up was a breeze, and its compatibility with Android offers great flexibility. The prints are impressively detailed thanks to the thermal printing technology, ensuring precise reproduction of intricate designs.
The app simplifies the customization process, making resizing and positioning a breeze. Portability is a huge plus, allowing me to take it anywhere for on-the-go sessions.
it's a must-have tool for any tattoo artist, streamlining the process and enhancing the quality of your work. Highly recommended!
Buenisimo
Facil de usar, instalar, y muy rapido de imlrimir. Me parece un producto ecepcional.
Impressive Tattoo Printer
This tattoo stencil printer works great! I mean, talk about game-changing convenience. Being able to sync it up with my Android, iPhone, or laptop via Bluetooth is like a dream come true for us tattoo lovers. And guess what? They throw in 10 transfer papers too, so you're basically good to go right out of the box.
But the real kicker is its portability. I've taken this bad boy everywhere - from my buddy's shop to tattoo expos. It's small, rechargeable, and packs a punch. The thermal transfer wizardry it pulls off? Seriously, the stencils come out sharp and on point every single time.
Honestly, if you're into tattoos and want to step up your game, do yourself a favor and snag the this printer. It's like having a tattoo shop right in your backpack. Trust me, you won't be disappointed!