VLOXO
Regular price
$26.99 USD
Sale price
$19.99 USD
Unit price
per
Sale
Sold out
VLOXO multi-functional knife sharpeners is made of high-quality ABS plastic, strong, durable. It's very easy-to-use, can meet different sharpening needs, for example grind it coarse, medium or fine. With non-slip base and ergonomic handle design, safe and comfortable, VLOXO knife sharpeners is a great choice in your kitchen.
Why Choose VLOXO Multi-functional Knife Sharpeners?
1. 6 in-1 Knife Sharpeners
This knife sharpener is multi-purpose design that can satisfy different sharpening needs such as Coarse sharpening , Fine Sharpening and Ceramic sharpening of kitchen knives as well as scissors, bread knives and sushi knives, etc. You can use it any way you want.
2. Non-slip Base Design
The kitchen knife sharpener is safe and comfortable with a non-slip base and ergonomic handle design. This is a great choice in your kitchen.
3. Easy To Use
You just need to put the knife scissors sharpener on a smooth desktop and take control of it. It will firm very strongly on the table. The ergonomic handle allows you to restore your cooking knives in a matter of seconds! Simply place the blade in each of the slots and gently pull the knife through a few times for fast, effective sharpening.
4. Professional Sharp All
With our professional knife sharpener kit you can sharpen & hone various knives be it any kitchen knife set, chef knife sharpener, paring knives, serrated knife sharpener, filet knife, pocket knives, hunting knives, old knives, new knives & more. Meanwhile, If you want to grind it coarse, medium or fine. Our knife sharpener can meet all your needs. Please
Note: Do not push the knife back and forth.
5. Premium Quality 
Not all manual knife sharpeners are created equal. Our professional knife sharpener kit is Crafted from high-quality , it's strong, durable and designed to last a lifetime.
VLOXO Provide 12 months warranty for this item.
VLOXO Knife Sharpeners Specification
Size: 7.3 x 1.7 x 3.7 inches
Weight: 5.9 ounces (0.17kg)
Material: ABS plastic
How to Use VLOXO Knife Sharpeners ?
1. Trun the knob on the knife sharpener to the corresponding position suitable for the type of knife to be ground.
2. place the knife sharpener on a countertop, securing it with one hand and grinding the knife with the other.
3. After sharpening the knife, wipe it clean with a damp cloth or rinse with water and wipe it dry before using.
6 grinding level for different knifes
Rotate the button to choose the desired sharpening edge.
"1" means coarse sharpening,  "2" means fine sharpening, "3" means ceramic sharpening.
Chef's knife: select 1, 2 or 3 for grinding.
Scissors: select 4 for grinding
Sushi Knives: select 5 for grinding
Bread kinves: select 6 for grinding



Packing List
1 x Knife Sharpener
1 x User Manual
Share
View full details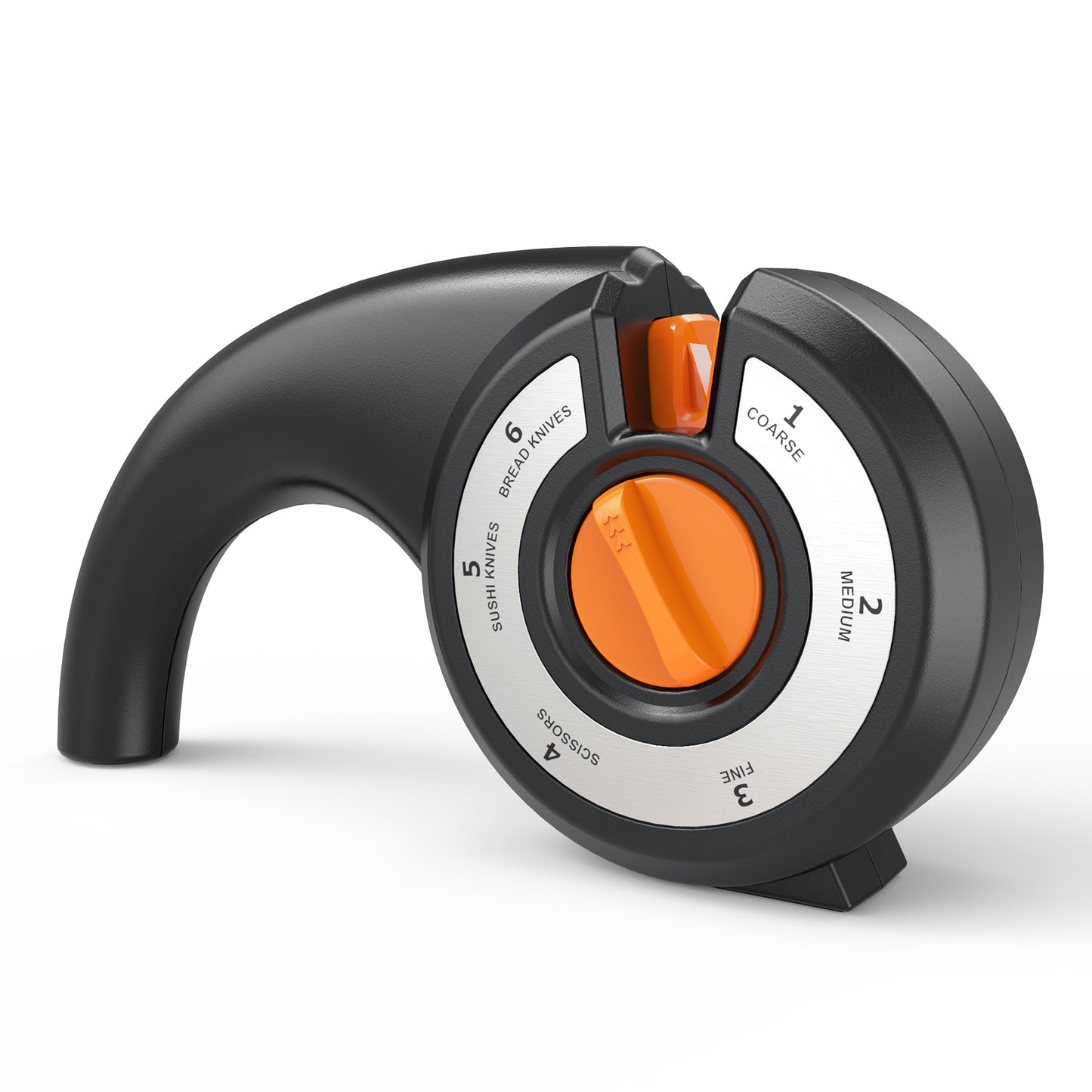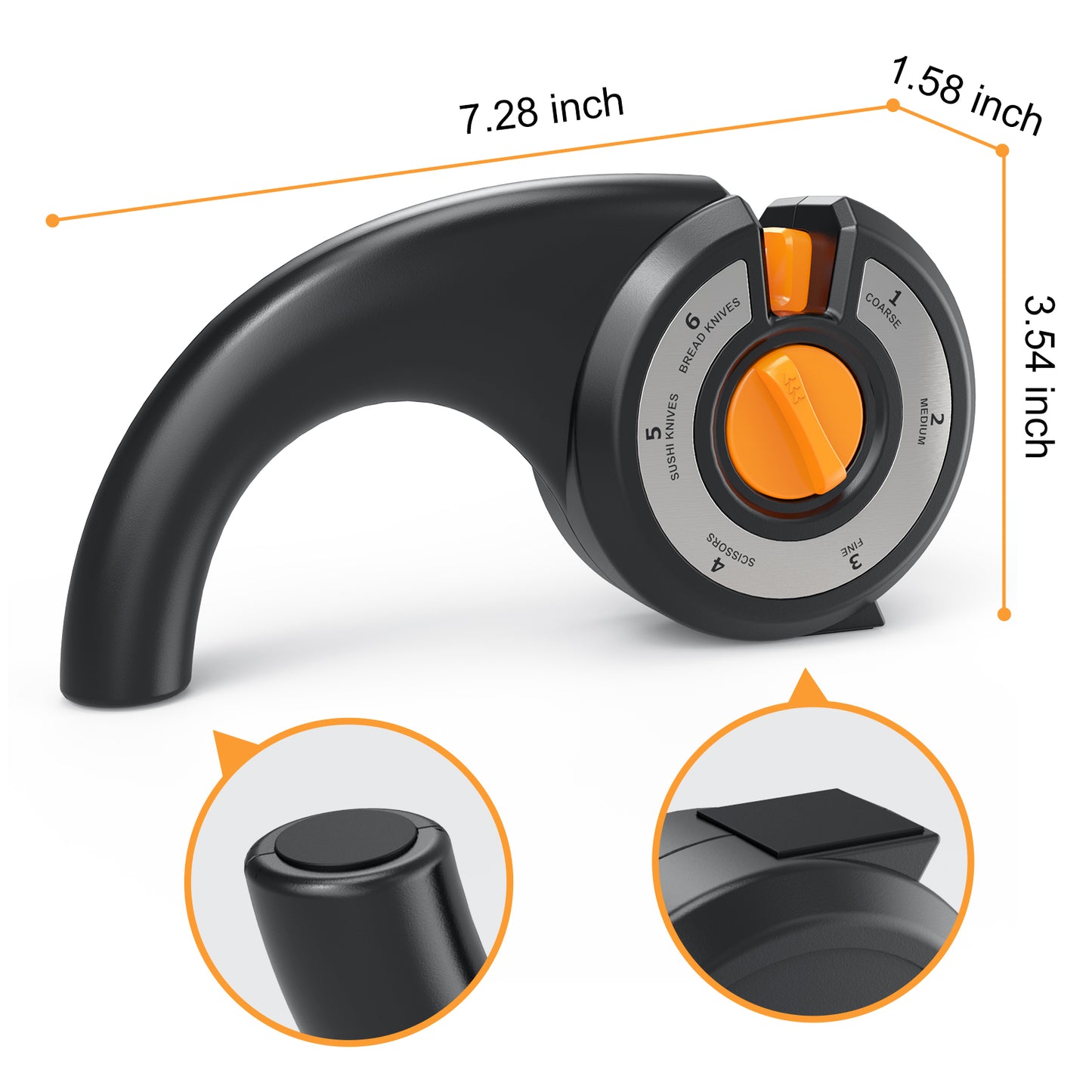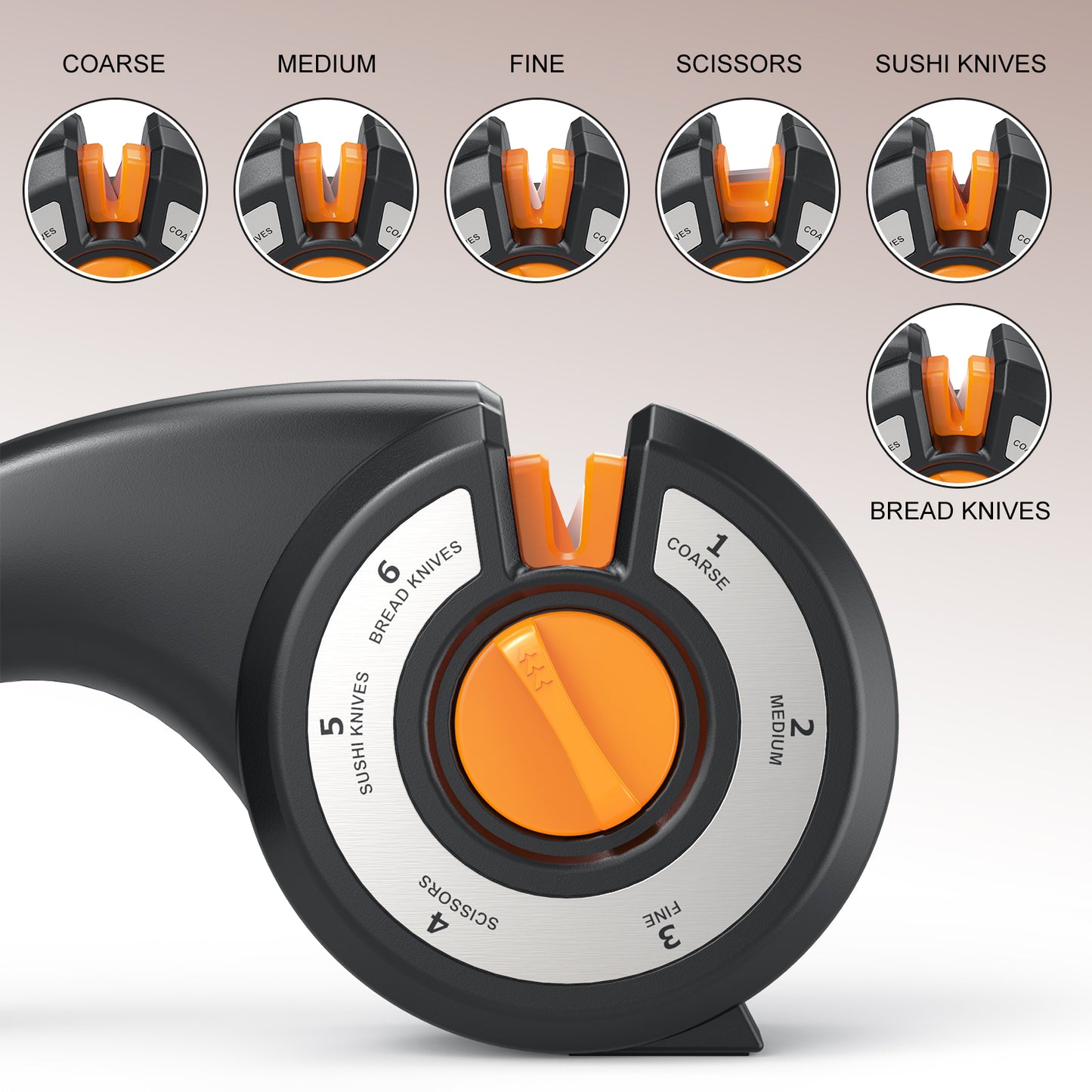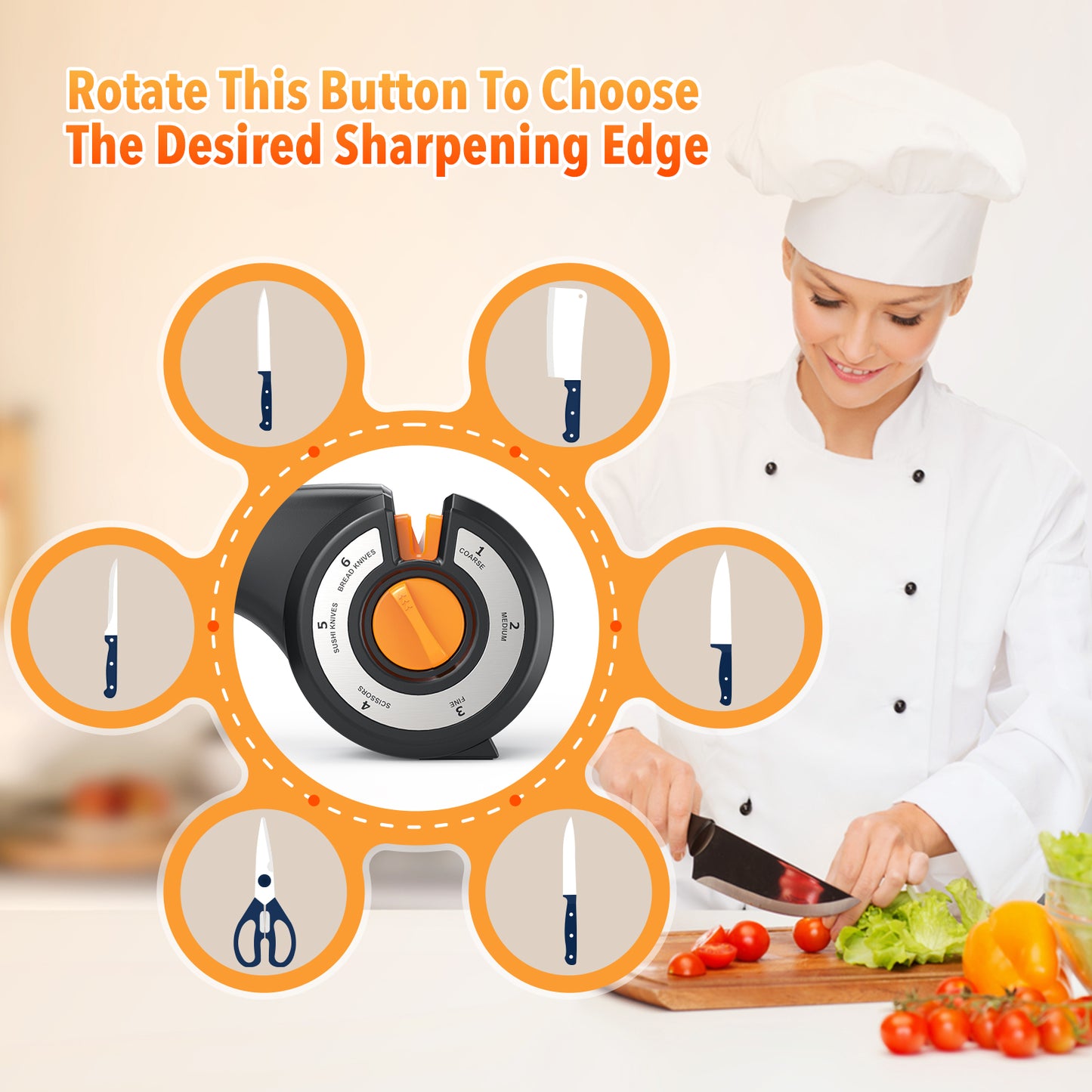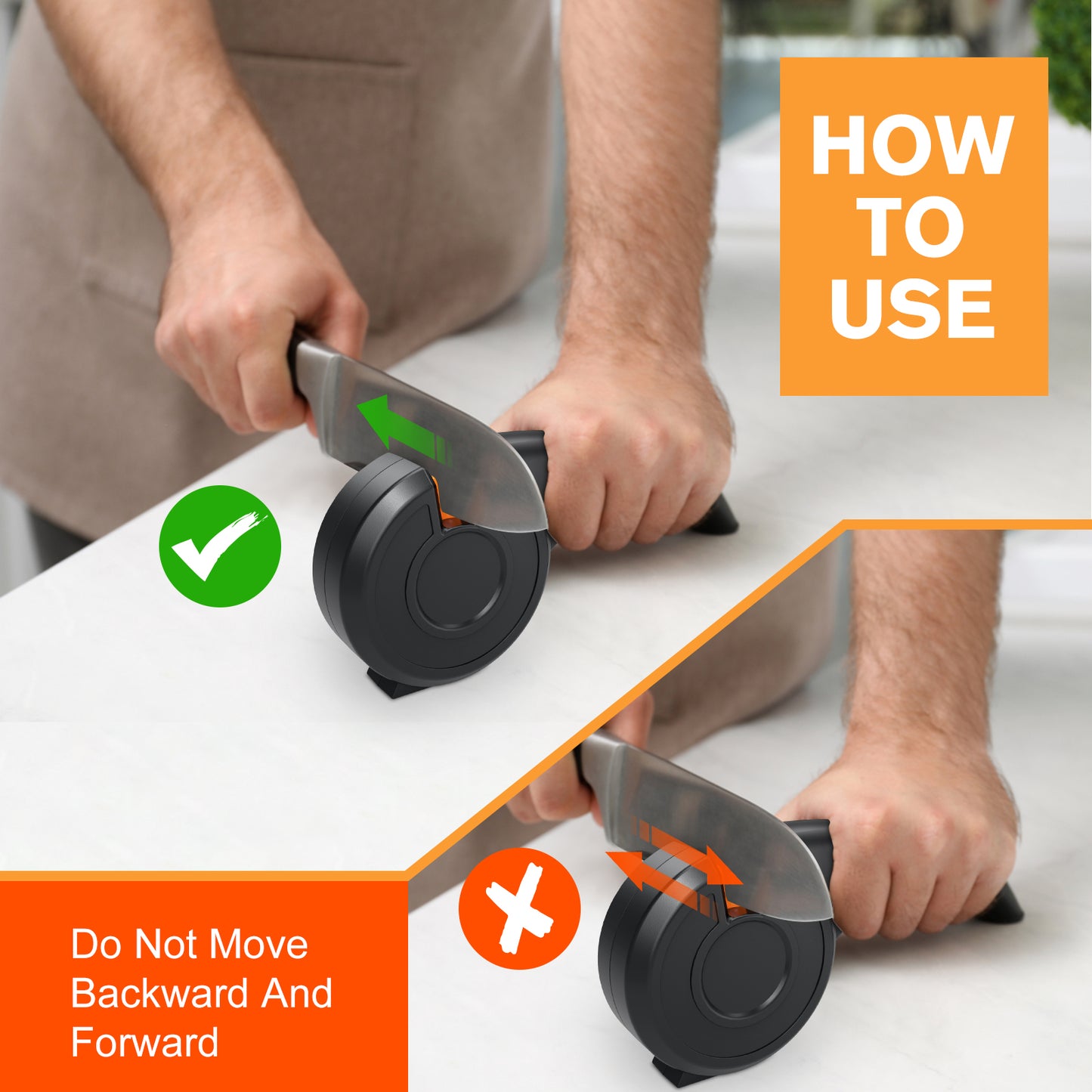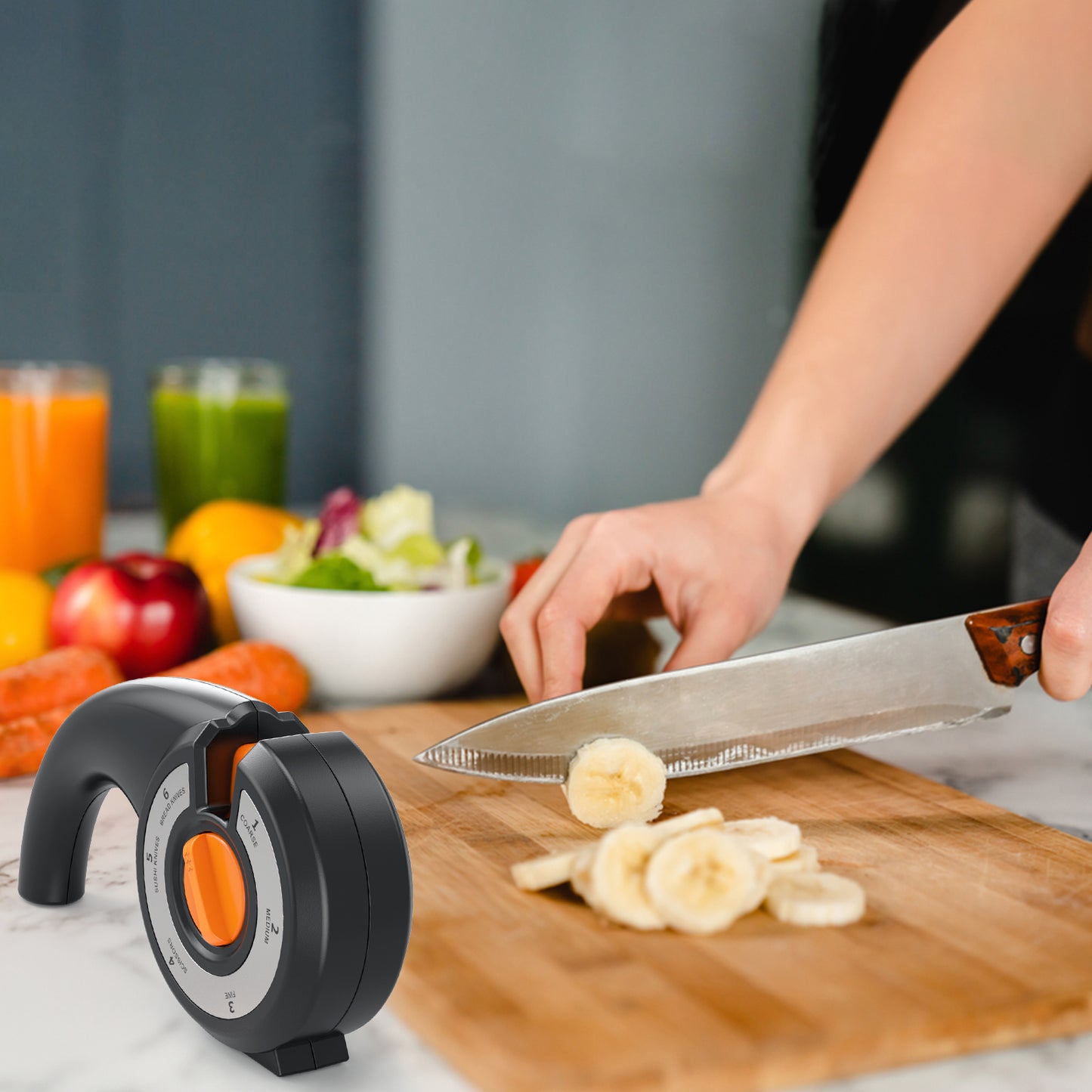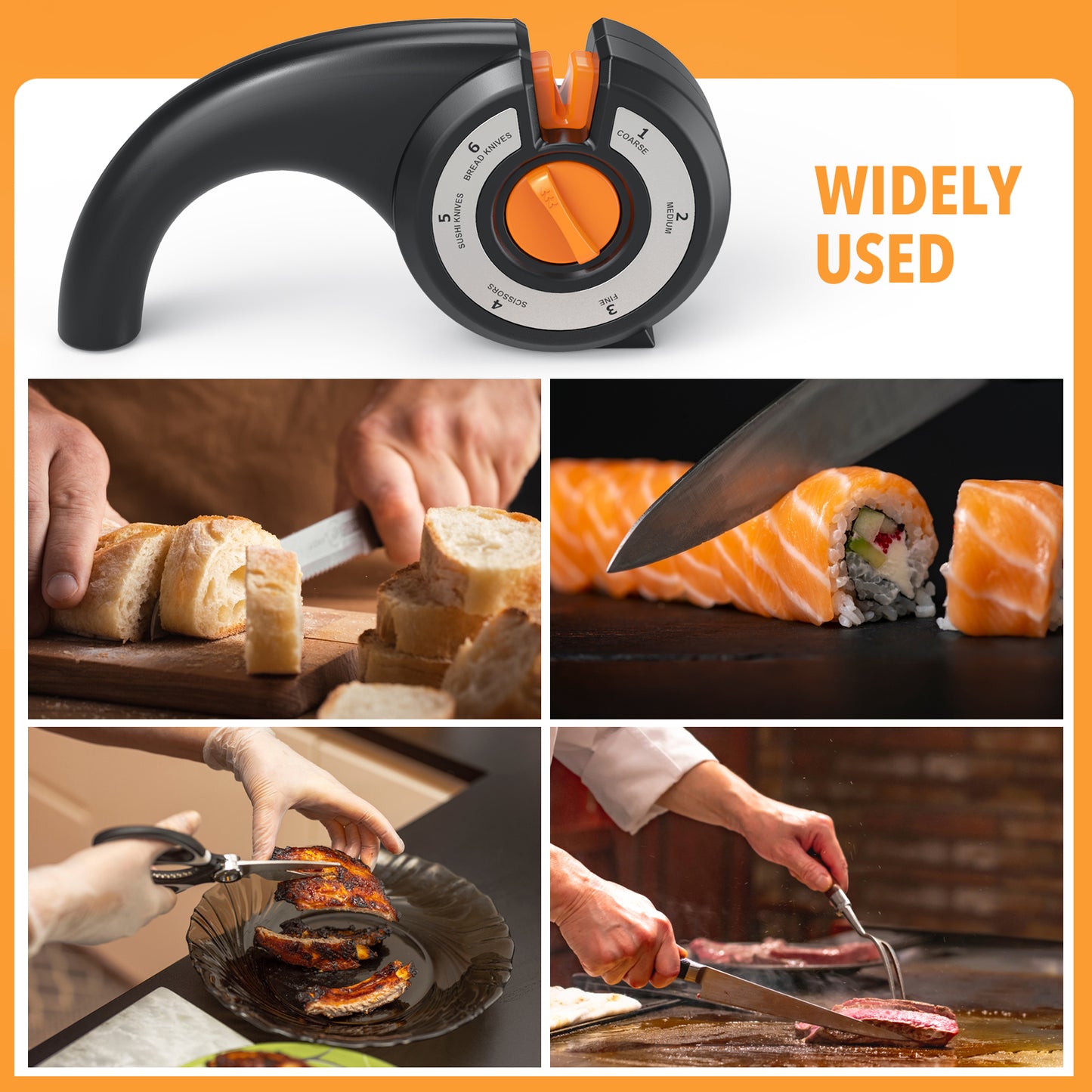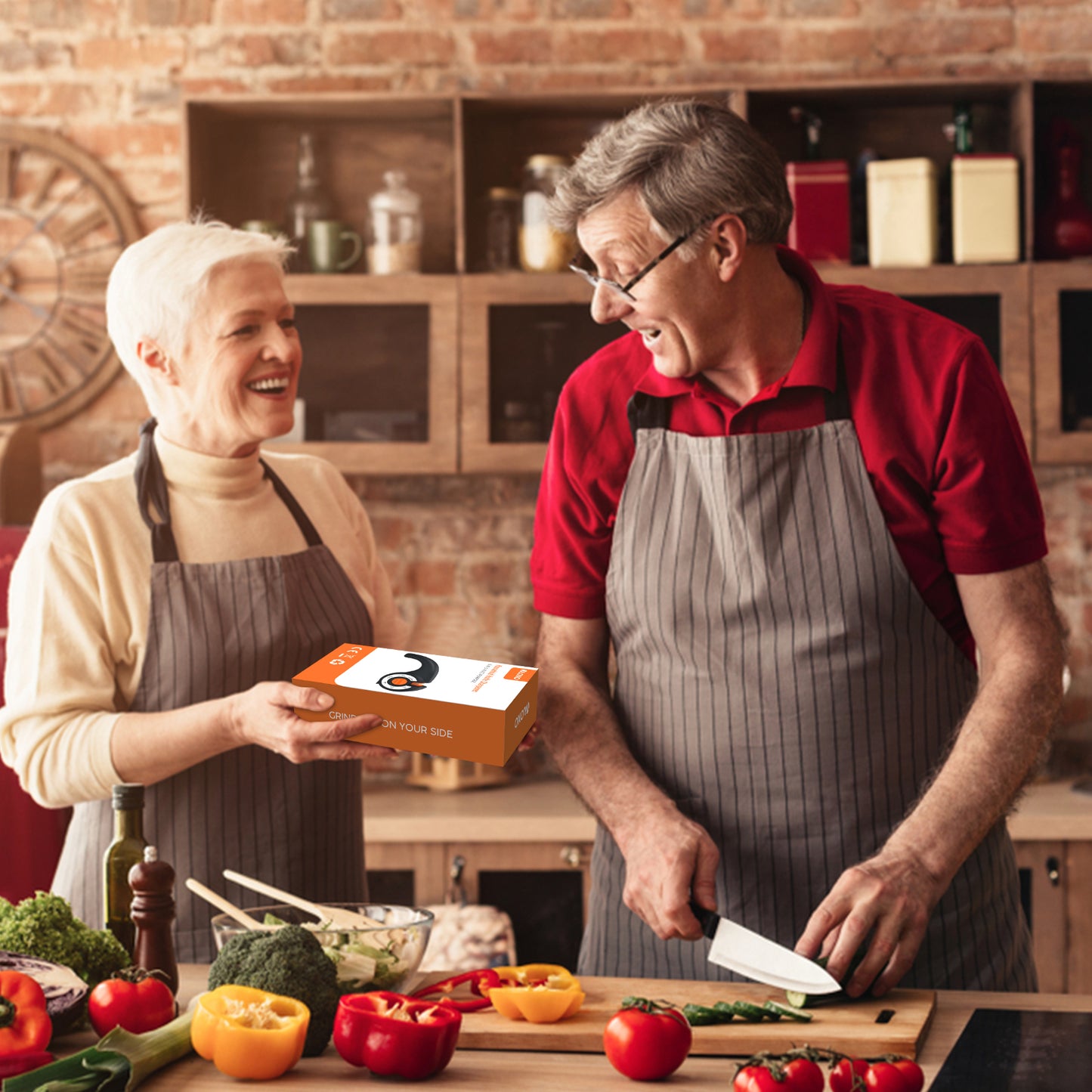 Easy, Safe & Effective!
This is probably one of the best knife sharpeners I've had. The adjustable multi-functional features are fabulous. Simply turn the orange dial to go from coarse to fine and then even to specific cutting utensils (scissors, sushi knives, & bread knives). On the bottom are rubber pads to keep it from sliding around on the counter as you are using it. Very-user friendly, safe, & effective. Would recommend!
Works as well as advertised