VLOXO
Regular price
$36.99 USD
Sale price
$29.99 USD
Unit price
per
Sale
Sold out
Vloxo bike speedometer comes with a 800 lumens front bike light,120 db bike bell and red tail light, allow you to track, light and ring durinig cycling,  this bicycle speedometer keep track of time, average speed, heart rate, distance and everything else you need to track with the great range of bike.
Why Choose Vloxo Speedometer with Bike Light Set?
1. 5 in 1 Cycling Set & easy to install
VLOXO bike computer set, include a 800 lumens front bike light with speedometer, and 120 DB bike bell & red tail light, which enables bicycle tracking, lighting and bell, one set can meet all your cycling needs.The details page has video installation instructions. Able to prompt simple and quick installation of equipment.

2. Bike bright & Powerful batter
Vloxo bike speedometer has large capacity. The illumination distance of the headlamp can reach 500 ft, 4 lighting modes for you to choose, brightness and direction can be adjusted. The bicycle headlamp has a 1500mAh lithium ion built-in battery. The battery is durable and can be recharged repeatedly. It can be used for 5-8H when fully charged. Within the scope of the warranty.

3. IPX7 Waterproof of Bike Light
VLOXO bike odometer light set is made of high quality ABS material, IPX7 waterproof rated. Bike front light and tail light are dustproof and waterproof, not afraid of rain. our bicycle lights can be used in any weather conditions.

4. LED Bike computer & Loud horn
With real-time and accurate measurement values, VLOXO bike computer can view the total distance, maximum speed, average speed, cycling time and one-way travel distance, accurately and comprehensively record your every ride, if the speed data has a problem, please contact us, we will provide a satisfactory solution within 12h. The bicycle horn can emit a warning sound up to 120 DB, and there are 6 different sounds that can be adjusted.

5. Wide Application 
This bicycle light can be used as a regular flashlight for hiking, camping, walking, home or office power failure emergency flashlight, nighttime family/kids activities, etc. Road bicycles, mountain bikes, folding bikes, and other common bicycles are compatible with this bicycle speedometer.
How To Initialize The Bike Speedometer?
1. Press any button once to power on.
2. Press the "+" and "-" at the same time for about 3 seconds, the LCD shows: 00 with flashing km/h,
3. Press "-" to transfer km/h and m/h, then press "+" for confirm.
4. then this is NO 208(min circumference) flashes, press "-" to increase the circumference one by one, from 208-315( only increase no decrease), then press "+" for confirm.
5. LCD shows 0000.0, don't press any button.
6. the LCD automatically shows the 5 data(ODO, etc. ) 0.00 in sequence:
It means the device finishes initialization.
Loud alarm horn works when USB cable connecting with the bike odometer
Important Tips:
Please use according to our detailed manual.
For possible reading inaccuracies, customers should know the following information:
The Wireless Data Sensor consists of a receiver and a magnet.
To accurately measure the data, the sensor must be fixed firmly. The receiver should be aligned with the magnet at the same level.
VLOXO Bike Speedometer User Manual
Packing List
1 x Bike Odometer
1 x Button Cell Type Tail Light
1 x Bell Unit
1 x Super Single Magnet
1 x Rubber Pedestal Sensor
1 x Bracket Sensor
1 x Nylon Belt
1 x USB Cable
1 x Rubber Seat
Share
View full details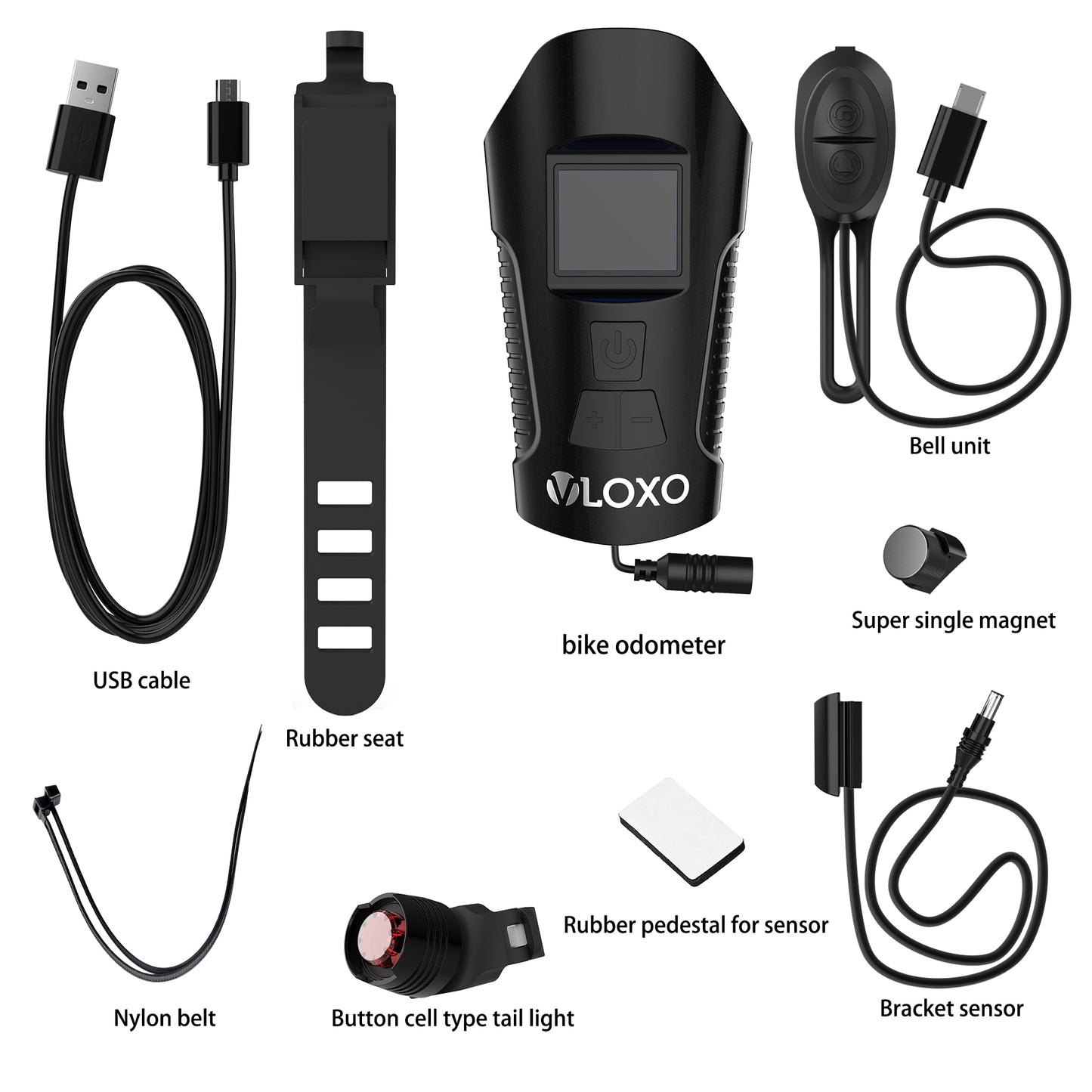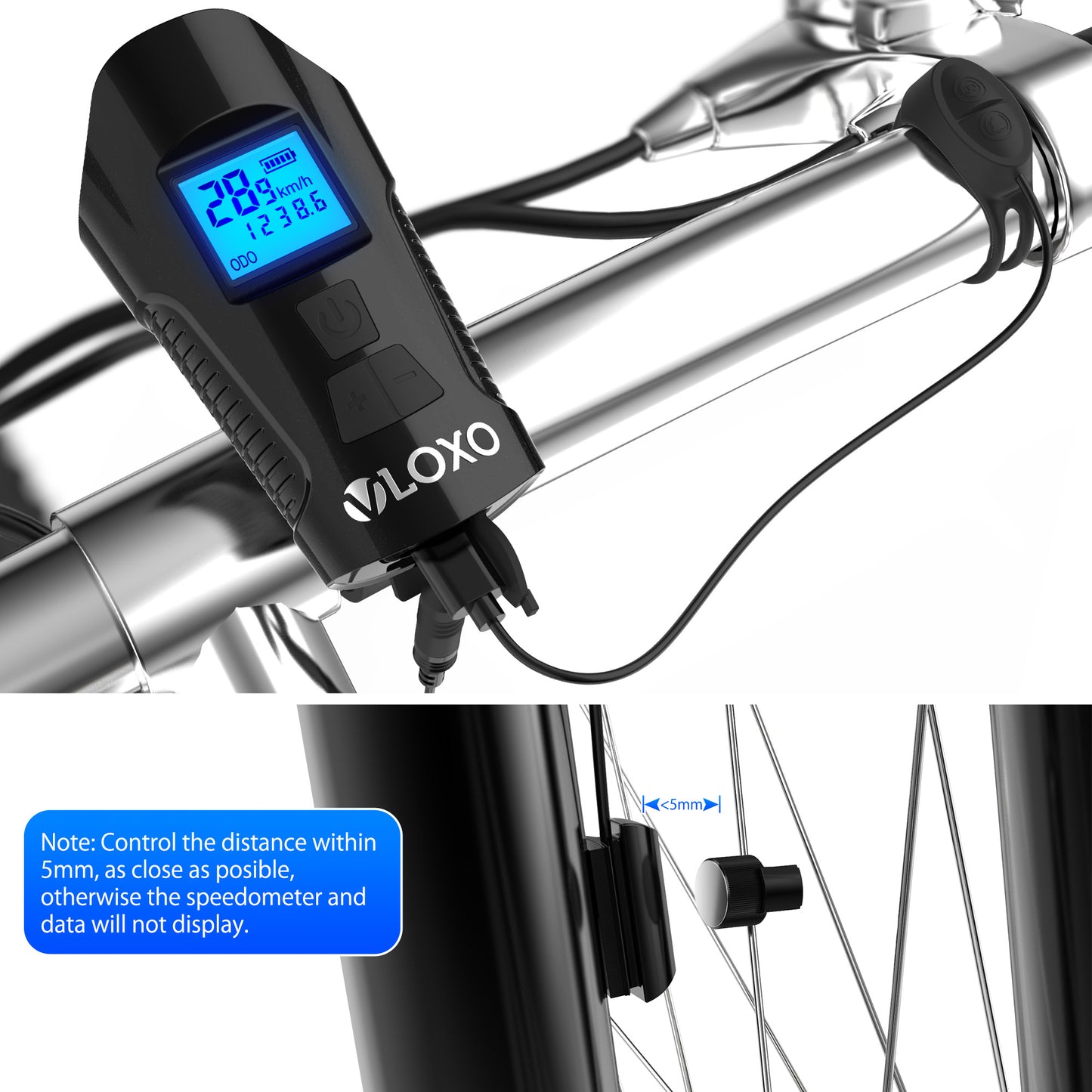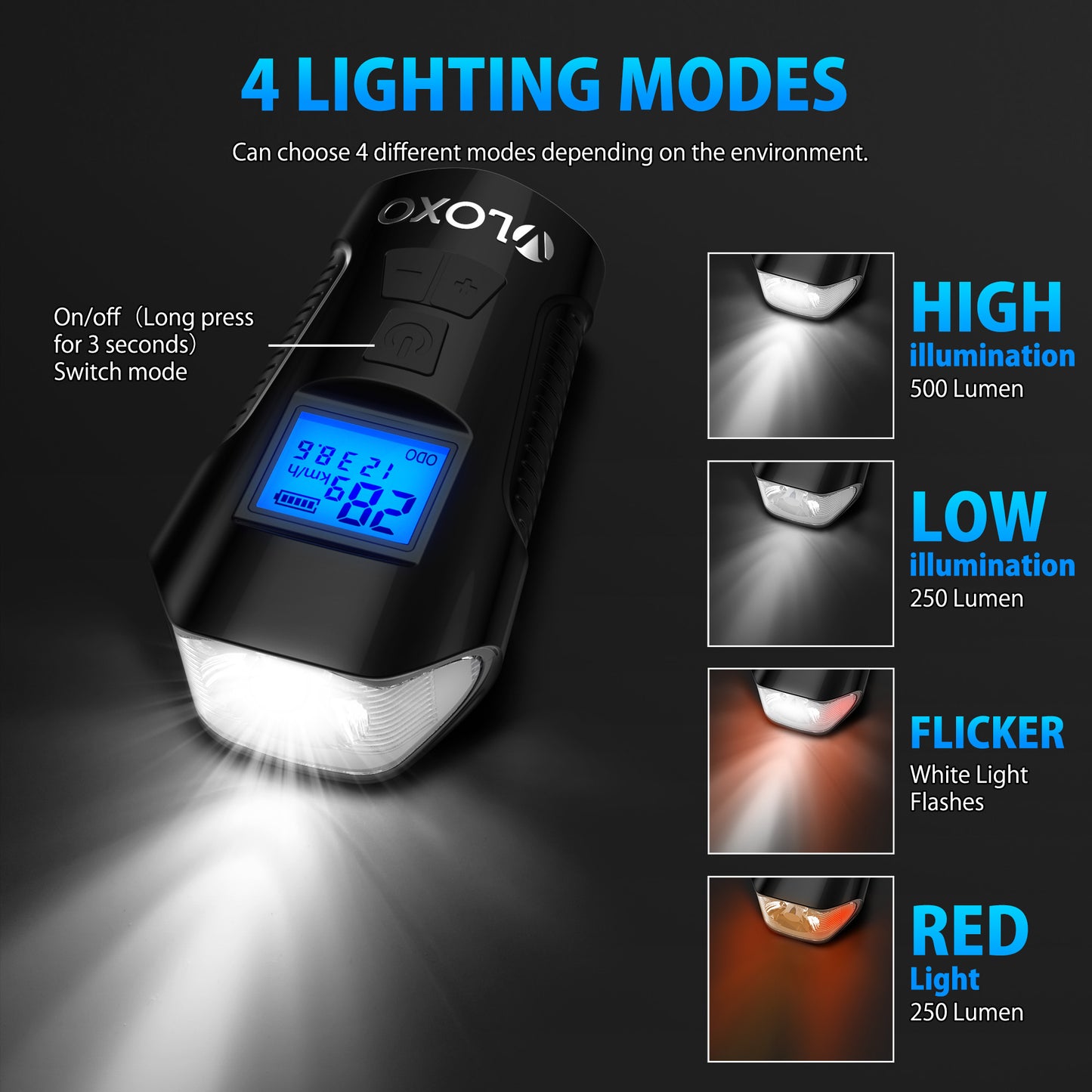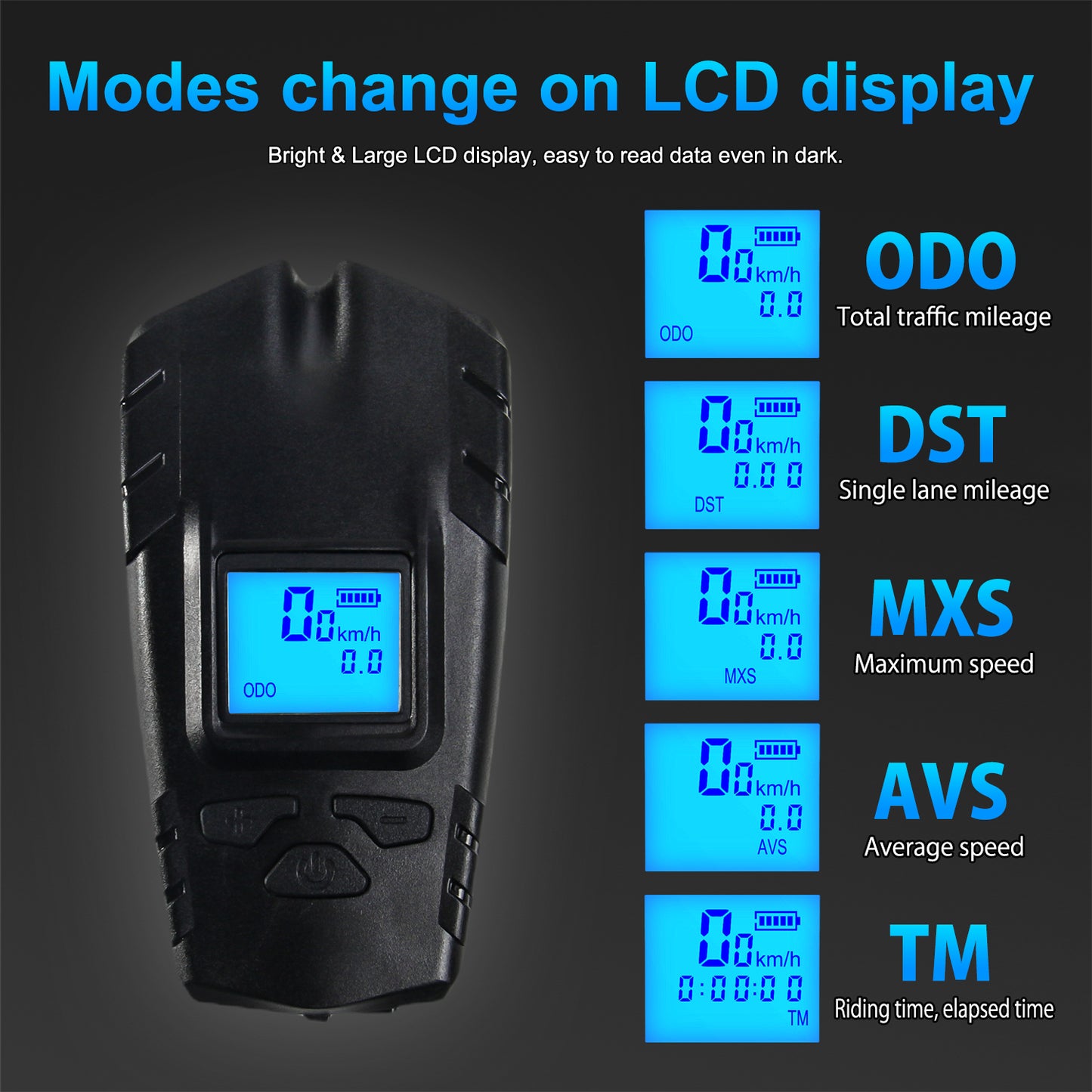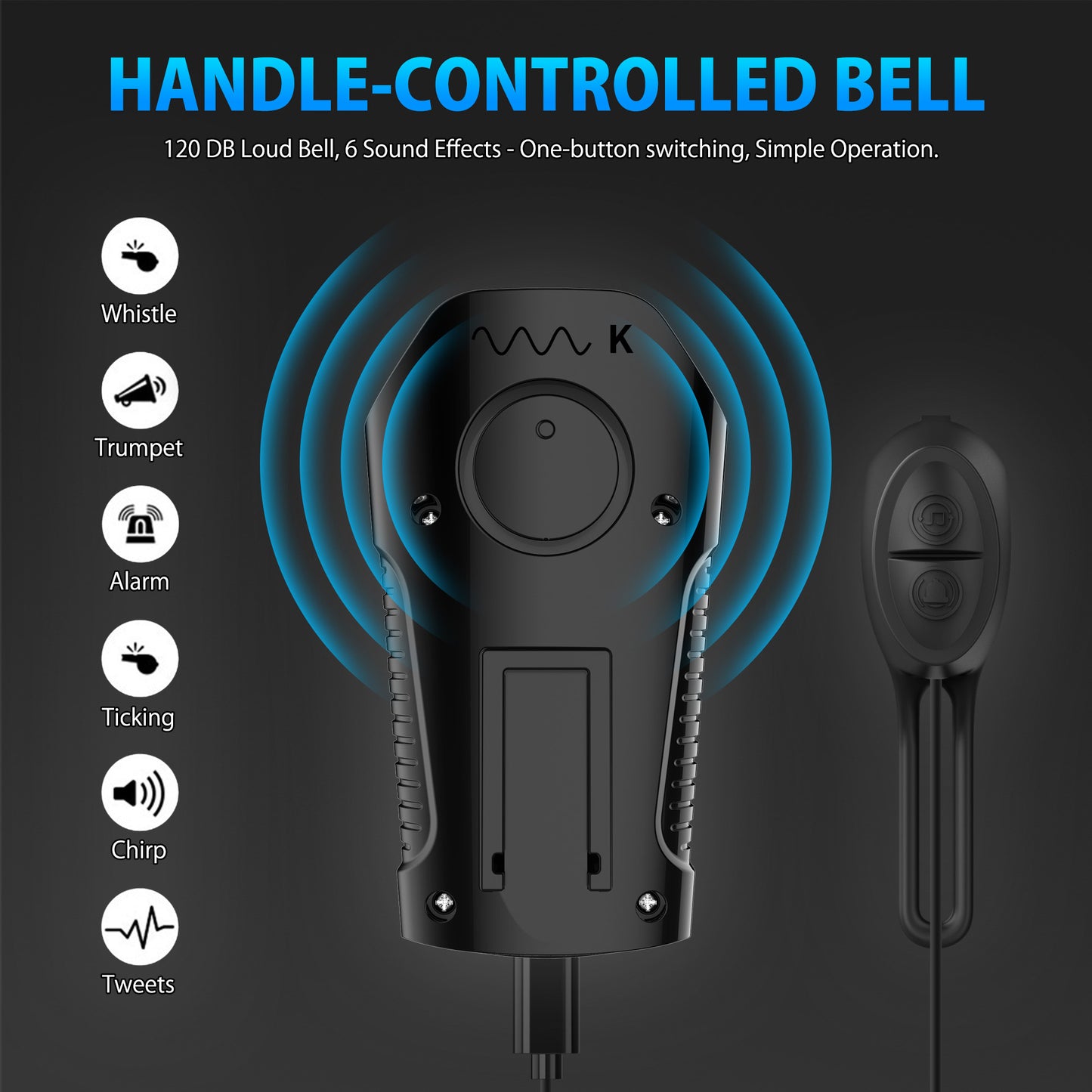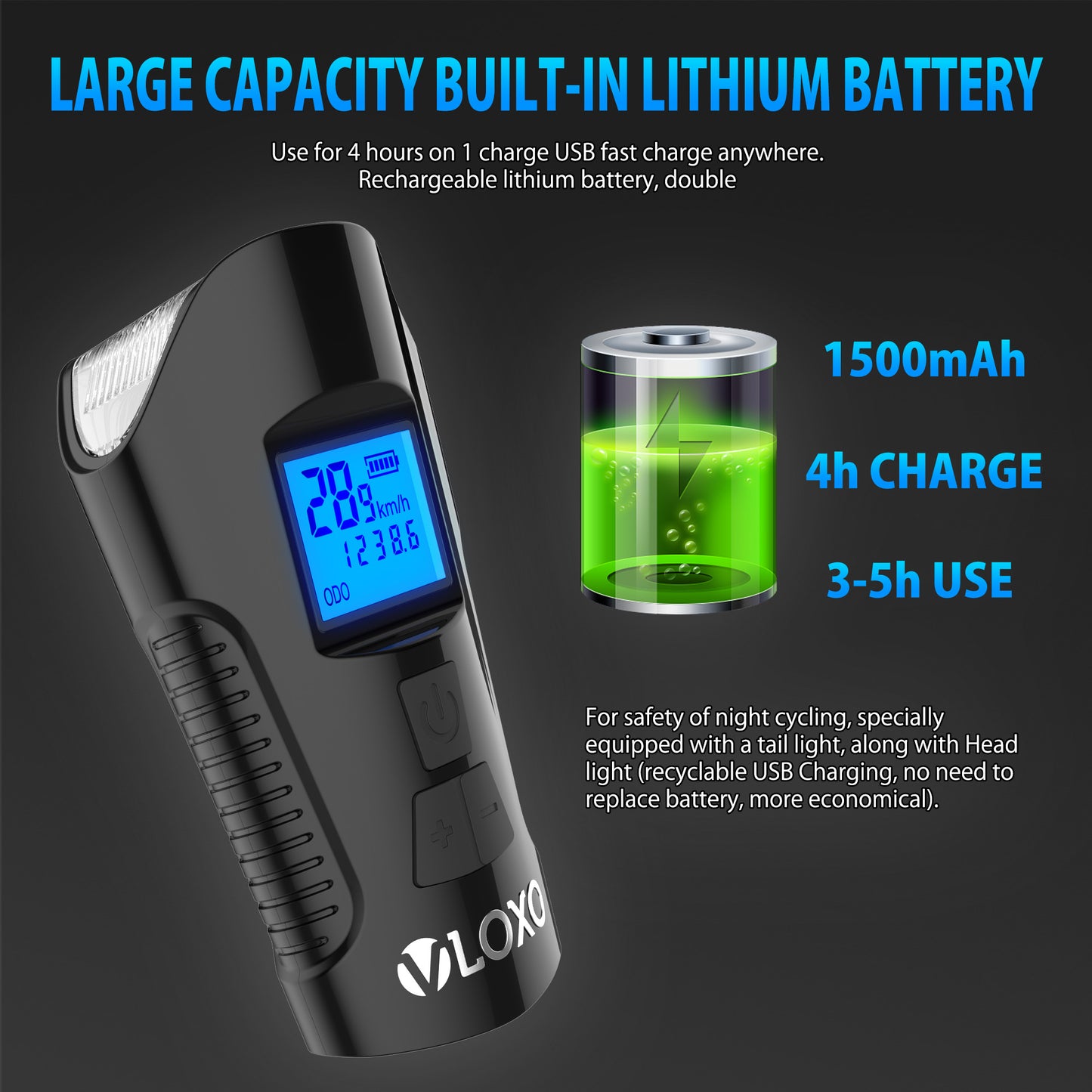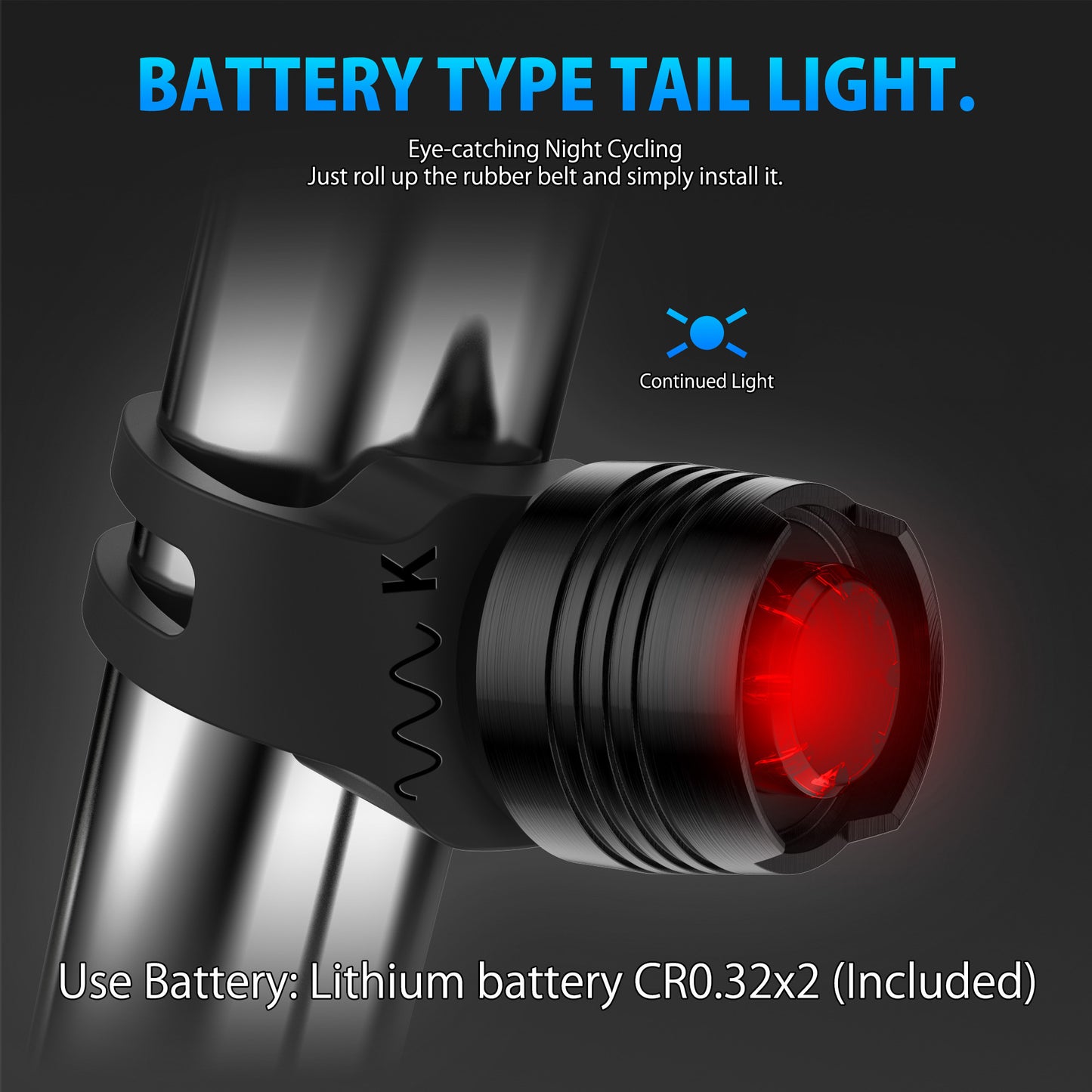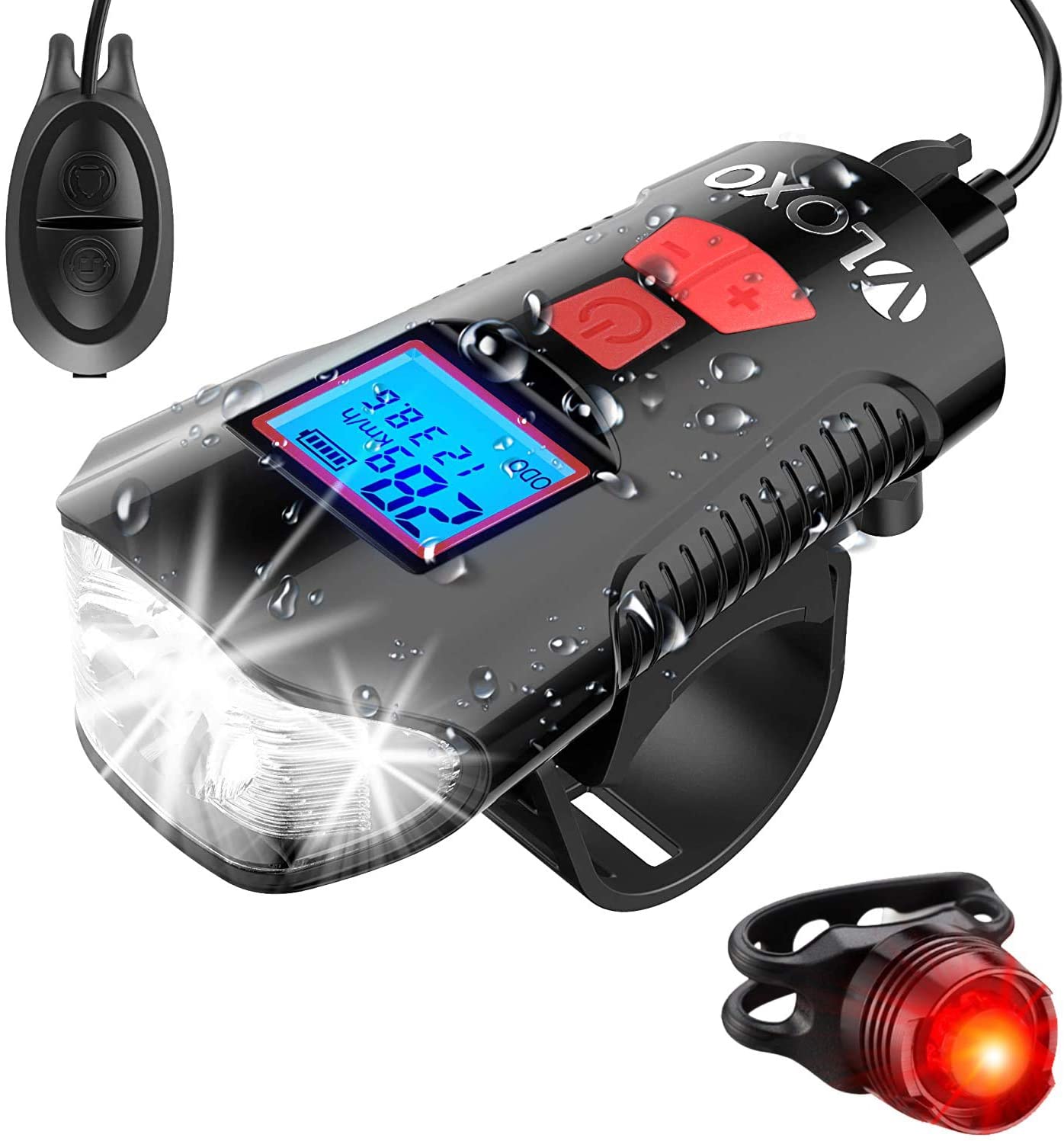 A very nice light for an Upright.
I have to be honest, I bought this light to replace a broken one on my wife's trike. The discerption was to good to pass by so I wanted to give this guy a shot.. Unfortunately the design was more for an up right bike vs the long body of a trike. However fortunately my wife has an up right which I will install this on and I'll revisit the review with the hope of giving this guy a five star hit. So, I will speak to what I know thus far.
The light itself has everything you would expect, a high beam, low beam, flasher, and amber flashing light. All are easily seen and one should be careful because of how bright they can flash could cause an epileptic seizure.
Instructions are clear but are very hard to read unless you use a magnifying glass or readers. All hardware was present and I'm pretty confident I would have had the complete install done in less than a hour..
So, this is were I will leave this. If you have an upright I think this would be a perfect light for day or night riding and I promise I will come back once I install this on my wife's bike.
Lightweight 5 stars
I love this light for our purposes. I have this mounted on my sons helmet as a second light. It's always best to use a light on your helmet so you can have light where you are looking AND have a light on your bike to illuminate where your bike is going. I do not use the speed or distance measurement options. We have ebikes and that is already done by the bike. Plus since this is helmet mounted you don't see the screen anyway.
PROS
1. For our purposes the rubber stretch mount is necessary to wrap around the helmet. For that it works great.
2. The fact that the mount is pretty low profile is also nice when it's mounted on your helmet.
3. The construction is lightweight plastic. This is a pro in my scenario because you don't want something heavy mounted on your helmet.
CONS
1. It's not extremely bright (perfectly fine when running 2 lights)
2. The plastic body seems like it could break easy (although it saves weight)
3. The lense is plastic not glass so it will definitely scratch easy. This could be an issue if you are always getting mud on it. You need to be careful when cleaning any dirt off the lense.
Customer imageCustomer imageCustomer imageCustomer image
Great addition to a bike that doesn't have a speedometer
The best thing about this product is that there are no cables running from the front to the back of the bike. To use the rear lights, you have to turn it on manually, which is just fine with me. The headlight is super awesome, the light is strong and there are multiple light-settings from which to choose. The odometer display is clear every at a handlebar's distance. The "bell" is rather attention-getting, which is the point. The instruction booklet is quite comprehensive but I had to take pictures of each page and pinch-to-zoom to read it! Luckily, when I went back to the product page here, they have an instructional video and some printed instructions as well. Still, there should be a website to download a PDF. This is the first peripheral for my bike that I've acquired and so far it's just fine.