VLOXO
Regular price
$39.99 USD
Sale price
$37.99 USD
Unit price
per
Sale
Sold out
Vloxo beard straighter adopt ergonomic handle and handy lightweight size, which makes it a cinch to use. The versatile hair comb can be used to volume up hair, straightener curly hair and flatted side hair, and help fix your messy beard.

VLOXO Bread Straighter Highlights
1. Portable Cordless Design
 VLOXO premium cordless hair straightening brush is specially designed for facial hair and beard. USB can be charged. For faster and smoother charging, please use a 5V, 2A adapter. Small and light, easy to carry. It will be perfect for traveling.
2. Advanced Ion Heating Technology
The unique ion heating technology seals the hair scales, which can easily slide over facial hair, reduce combing and eliminate frizz, and quickly heat to 200°C to keep the beard and hair looking healthy, natural and shiny. All day long.
3. Automatic Shutdown Protection
Set different temperatures according to actual needs, and the real-time LCD screen displays from 80 °C (184 F) to 200 °C (392 F). The temperature lock ensures that the temperature will not suddenly rise and damage the hair.
4. High-efficiency Straightening Brush
The beard straightening brush adopts unique ion heating technology to always maintain a constant heat level, providing the maximum straightening ability, and it can be quickly shaped in 3-5 minutes, so that the hair and beard are not knotted.
Note: Due to the rapid increase in temperature, some black smoke and burnt smell will appear, which is normal.
5.Heating quickly & Safe
Vloxo beard hair straightener using unique ion heating technology, quickly heat to 200°C, which can easily slide over facial hair, reduce combing and eliminate frizz to keep the beard and hair looking healthy, natural and shiny last for 24 hours.
Meanwhile, the LCD screen display shows accurate and real-time temperature helps you to adjust your requirements and doesn't burn your face. Temperature available from 80 °C (184℉ ) to 200 °C (392 ℉), and it will automatically shut-off if not used for 30 minutes.
Why Choose VLOXO Beard Beard Straightener?
1. Cordless beard/hair straightener, easy and free combing posture, comb out the most suitable hairstyle and beard style.
2. Powerful: The upgraded hot comb can be charged once and used many times.
3. Easy to carry: the small and exquisite beard comb, while not occupying the luggage space, carry it with you, and feel refreshed every day.
4. Advanced ion technology: reduce frizz, reduce split ends, quickly shape the shape, nourish and moisturize hair.
5. Protection device & LCD display: accurate and real-time temperature display, safe and reliable, to prevent skin burns during the rapid temperature rise.
6. The beard teeth that fit the skin: the beard teeth that are continuously improved according to market, do not scratch, conduct heat quickly, are easy to shape, and do not strain.
7. Rapid heating and cooling technology: 60 seconds to quickly heat up to 200 °C, 3-5 minutes to get a full day of exquisite makeup.
8. Exquisite packaging, fashionable and high-end gift packaging, it is perfect for male friends, men's gifts, Valentine's Day, Father's Day, Thanksgiving, Christmas or other special occasions.
Specification
Power: 10W

Input: DC 5V  maximum2A,

Maximum Temperature: 200°C

Auto-off Time: 30 Mins

Charging Interface: MIR-USB

Display Mode: LCD
Battery: 2200MAH
Size:210 *45*28mm
Function: 

Reduce frizz, reduce split ends, quickly shape the shape, nourish and moisturize hair.
How To Use Beard Straightener
Step 1: Gently press "power switch" 3 seconds long press to turn on/off.
Step 2: Warming button/Cooling button, temperature will +/- 5 degrees of temperature when you touch the +/- temperature button.
Step 3: Wait for one minute to heat up.
Step 4: Styling your hair beard / Styling your hair.
 VLOXO Beard Straightener User Manual 
Package Include:
1 x Hair straightener
1 x User manual
1 x USB Charging Cable
1 x Velvet bag
Share
View full details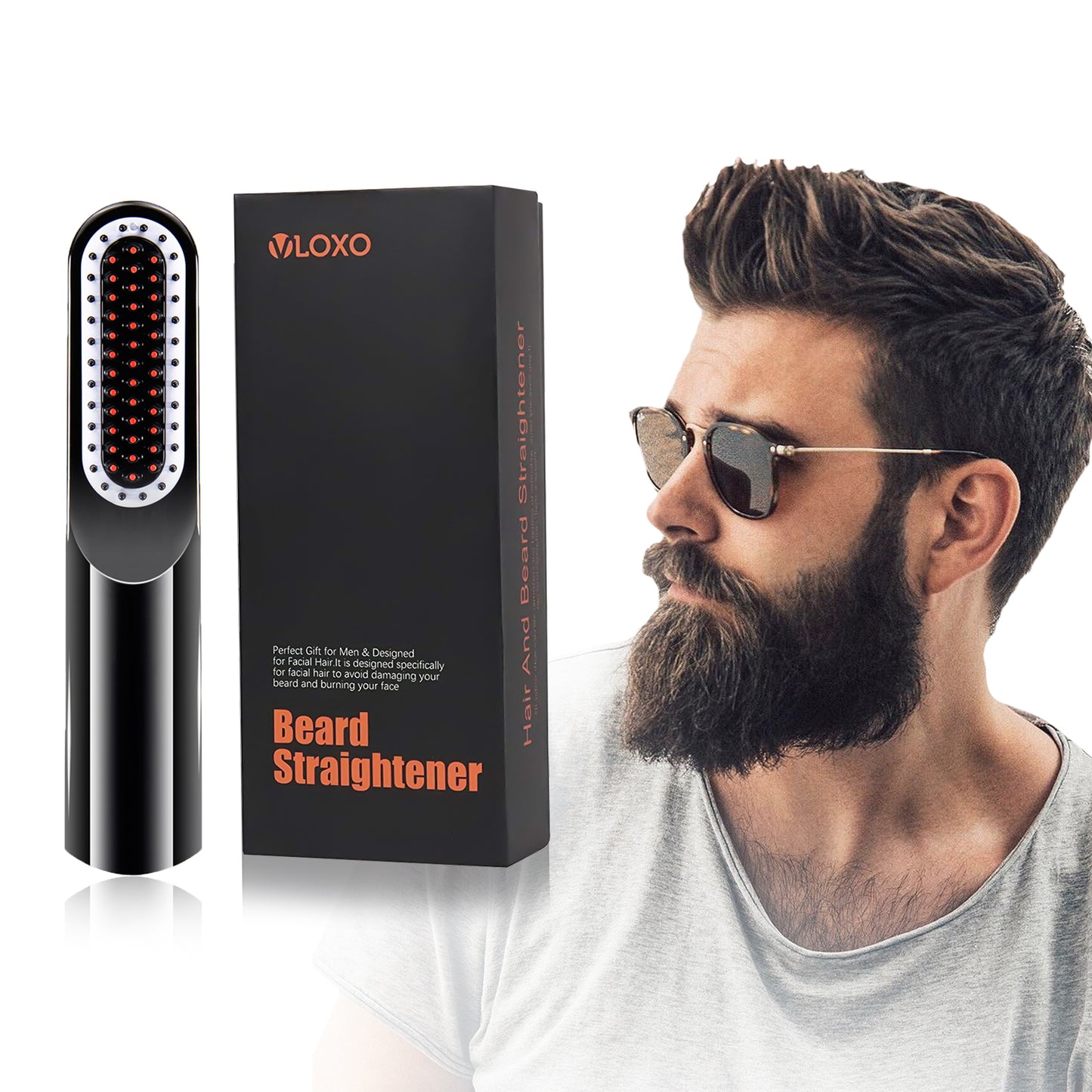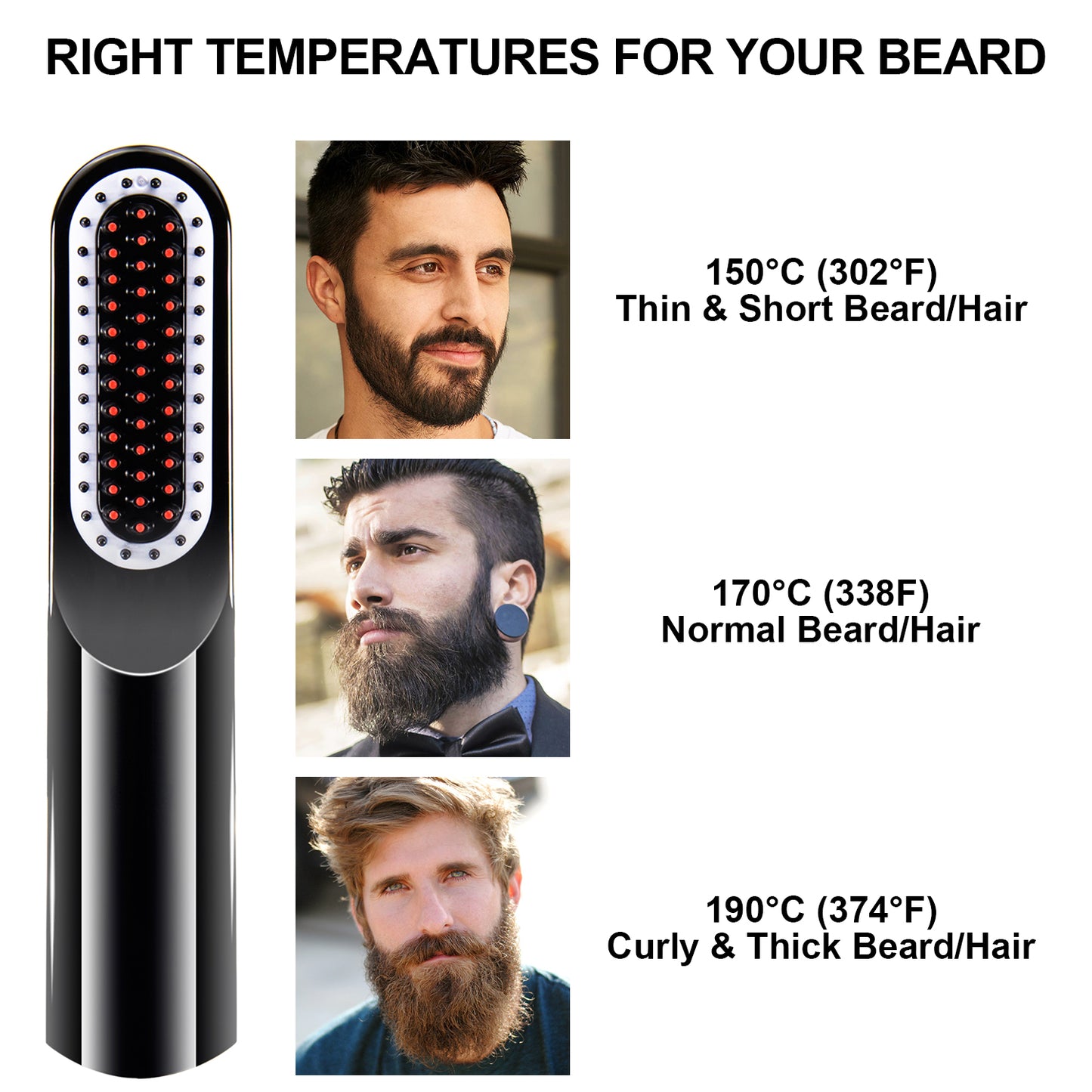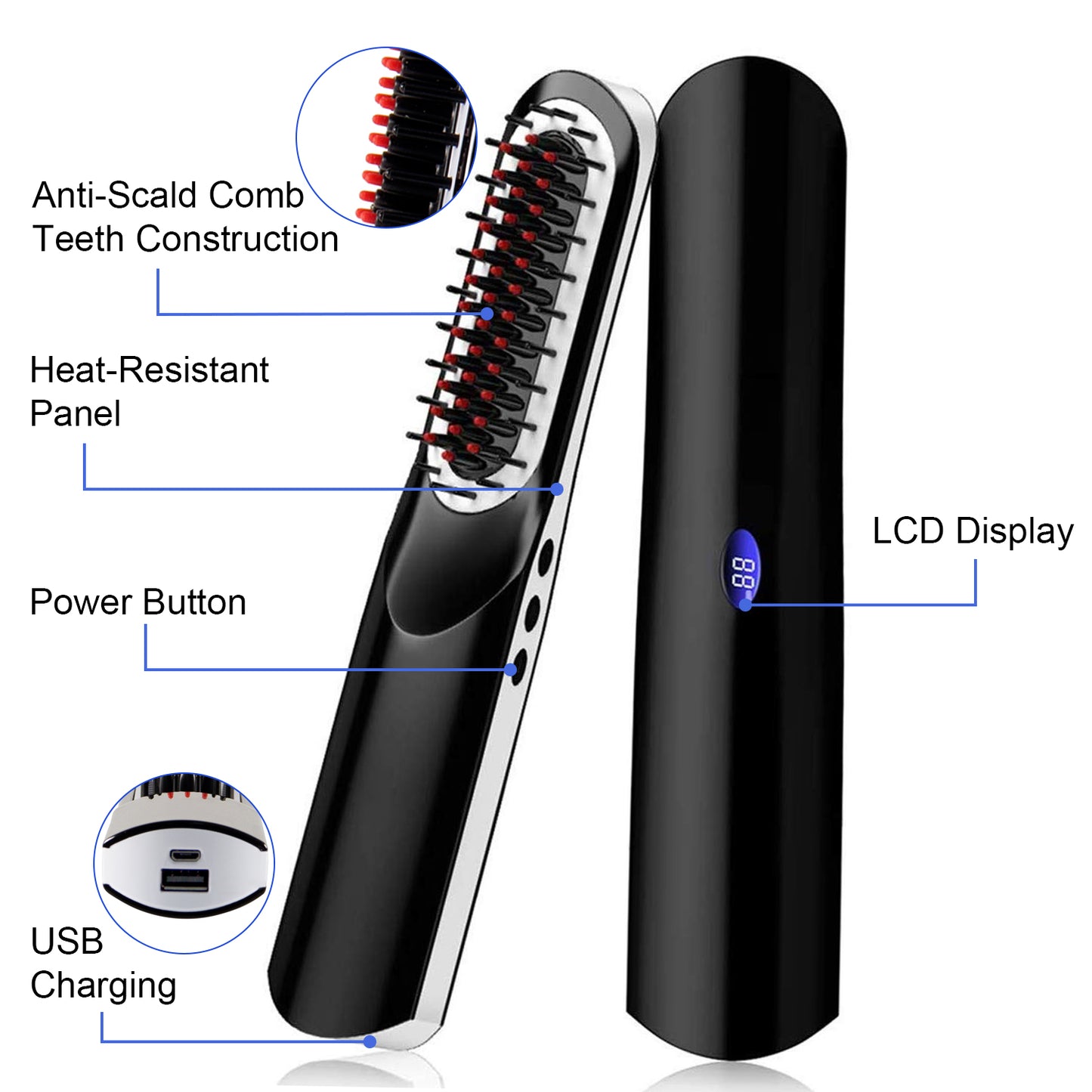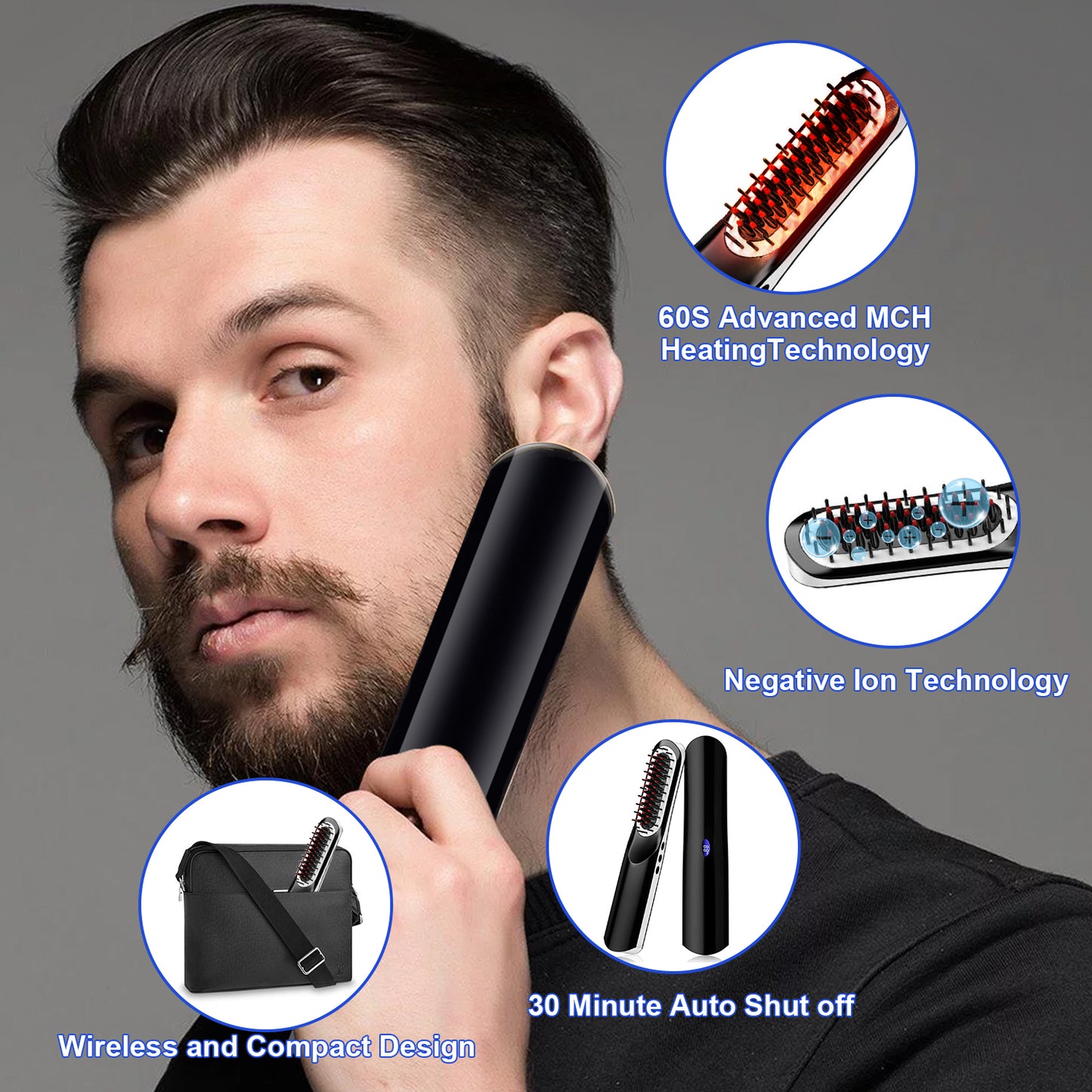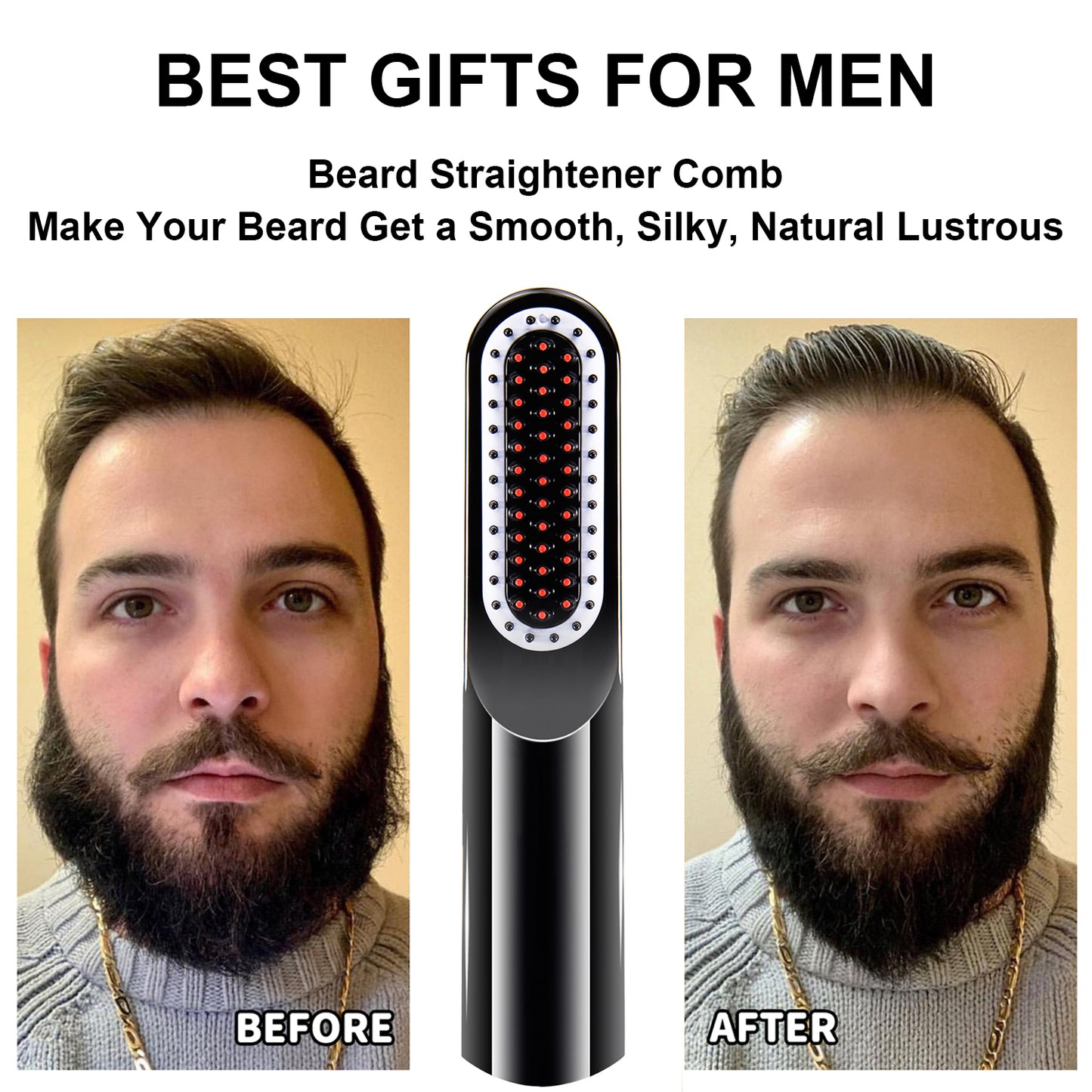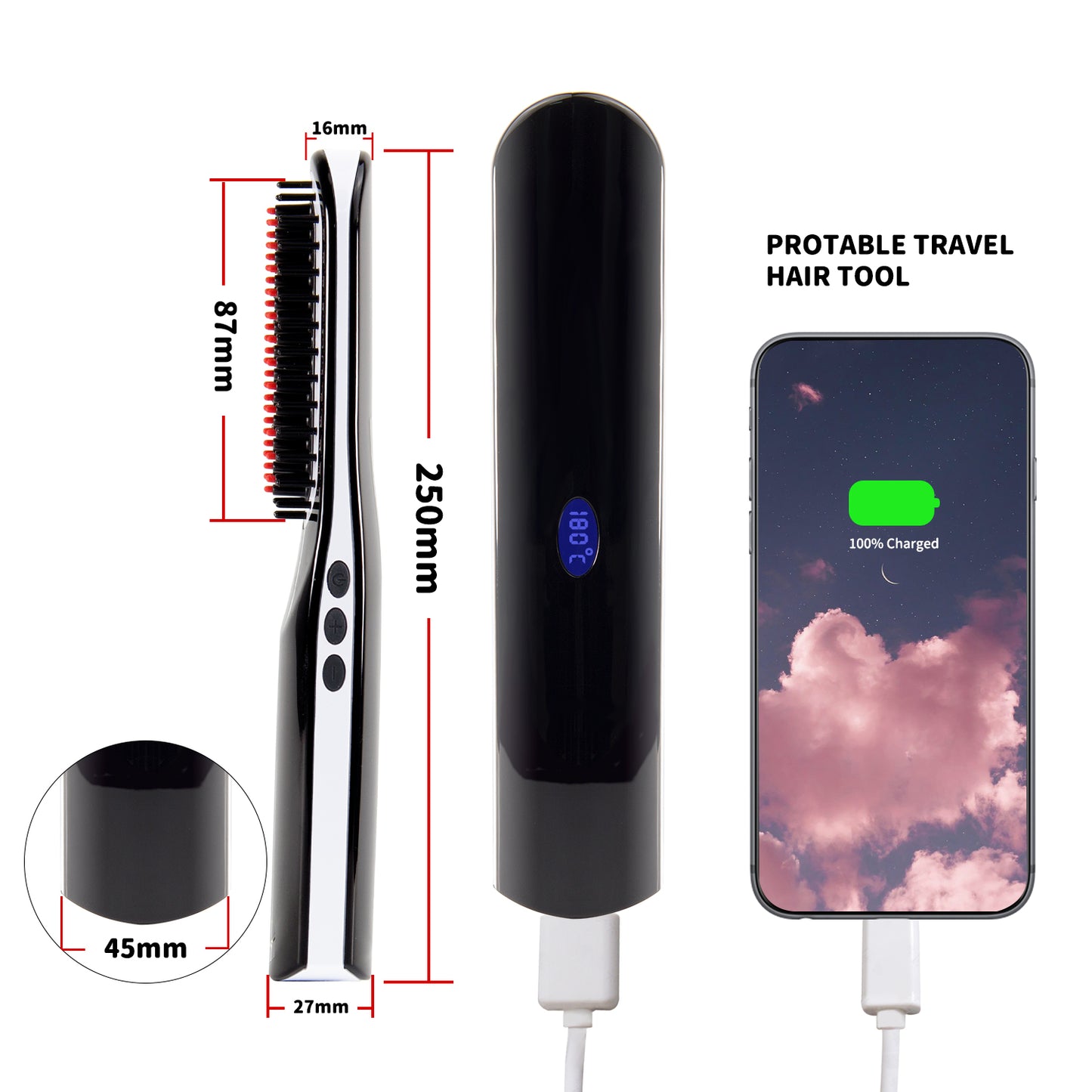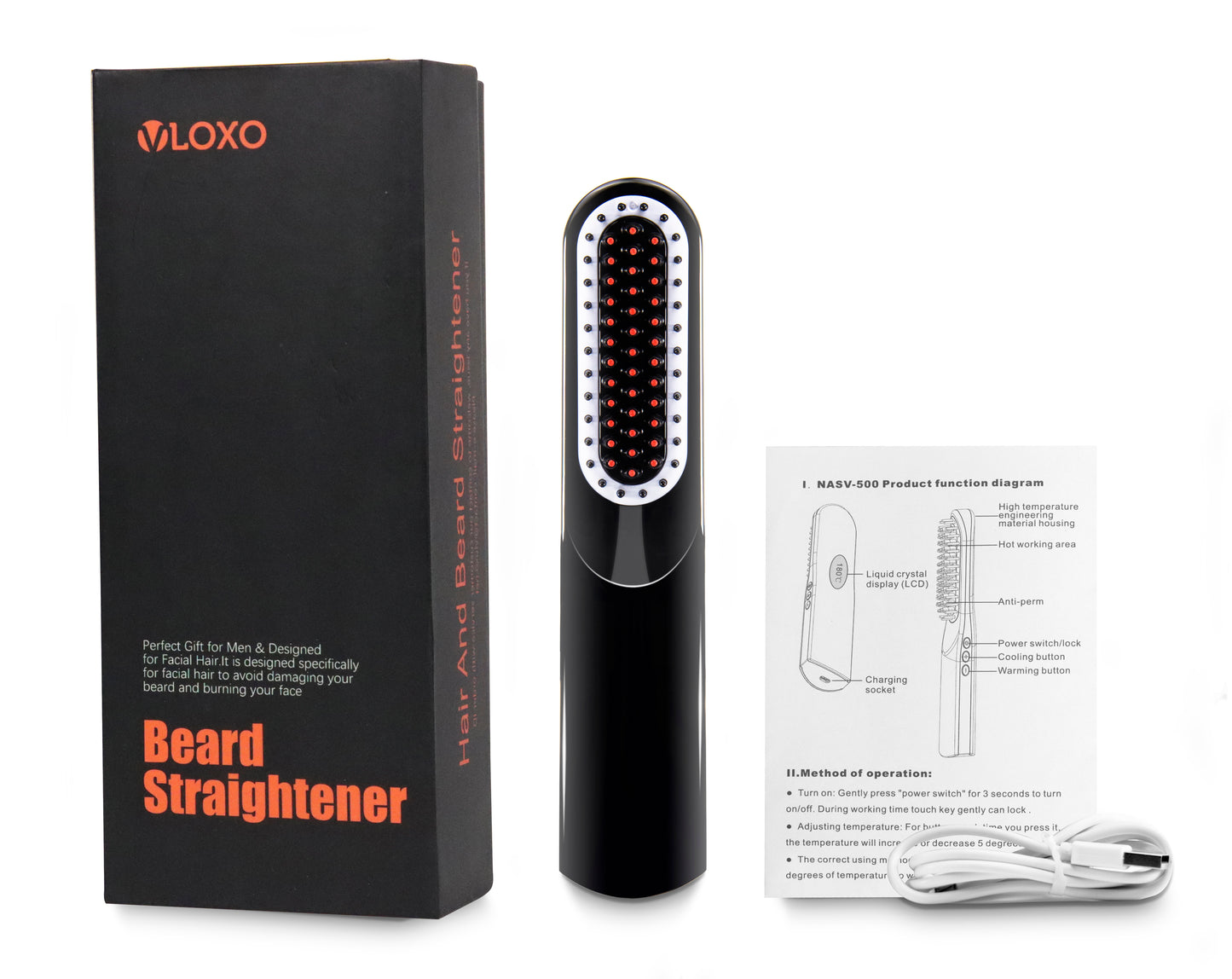 Great for travel to Mars!
I had a chance to do a simulated Mars mission in the Utah high deserts. The base has limited water, and the electricity supply is a little weak. Since I have space hair normally with out the micro gravity, I needed something that would smooth and shape my hair without blowing the circuit. I took this little hot brush along and it worked wonderfully. I charged it over night and used it every morning to smooth out the over enthusiastic frizziness and even used it similarly to how you would a curling iron to put some gentle curl into my hair. My crew mates wondered how I could keep my hair looking nice. Haha.
Easy to carry while traveling
- I ordered this as it is cordless , reasonable battery life
- quality is good for the price
- easy and simple to use
- worked well for me
Good beard straightener
Easy to yes, heats up quickly, straightens my beard really well
Eccellente
Dopo mesi di utilizzo è ancora perfetta una volta scaldata consente di allisciare anche la barba più riccia. L'unico difetto è il cavo caricabatterie incluso che si è rotto dopo pochi giorni… ma si ricompra
con poco perché è un classico micro usb facilmente reperibile.
Exactly what I wanted
This is a very good product, the heat up time is very fast, about a 1 to 1.30 minutes.
Use it for mainly for my hair, and it does the job of straightening.
Seems to be well made, although they recommend settings from 170 degrees or above, I've found my ideal temperature is about 135.
Also get about 5 to 6 uses between charges.
Hope this helps.